I
love riding on trains. I love little kids. I hate it when little kids
cry constantly on long train rides. Unfortunately, this is what I had
to endure while riding on the train from Paris to Avignon. Also
unfortunately, the child was American (way to be an ambassador, kiddo),
and she and her mother, father, and siblings delayed the train twice:
once leaving Paris, and then again when it left Avignon.

Imagine
this. You're sitting on the TGV at the station in Paris. The train is
about to leave, when a rather hysterical looking woman comes running
down the platform and practically throws her kids, luggage, and dazed
looking husband onto the train. Well, the staff and this woman go at it
for a while: she wants to make room on the luggage rack for all of her
stuff, but there is no more room. Period. After much grumbling, she
sits down (with all of her luggage) and the train departs almost ten
minutes late.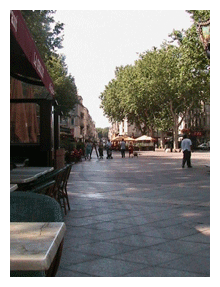 Then,
at Avignon, our hero can be found tossing her kids and baggage off of
the train. But wait! Where's the husband? He is still on the train
(trying to escape his family, no doubt), and the doors have closed
behind him. So, the woman becomes completely hysterical and begins to
bang and yell at the train staff, in English, to let her husband out.
It really was quite a scene: a woman dressed in an ultra-casual,
American way, banging on the doors of a bullet train and screaming
alternately at the rail staff and her ill-behaved children. What a
trip. Anyway, leaving the woman…
Yeah! We had arrived at
Avignon. The train arrived around two in the afternoon, and the weather
had turned from rainy around Paris to sunny and very warm in Avignon.
This was my type of weather, and I was glad that I had packed my
shorts. All I needed were my sandals, a swimsuit, a beach…
Anyway,
last time my family and I were in Avignon, everything was difficult: we
had a horrible time getting a car, and we drove around the city for an
hour and a half looking for the way to Les Baux. In contrast, this time
was incredibly easy. Getting a car was no problem (fitting all the
luggage into it, along with six fully grown people, was another
matter), and we found the way out of Avignon on the first try. This is
because a new TGV station has been built on the border of town.
Before
we knew it, we had arrived at our hotel: La Riboto de Taven. Situated
at the base of Les Baux (away from all of the German tourist busses),
this little plot of paradise is a superb place to stay. From the moment
we pulled into the parking lot and spilled out of our overstuffed car,
we were made very welcome by Monsieur and Madame Theme, the owners of
La Riboto de Taven.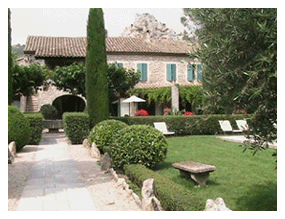 The
rooms are very nice here: they are well sized and well furnished. The
beds are comfortable (in my opinion, the most important aspect to a
hotel), and the grounds are extremely well kept. There's a pool, and
the views can't be beat. In fact, as I sit here by the pool and write
this article, I am looking up at the astounding cliffs that tower over
me on both sides. All the cliffs are amazing: each one has many
varieties of plants and trees springing out from fissures in its
surface.
Another nice aspect of this hotel is the location. If
you desire, you can visit Les Baux (a very well preserved Roman
fortress atop one of the surrounding cliffs), or you can attend a
Wednesday market in St. Remy.
There's also some fine dining to
be found around Riboto de Taven. The restaurant of Oustau de
Baumaniere, a Relais & Chateaux hotel, is an outstanding place to
dine. (Look for my review, coming soon.) Or if you prefer, you can have
dinner at Riboto. There is seating both inside and outside at the
hotel, and either way is a good option. Madame Theme's brother (this is
a family affair, with her parents living on site as well) is an
excellent chef and is every bit the equal of Riboto's surroundings.
If
you have never been to this area of France before, just driving around
might be a fun thing to do. The scenery is very different from the
scenery around Paris, and there are many places to do some wine and
olive oil tasting. The vineyards here are something else, and the olive
trees are really a sight. Then, there's always the lavender, which was
just coming into full bloom during our visit—and Monet's poppies.
I
think I will really enjoy my stay at Riboto de Taven. The area is
lovely, the hotel is lovely, and the weather is magnificent. All that I
am lacking are my lovely ladies. If I could just find the beach, then I
would truly be in paradise.
Contact info for Riboto:
Phone: 33 (0)4 90 54 34 23
Fax: 33 (0)4 90 54 38 88
Website:
www.riboto-de-taven.fr
---
Taylor Horton is a high school student who considers himself very fortunate to be writing for Bonjour Paris this summer.