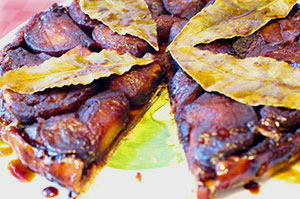 One of winter's greatest gustatory pleasures is the dizzying array of apples that fill the marketplaces in Paris. Surely the apple par excellence – in my estimation – is the Reinette Clochard, an ancient variety that grows in the west of France. It is harvested in October and available from November to March, but becoming more and more difficult to find. Alas, the Golden Delicious has pushed it to the side… To bite into one is to fill your mouth with a burst of earthy spiciness and a lingering taste of honey. It is not an apple that would catch your eye, on the order of the Pink Lady® (this apple has the distinction of being trademarked – difficult to understand how an apple can be patented and defined as intellectual property – with its pink-blush dress and crisp crunch. The Reinette Clochard (clochard translates as bum or tramp in English) looks as if wind, rain, and sundry forces of nature had battered it. But when I bite into one, I am instantly transported to the rolling countryside back when family farms blotted the horizon. Maybe they will yet once again… Anyway, enough about the Clochard – it's going to start blushing. I thought I'd give my variation on the famous Tarte Tatin. Get yourself into the kitchen on inauguration day and cook yourself up one. Be sure to have a bit of good crème fraîche on hand, add a generous dollop to each slice, and dig in while watching the inauguration festivities. Maybe cork a nice chilled Vouvray. Quite festive for a more than festive day!
Apple Tarte Tatin – serves 6 – 8
 
Dough:
250 gr (2 1/2 cups) unbleached white flour 
125 gr (generous 1/2 cup, slim 9 tBsp) sweet butter, room temperature
1/2 tsp unrefined sea salt
3-5 tBsp water 
Filling:
750 + gr (1 3/4 – 2 lb) sweet firm apples (Reinette Clochard – if you can find it, or Reine de Reinette. If not Golden Delicious will do just fine…)
140 g (3/4 cup) unrefined cane sugar
5 large, or 8 small, fresh bay leaves
80 gr (slim 3 oz, 5 1/2 tBsp) sweet butter 
Sift flour with salt into a large bowl. Make a well in the middle and add the butter cut into small pieces. With your hands rub the flour and butter together until the mixture turns crumbly. Add the water and stir lightly with a fork to mix till just beginning to hold together (add more water if needed). Gather up into a ball, wrap in waxed paper or food wrap and set aside in a cool place for 1-2 hours. 
While the dough is resting, pour the sugar into the bottom of a 10-inch cast-iron skillet or ceramic pie plate with high edges and spread evenly. Put in an oven preheated to 425 ˚F and cook until the sugar is melted (10-15 minutes), stirring from time to time as it begins to melt. Watch it very carefully – don't let it get to dark or burn, as it will give the tart a bitter taste. Remove from the oven, place the fresh bay leaves on top of the hot, melted sugar, and set aside to cool. 
Wash, peel, core, and quarter the apples. Place them in concentric circles on the bottom of the skillet or pie plate, fitting them as tight as possible. Dot with the butter cut into pieces.
On a lightly floured surface, lightly knead the dough with the heel of your hand. Shape it again into a ball, flatten and roll out to a circle about 1/8th inch thickness. Place the skillet on top of the dough and cut the dough 1 1/4 inches wider than the pie plate. Remove the skillet from the dough and carefully place the dough over the top of the apples, tucking the edges down between the apples and the side of the skillet so as to contain the fruit inside.
Bake in an oven preheated to 425 ˚F for 30-35 minutes. Remove from the oven and immediately place a large flat serving dish on top of the skillet (it should overlap the skillet) and carefully but rapidly turn the skillet upside down. Remove the bay leaves from the tart. Let it cool for 15 minutes or so, then serve. Bon appetit! 
 
Please take a look at my website: La Cucina di Terresa. And my newsletter. Feel free to subscribe.