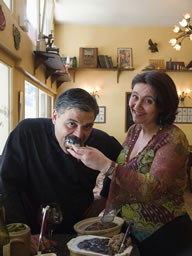 "I'm not a chef", insists Jean-Philippe Lattron, chef/owner of L'AOC. The question is, when is a chef not a chef? Often. I hear you muttering. "They all want to be Ferran Adria, they bricole (moleculize – putchka) their dishes and call it cuisine", sniffs Lattron. A Master-Butcher, Lattron had a dream, "to share my conviviality and carnivourous passion with others".
Lattron hails from the Sologne region, just south of the Loire river, a Garden of Eden wildlife paradise of lakes,  forests, huntin', shootin' and fishin'.  Forget the fishing here dear, Lattron, who Hemingway would have adored, has little time for fish, although he does smoke his own salmon he prefers beef with a capital B. Sologne rhymes with chateaux darling, bigger and better than your neighbours, the estate surrounding the magnificent Chateau de Chambord covers an area larger than Paris!
The Sologne forests are home to birds such as woodcock (a real delicacy which Lattron cooks only for close personals).  Also there's sanglier (wild boar) in them there hills if you know where to look! And Lattron does. Bagged his first rabbit aged 5, went on to become Champion de France de Clay Pigeon 1997, shoots with one of his collection of 26 guns which he keeps above L'AOC so don't upset him!
Sophie, his lovely wife obviously doesn't, sometimes goes on weekend shoots herself, does front of house with a welcoming smile and speaks perfect English. The Lattrons met in a restaurant, decided they had the same dream, and six years' ago opened L'AOC where Kristen Scott Thomas eats, Alain Dutournier, Flora Mikula and anyone who loves the "terroir". Now there's young Ambroise, who likes his meat very rare and wants to be a clown/restaurant owner when he grows up, so watch this space.  Lattron, self-taught, cooks the way his mother and his grandmother did; with love. His favourite dish? " Sanglier, a highly intelligent animal". Nobody's arguing that point chef.
"The thing is I only started cooking six years' ago, I'm not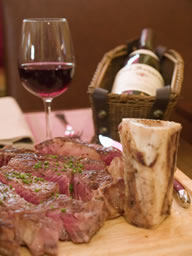 tired. Many of my contemporaries are, that's why they come here to eat", he observes. "We have no country house now, everything is here", points out Sophie. The walls and highly polished tables are covered with retro-memorabilia of a Sologne idyll. Perfect.
What does L'AOC  mean?
"Appellation d'Origine Controlée". According to French law the "name of a country, region or locality used to designate products which originate there….. the quality and characteristics of which are due to the geographical situation: think Puy Lentils, Bresse poultry: Grenoble walnuts: Charentes-Poitou butter, etc.
Not only did Lattron dream of opening a restaurant serving the best AOC products, "I dreamed the name, woke up one morning, said to Sophie, guess what?"
Lunch to-day began with a glass of Côtes de Rhone paired with terrine of Sanglier, from Sologne, bien sur. It's served with gherkins and onions and grandma's onion and raisin sweet/sour jam. The main is grey partridge, gamey, but not too. No, not hung, they promise, I don't believe them! Purée to die for. "Not difficult, Victoria potatoes, butter and loads of cream", laughs Lattron.  Wines are excellent, try a Cotes de Roussillon "Petit Taureau" (33€) or a white Clos Val Bruyere, 2001 (32€) and Sophie has her favourites, marked daily on the blackboard.
Other dishes are the starter Os à moelle and mains include young Ambroise's favourite Tartare de Boeuf, made to order. From the rotisserie: Beef, black Tarbes pork, organic Sologne chickens, legs of lamb with gratin dauphinoise and anything else that moves.  Tasty roast potatoes are in the bottom of the pan, soak up all the gravy. Epic. 
Add Poujarin bread, cheese from Quartrehomme or Brebis from L'Abbaye de Belloc, matured by

Benedictine monks!  Follow that with wicked pudds as in, chef/not a chef's Riz au Lait Teurgoule, simmered for five hours,  definitely addictive. Tarte Tatin is AOC made and ice creams and sorbets from Octave à Toulouse. I like that, he could lie and say he made them himself. I would!
L'AOC,
14 rue des Fosses St. Bernard (Metro: Jussieu)
T: 01 43 54 22 52
www.restoaoc.com
Shut Sun-Mon
Average Spend:
Lunch 20-30€ + wine
Dinner 30-40€ + wine.