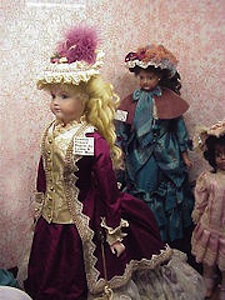 Along with me, my husband also married two dogs and a house full of dolls. One of those dogs, simply put, was a bitch… really, though, the scar on my husband's hand is not all that bad. He also wasn't crazy about a house full of dolls, and though they can be a bit spooky by the light of a full moon, at least they don't growl, draw blood, or try to sleep on your head when it is cold.
I mentioned in one of my earlier articles that he tempted me with a shopping spree to encourage our move to France and the only thing French I love more than dolls is poodles. Our current bear size dog "doesn't play well with others" so for now I'm buying dolls. I have been collecting and researching dolls all my life, although I don't collect them for profit, or based on the doll maker or value. I am just a collector and not an expert, so my purchases are made by tugs of the heart and intuition. I just buy dolls that speak to me and I would never part with them.  When I see elderly women in wheelchairs at nursing homes, cradling baby dolls, I know that one day that will be me. I'm not attracted to the frilly dressed French dolls many collectors love, although I have seen some lovely examples of these dolls in Paris, especially by Bru and Jumeau.  I also am not a huge fan of the French boudoir lady dolls, or the Pierrots or smoker dolls although I have a cyber friend that 's an expert on them.
I prefer the sweet felt Lenci-type dolls or little dolls that look like orphans or peasants with more somber faces, mysterious gypsies or pretty witches (not the green faced hags). My husband has to warn guests, "um, my wife has witches and dolls all over the house" just so they'll be prepared.  Walking into our house is a bit like entering a fairy tale, complete with the Big Bad Wolf (our dog) lurking in the background.
Prior to moving to Paris, I already had several French dolls dressed in regional costumes, because they reminded me of my gypsy dolls, and a sweet French celluloid cancan doll that's wonderfully dressed, down to her black net stockings and garter belts.  One jointed doll still has her Alsace tag, and is a good example of her region showing a German influence, with her blonde hair and blue eyes. The unmarked dolls dressed in regional costumes are still quite affordable, usually starting at around $5 and can be found easily on eBay, or flea markets and antique stores in France.   The prices on eBay are usually better than the prices I've seen in France.  They vary hugely in quality and age so they are priced accordingly, with the modern plastic dolls being the cheapest.   These regional dolls would be a wonderful way to teach a child French history.
The Christmas before moving to Paris I bought a wonderful souvenir de Paris doll from the 1940's. She has a cloth mask face and the most beautiful black floss hair, still perfectly rolled. "Miss Paris" is wearing the red liberty hat and dress similar to the woman in Delacroix's La Libertre guidant le peuple, from 1830.  This female force is referred to as "Marianne" and she is to the Republic what Uncle Sam is to the United States.  I bought this doll, and a French boudoir doll with a cloth mask face and lovely red hair, tied with a lavender ribbon from Diane. It was fun to take all of these dolls back to their country of origin!  They have a knowing look in their eyes, as if they know they are home.
We quickly discovered La Maison de Poupee, one of our favorite doll stores in Paris, where my husband made secret trips for Christmas and my birthday last year.  He tried to go there on Christmas Eve this year, only to learn they had gone to Normandy for the holidays.   Their store windows should not be missed, as they are always filled with scenes of antique dolls.  Their dolls are exquisite and they are not particularly anxious to part with them. Last Christmas my husband wanted to find a very "French" doll and found an excellent quality S.F.B.J. girl at La Maison de Poupee, in Normandy dress from 1900.  She has brown hair, brown, glass eyes and an open mouth with teeth.  She has a bisque head on a ball, jointed body and is marked "S.F.B.J. 3/0 Paris" on her neck. Her clothing is highly detailed and original, all the way down to her little wooden clogs.  She was sold as parfait and clearly spent a lifetime in a glass case.  I wish I could make myself keep my dolls behind glass but I like them to be out where I can enjoy them.
My birthday gift last year was bought at the same store and is a beautiful antique dolls' divan, which is a carriage meant to be carried by 4 men and inside is a lucky doll who should sit inside on the tufted cushion.  It is made of inlaid wood, with a gold crest with a "D" on it.  One of the arms must be pulled out for the locked, hinged secret door to open.  There is a space under the seat and we were told this was made as a jewelry box for a well off girl or young woman.  It is a quest of mine to find the right doll to sit inside, and four male dolls to carry the carriage.
One of my German dolls was poorly wrapped and did not make the move to France well.  With a broken heart and doll replacement money in hand we went to the Clignancourt flea market, where a mother and daughter run two doll stands called Maite Poupees in the Marche Vernaison, on alee 9 and alee 10. There I found a darling S.F.B.J. gypsy doll.  She wears her original clothes, which are in very worn condition, but to me it adds to her appeal.  She has a long braid of human hair, blue, open/close eyes, an open mouth with painted teeth and perfectly painted red fingernails.  She is marked "S.F.B.J. 301 Paris 11".  Because of her worn condition, there was a little room to bargain, and in the end she was thrilled to come home and meet an entire band of "roma" dolls.  Because she is a gypsy from France I, of course, had to name her Esmerelda. She needed a replacement hand and we were sent to l' Atelier de Maite, where they had an exact hand and multiple antique doll parts.  If you need parts for an antique French doll or restoration work done, this is the place to go!  Their stores also have some of the most exquisite, detailed, French dolls clothes I have ever seen.  The daughter speaks very good English and her mother, running the smaller booth, is a delight and calls her daughter to help translate if there's a communication problem.  The woman that did the restoration work did not speak English but is definitely a master at her profession!
One day we were walking by an antique store in Versailles and saw two dolls, sitting on velvet music boxes.  The man, dressed somewhat like Mozart, was sitting at a harpsichord, and the woman was holding a lute.  My husband's parents play in a baroque music group, and both my husband and I were taken with the dolls.   I commented that it would have been wonderful to have seen them when they actually worked, because it is rare to find mechanical dolls that still work, and their clothes were somewhat tattered and worn and their wigs were a little messy.
The man selling them bought them at an estate sale from the son of the owner and neither knew much about them, except that the woman bought the dolls some 50 years before.  He didn't know if they were new or old at the time.  He wound them for us and the man worked perfectly, with his head and delicate hands moving as he played. The woman played fine but didn't move.  Because they were not identified and in worn condition, we got them for a great price and took them home to see what we could discover.  The insides are Reugue music boxes, but the Reugue Company said the dolls themselves are not theirs.  Some French doll makers, including Vichy, made automated dolls with Regue music boxes.  My dolls are still unidentified but I am planning on taking them to Le Musée de la Poupée (Paris doll museum) to see if they could give me more information.  They both have blue glass paperweight eyes, bisque faces and hands and legs, with wire and cardboard bodies.  They were beautifully dressed, but their clothes have seen better days.   They look quite similar to a pair of automated French dolls, marked "G.Vichy Fils, c 1875" in a book called Doll Collecting for Fun and Profit by Mildred and Colleen Seeley, but I would be surprised if they were that old.
Another trip to Versailles took us right past an antique toy store that had a sign that said Achat-Vente Jouets Anciens L'orangerie. Here my husband spotted an antique sorceress doll in the window.  One look at the dirty, haunting doll left me practically shaking.  I loved her!  She looked like she had been sitting in the window for years.  As I stood there shaking like a nervous chihuahua the store owner pulled her out of the window and put her into my arms.  I would love to pull off a stone face when making an offer for a doll, but once my eyes are filled with tears, they usually know they've got a deal. I started inspecting her and to my surprise her low back is marked "JUMEAU MEDAILLE D'OR PARIS" and her head is marked "1902 3".  She has a human hair wig and ball jointed body papier-mâché body, with fixed wrists. Many doll sellers would have replaced her wig with a new one, with perfect spiral curls, but I prefer the original wig, which is a bit matted.  She has blue glass paperweight eyes and an open mouth and teeth.  I believe only her petticoat is original but her old costume was what attracted me to her.  We took her home and started the process of cleaning the poor love.  I soaked her gown in Woolite and as the filth and dust came off, so did the sequins, but the gown ended up quite nice and washed very well.  Twin Pines of Maine has a product called 'Perk', which is highly recommended for washing old doll clothes, and even wigs, but when the excitement of a new doll takes over I lose all control.  She ended up being more beautiful than I could have imagined.  Like my S.F.B.J. dolls she has a bebe body, which was meant to be a child between the ages of eight and twelve.  Her bisque face is beautifully pale and her glass eyes, which Jumeau was so known for, are remarkable and must be seen up close to fully appreciate. Here are a few web sites that I would recommend to find good tips on cleaning old dolls and to find information on costume and textile restoration.
My husband was planning on going back to La Maison de Poupee, on Christmas Eve to buy my Christmas doll, but of course, they were in Normandy over the holidays.  The Paris flea market was closed, so the Saturday after Christmas we returned to the doll stores at Clingacourt and saw one of the sweetest dolls I've ever seen.  My eyes got huge as she was being put into another woman's bag, but it didn't seem that the woman was buying her so I hesitantly asked if she was for sale.  The woman was only taking her to photograph the doll for a book she is writing on Raynal dolls.  I wish I knew the woman's name so I could buy her book. The woman photographing her shared information with me and said Edouard Raynal was a French doll maker that started his business in 1922, with his wife Martha designing the doll clothes.  My felt doll is from the 1930's and looks somewhat like a Lenci doll, but after the war Raynal made rhodoid dolls, (which is like celluloid, but not flammable), and then went on to make modern plastic dolls.  She said one way to identify the unmarked cloth Raynals was by their buttons, because have little rays like a sun.  Their eyes also have little crescent moons, instead of highlight spots like Lenci dolls.  We also bought a second doll from the 1920's.  The woman working on the book said she was either a Raynal or a Venus, another French doll maker.  She wears a very old, but not original dress and still wears a hair net over her human hair wig.  It's unusual to see a cloth doll with human hair and both dolls are jointed.  Her underclothing is especially detailed, with a silk and lace slip, and pantaloons.  She even has a tasseled pearl necklace.  She is a little larger that the other Raynal, and looks like her big sister.  She has to stay away until my birthday, and I am supposed to forget she is hiding in my husband's study.  Like that's going to happen!
I also have an old dollhouse and have discovered two stores, side by side that have wonderful accessories for dollhouses.  They also have fantastic, very French looking kits, to make dollhouses and stores. I bought some wonderful toile wallpaper for my dollhouse and wallpaper for my kitchen that looks like French tile.  If you are a fan of miniatures and would like to add a French touch to your Maison Poupees you must got to La Boite a Joujoux.
Any move, especially an overseas one, can be hard on antique dolls.  The heat can melt glue, or crack composition and the dolls can break or get filthy if they're not wrapped correctly.  My movers thought I was a pain but I gave a lesson in doll wrapping and oversaw the wrapping of my oldest, most fragile dolls.  The regular paper used to wrap household goods will leave your dolls covered in black, filthy dust.  It usually washes off, but I requested acid free tissue paper.  They put a layer of tissue paper over their faces, hands and legs and then wrapped the hands, feet and faces in bubble wrap.  Layers of tissue paper were wrapped around their bodies and clothes and then another layer of bubble wrap "mummified" their bodies and they were then put into separate boxes that were just their size.   Those boxes were then put into a larger box.   It's especially important for cloth and felt dolls to be wrapped in tissue paper because shelf dust will disintegrate the fabric.
When I leave France and carefully pack these new treasures, there's so much I'll miss, but bringing these little "girls" home will remind me of the beauty, elegance and grace of all that I love about France as well as the wonderful times spent out looking for them.  Happy doll collecting!
La Maison de Poupee
40 Rue De Vaugirard
75006 Paris, France
Phone: 01 46 33 74 05
Metro: Saint-Sulpice
L' Atelier de Maite
8, rue Brochant
75017 Paris, France
Phone: 01 42 64 23 93
Le Musee de la Poupee
Impasse Berthaud (near 22 rue Beaubourg)
75003 Paris, France
Phone: 33 1 42 72 73 11
Metro: Rambuteau