And Bardot Created Sex: Bardot Exhibition
Not to mention a whole lot of other things: a modern spirit in post-war France, the liberation of women, an unfettered cinema, the Riviera as we know it plus the French animal protection movement. A large exhibition at the Espace Landowski of the Musée des Années 30 in Boulogne-Billancourt (just outside Paris but on the metro line 9, Marcel Sembat station) drives home the point convincingly, but don't wait—it closes at the end of January. The exhibition includes photos, stills, magazine covers, posters, advertisements, cartoons, costumes, props, film extracts, TV and music clips, artworks (including by Andy Warhol and Kees Van Dongen), newspaper headlines and more. The exhibition covers most of Bardot's life from schooldays to semi-reclusion since she retired from the cinema in 1973, traces her film career, and highlights many of the men in her life, from Roger Vadim to Jean-Louis Trintignant to Gunther Sachs to Bernard d'Ormal. (One blurry photo of a companion disguised in beard and shades turns out to have been—surprise!—Warren Beatty.) Like Josephine Baker, Bardot created a stir by the simple act of baring her body.  Like Marilyn Monroe, she effected powerful erotic magic by the equally simple act of dying her hair blonde. But Bardot's impact on French society was more seismic, equivalent to the impact Elvis had on Eisenhower's America. France after the war was a changed place but still mired in the past—politically the Fourth Republic was similar to the Third, the economy not quite industrialized, and the society ossified. Bardot was an unlikely change agent. She began as a teenaged gamine for pre-Nouvelle Vague filmmakers like Jean Boyer, Marc Allegret and René Clair. But another of these, Claude-Autant Lara, pushed the sexual envelope in an inspired scene in En Cas de Malheur (Love Is My Profession, 1958) in which Bardot, standing in front of Jean Gabin, lifts her skirt in an act of provocation, mooning the audience and scandalizing the French public. She met Roger Vadim, an ambitious filmmaker of Belarusian-Ukrainian origin, on a film set and married him. Vadim was a minor talent as a director but a genius at attracting, cultivating, and exploiting beautiful women (after Bardot dumped him Catherine Deneuve, Jane Fonda and Marie-Christine Barrault followed). And God Created Woman (1956) was the first of several movies he made starring Bardot. The exhibition reveals that it was only by belatedly writing a part for Curt Jurgens, a popular German actor, that Vadim was able to raise funding for the film. We also learn that while the film was initially rejected in France, it hit America like a libido-packed A-bomb and Bardot-mania took off. Bardot rivalled Marilyn in star power and carnal appeal but in a newer, modern way (if Marilyn was cinema's Elvis, Bardot was the Beatles). The vast majority of Bardot's movies weren't great, but she did notable work with Henri-Georges Clouzot (La Vérité), and New Wave directors Louis Malle (Vie Privée) and Jean-Luc Godard (Le Mépris). Ironically, the films she made with Vadim have dated badly and are mostly forgotten. Bardot also teamed up with Serge Gainsbourg to make a number of pop music classics, which also feel confined to their era. It's probably Bardot as a vehicle for style in various guises that is most relevant, perhaps why this exhibition devoted to a sex kitten's life draws mostly women. The exhibition winds up with Bardot's career as an animal activist, which by now has lasted longer than her previous life in show business. Understandably, it treads very lightly at how that passion has led into conflict with some of the customs of France's Muslim minority. If you have a chance to see this exhibit, please post your impressions. Register
HERE
to do so if you need a Bonjour Paris user name and password.   Note: Exhibit ends on January 31.
SUBSCRIBE
ALREADY SUBSCRIBED?
BECOME A BONJOUR PARIS MEMBER

Gain full access to our collection of over 5,000 articles and bring the City of Light into your life. Just 60 USD per year.

Find out why you should become a member here.

Sign in

Fill in your credentials below.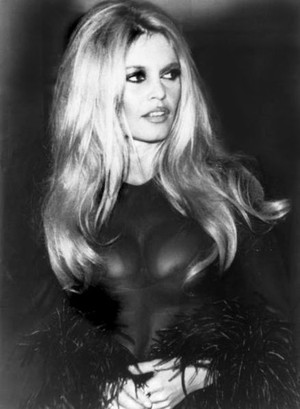 Not to mention a whole lot of other things: a modern spirit in post-war France, the liberation of women, an unfettered cinema, the Riviera as we know it plus the French animal protection movement.
A large exhibition at the Espace Landowski of the Musée des Années 30 in Boulogne-Billancourt (just outside Paris but on the metro line 9, Marcel Sembat station) drives home the point convincingly, but don't wait—it closes at the end of January.
The exhibition includes photos, stills, magazine covers, posters, advertisements, cartoons, costumes, props, film extracts, TV and music clips, artworks (including by Andy Warhol and Kees Van Dongen), newspaper headlines and more.
The exhibition covers most of Bardot's life from schooldays to semi-reclusion since she retired from the cinema in 1973, traces her film career, and highlights many of the men in her life, from Roger Vadim to Jean-Louis Trintignant to Gunther Sachs to Bernard d'Ormal. (One blurry photo of a companion disguised in beard and shades turns out to have been—surprise!—Warren Beatty.)
Like Josephine Baker, Bardot created a stir by the simple act of baring her body.  Like Marilyn Monroe, she effected powerful erotic magic by the equally simple act of dying her hair blonde. But Bardot's impact on French society was more seismic, equivalent to the impact Elvis had on Eisenhower's America. France after the war was a changed place but still mired in the past—politically the Fourth Republic was similar to the Third, the economy not quite industrialized, and the society ossified. Bardot was an unlikely change agent. She began as a teenaged gamine for pre-Nouvelle Vague filmmakers like Jean Boyer, Marc Allegret and René Clair.
But another of these, Claude-Autant Lara, pushed the sexual envelope in an inspired scene in En Cas de Malheur (Love Is My Profession, 1958) in which Bardot, standing in front of Jean Gabin, lifts her skirt in an act of provocation, mooning the audience and scandalizing the French public.
She met Roger Vadim, an ambitious filmmaker of Belarusian-Ukrainian origin, on a film set and married him. Vadim was a minor talent as a director but a genius at attracting, cultivating, and exploiting beautiful women (after Bardot dumped him Catherine Deneuve, Jane Fonda and Marie-Christine Barrault followed). And God Created Woman (1956) was the first of several movies he made starring Bardot.
The exhibition reveals that it was only by belatedly writing a part for Curt Jurgens, a popular German actor, that Vadim was able to raise funding for the film. We also learn that while the film was initially rejected in France, it hit America like a libido-packed A-bomb and Bardot-mania took off. Bardot rivalled Marilyn in star power and carnal appeal but in a newer, modern way (if Marilyn was cinema's Elvis, Bardot was the Beatles).
The vast majority of Bardot's movies weren't great, but she did notable work with Henri-Georges Clouzot (La Vérité), and New Wave directors Louis Malle (Vie Privée) and Jean-Luc Godard (Le Mépris). Ironically, the films she made with Vadim have dated badly and are mostly forgotten. Bardot also teamed up with Serge Gainsbourg to make a number of pop music classics, which also feel confined to their era. It's probably Bardot as a vehicle for style in various guises that is most relevant, perhaps why this exhibition devoted to a sex kitten's life draws mostly women.
The exhibition winds up with Bardot's career as an animal activist, which by now has lasted longer than her previous life in show business. Understandably, it treads very lightly at how that passion has led into conflict with some of the customs of France's Muslim minority.
If you have a chance to see this exhibit, please post your impressions.
Register HERE to do so if you need a Bonjour Paris user name and password.
Note: Exhibit ends on January 31.
More in Art, culture, Exhibitions, Museum, Paris, Paris art museums, Paris exhibitions, Paris galleries, Paris tourism
---
---