An Unexpected Taste of Provence
I have always loved serendipity, and the tales of stumbled-upon happy endings it brings to mind. I find it especially rewarding when traveling. My tour of Provence was twice blessed with adventures that came about because events did not go according to plan. The first started with the cancellation of a cooking lesson in the kitchen of a local hotel, which our small group of six had considered a highlight. Our trip coincided with a three-day French national holiday and our chef dropped his whisk and his toque and took off. Holidays and vacations are untouchable entitlements in France. Pity the politician who would tamper with either. All was not lost. Our guide, Henriette, happened to have a friend who was restoring a château in the Vaucluse. This friend happened to be planning the opening of a bed and breakfast and a cooking school at the château. On Tuesday, Henriette persuaded her friend to open a little sooner than planned and, ready or not, that Thursday morning our van drove through the massive iron gates of Château Talaud. The château, the size of a small hotel, sat on grounds with an aura of history. In true French fashion, they had been nurtured back to grandeur through painstaking restoration. Beyond the wall where the gardens ended, a small vineyard began. Our hosts, Conny and Hein Dieters-Kommer, were at the door to welcome us into their home. One would have thought they had been preparing for us for weeks. Hein left us to return to his vineyard (he, too, had a dream that he was fulfilling), and though the house was not yet ready for the public, Conny graciously gave us a tour of the first floor. It was furnished in an elegant mix of fine antiques and country comfort, co-existing with the help of gorgeous fabrics, selected by Conny. The cottages that would house her guests were only partially decorated but already gave promise of the charm and intimacy that bed and breakfasters seek. Conny's dream was well under way. The tour ended in the kitchen, where we would have our lesson. It was large and lovely and newly equipped with every appliance a cook would need. Bowls of colorful fruits and vegetables were on the counters. Posters and mounted photos in culinary motifs offset the glossy white walls. Our menu's ingredients had been prepped and laid out for us. A clay pig in full chef's regalia presided at the table, ready to oversee our efforts in a more affable fashion, we suspected, than the hotel chef who had abandoned us. We began our lesson with a simple appetizer that I have since served dozens of times, because it's delicious, and because it requires very little preparation. Just wrap paper-thin slices of prosciutto around crisp cheese sticks and arrange them on a plate in a starburst pattern. Voilà! Instant hors-d'oeuvre. Conny led us through several subsequent courses: some she had prepared ahead because they needed more time than we had; others were hands-on, with all of us around the table chopping, stirring, and stuffing. At no other point during the trip had we enjoyed each other so much. We all like to be pampered at fine restaurants when we travel, but nothing will bond a group more than preparing a meal together. We left the kitchen with pots simmering on the stove and casseroles baking in the oven and moved to the dining room, where a table was set with crystal and china. Hein joined us for lunch, proudly pouring wine from his own vineyard. We started with a cold soup made from scooped-out Galia melons and served in their fluted shells. The main course was veal rolls stuffed with ham and sundried tomatoes, which we had all stuffed and rolled, and which we praised without a trace of modesty. After dessert, a strawberry-mascarpone mousse, we sat in the flower-filled courtyard, enjoying more of Hein's wine and relishing what had been an unexpected, delightful taste of Provence. We left Château Talaud promising Conny and Hein (and ourselves) that we would be back. On that same trip, a second dilemma resulted in another unexpected adventure. We were on a walking tour, described in the catalogue as "easy to moderate." And so far, it had been. On this day, a trek over the Dentelles hills was our agenda. It sounded more in the "challenging" category to me, but Henriette assured me it would be manageable. When we pulled into the parking area, all I could see were mountain peaks surrounding us. Since I am not happy with heights, I resisted Henriette's promise of magnificent vistas—always a warning that I might find myself up higher than my comfort level—and opted to stay with Frank, our driver. It turned out to be one of my better travel decisions. The rest of the group trooped off into the hills and Frank and I set out to gather food for a picnic when the hikers returned. It was market day in St. Remy, and what a market it was. Olives in infinite variety, as far as the eye could see; spices in muted earth tones in huge checkerboard displays; freshly baked baguettes and boules begging to be eaten now. Frank, an American expatriate married to a Frenchwoman, had lived in Marseilles for ten years. He knew his way around a market. He chose some of his favorite olives,…
SUBSCRIBE
ALREADY SUBSCRIBED?
BECOME A BONJOUR PARIS MEMBER

Gain full access to our collection of over 5,000 articles and bring the City of Light into your life. Just $60 a year.

Find out why you should become a member here.

Sign in

Fill in your credentials below.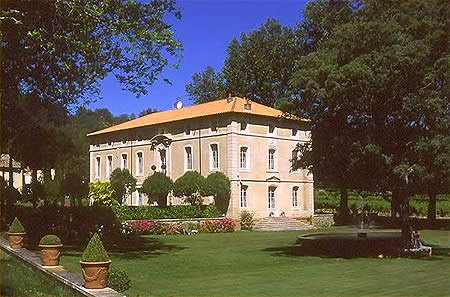 I have always loved serendipity, and the tales of stumbled-upon happy endings it brings to mind. I find it especially rewarding when traveling. My tour of Provence was twice blessed with adventures that came about because events did not go according to plan.
The first started with the cancellation of a cooking lesson in the kitchen of a local hotel, which our small group of six had considered a highlight. Our trip coincided with a three-day French national holiday and our chef dropped his whisk and his toque and took off. Holidays and vacations are untouchable entitlements in France. Pity the politician who would tamper with either. All was not lost.
Our guide, Henriette, happened to have a friend who was restoring a château in the Vaucluse. This friend happened to be planning the opening of a bed and breakfast and a cooking school at the château. On Tuesday, Henriette persuaded her friend to open a little sooner than planned and, ready or not, that Thursday morning our van drove through the massive iron gates of Château Talaud.
The château, the size of a small hotel, sat on grounds with an aura of history. In true French fashion, they had been nurtured back to grandeur through painstaking restoration. Beyond the wall where the gardens ended, a small vineyard began. Our hosts, Conny and Hein Dieters-Kommer, were at the door to welcome us into their home.
One would have thought they had been preparing for us for weeks. Hein left us to return to his vineyard (he, too, had a dream that he was fulfilling), and though the house was not yet ready for the public, Conny graciously gave us a tour of the first floor. It was furnished in an elegant mix of fine antiques and country comfort, co-existing with the help of gorgeous fabrics, selected by Conny.
The cottages that would house her guests were only partially decorated but already gave promise of the charm and intimacy that bed and breakfasters seek. Conny's dream was well under way. The tour ended in the kitchen, where we would have our lesson. It was large and lovely and newly equipped with every appliance a cook would need. Bowls of colorful fruits and vegetables were on the counters.
Posters and mounted photos in culinary motifs offset the glossy white walls. Our menu's ingredients had been prepped and laid out for us. A clay pig in full chef's regalia presided at the table, ready to oversee our efforts in a more affable fashion, we suspected, than the hotel chef who had abandoned us. We began our lesson with a simple appetizer that I have since served dozens of times, because it's delicious, and because it requires very little preparation. Just wrap paper-thin slices of prosciutto around crisp cheese sticks and arrange them on a plate in a starburst pattern. Voilà! Instant hors-d'oeuvre.
Conny led us through several subsequent courses: some she had prepared ahead because they needed more time than we had; others were hands-on, with all of us around the table chopping, stirring, and stuffing. At no other point during the trip had we enjoyed each other so much. We all like to be pampered at fine restaurants when we travel, but nothing will bond a group more than preparing a meal together. We left the kitchen with pots simmering on the stove and casseroles baking in the oven and moved to the dining room, where a table was set with crystal and china. Hein joined us for lunch, proudly pouring wine from his own vineyard. We started with a cold soup made from scooped-out Galia melons and served in their fluted shells. The main course was veal rolls stuffed with ham and sundried tomatoes, which we had all stuffed and rolled, and which we praised without a trace of modesty. After dessert, a strawberry-mascarpone mousse, we sat in the flower-filled courtyard, enjoying more of Hein's wine and relishing what had been an unexpected, delightful taste of Provence.
We left Château Talaud promising Conny and Hein (and ourselves) that we would be back.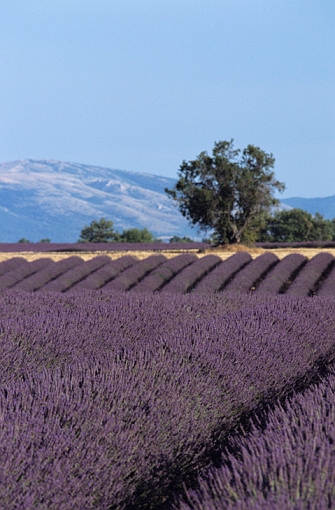 On that same trip, a second dilemma resulted in another unexpected adventure. We were on a walking tour, described in the catalogue as "easy to moderate." And so far, it had been. On this day, a trek over the Dentelles hills was our agenda. It sounded more in the "challenging" category to me, but Henriette assured me it would be manageable. When we pulled into the parking area, all I could see were mountain peaks surrounding us.
Since I am not happy with heights, I resisted Henriette's promise of magnificent vistas—always a warning that I might find myself up higher than my comfort level—and opted to stay with Frank, our driver. It turned out to be one of my better travel decisions. The rest of the group trooped off into the hills and Frank and I set out to gather food for a picnic when the hikers returned.
It was market day in St. Remy, and what a market it was. Olives in infinite variety, as far as the eye could see; spices in muted earth tones in huge checkerboard displays; freshly baked baguettes and boules begging to be eaten now. Frank, an American expatriate married to a Frenchwoman, had lived in Marseilles for ten years. He knew his way around a market. He chose some of his favorite olives, explaining the merits of each to me. We bought jambon from a vendor he knew by name, and he led me to the vendors who had the best saucisson and chèvre. I chose brilliantly-hued tomatoes and pounds of firm, dark cherries. Frank picked an armful of baguettes and we loaded everything into the van.
Our next stop was at a local winery where Frank taught me what to look for on a label. He told me that the rural French buy their wine at domaines like this, bringing their own containers to fill from a barrel. Often these wines are less expensive and available only where they are produced. By this time the hikers should have been on their way back. We found a shady area in the park at the foot of the hills and set up the picnic. Then we sat on rocks by the side of a stream, sipping wine as we waited their return. Frank told me about his life as an expat. One of the most difficult things he'd had to adjust to was the French work ethic. In France, he said, family and social life come first. Offices clear out at the end of the day. Working overtime or on a holiday are emergency measures only.
Used to the frenetic American work style where the norm is late nights, limited vacations, and arranging your life around the job, he was totally out of sync in this new environment in the beginning, but now he enjoyed it as much as the French. The hikers were late getting back, but I didn't mind. I had spent the morning living and loving the life of a Provençal. Because I couldn't climb a mountain, I had stumbled upon a happy ending.
Château Talaud has been completed and its owners welcome guests.
Château Talaud
84870 Loriol du Comtat
Vaucluse, France
Patricia Wells lives in the region. To read more about it: voilà:
More in Bonjour Paris, France travel, Provence, Shopping
---
---