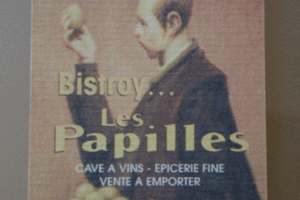 It isn't always easy to know where to go for a simple but tasty meal around the Jardin du Luxembourg: plenty of excellent but upscale restaurants, too many tourist traps to count.
This is why I was particularly happy to discover Les Papilles. Located just off the Luco, it is a wine store that doubles up as a small restaurant and a gourmet grocery store—a hybrid kind of place which is a growing trend in Paris. Les Papilles originally opened back in '97, but it changed owners just a couple of months ago, and now serves excellent traditional French cuisine, with a Sud-Ouest spin.
The menu offers a number of simple dishes, salads, tartines, and cold cut plates, which make this a perfect lunch spot. There is also a fixed menu, called "Retour du Marché", which the chef reinvents daily, based on what she (yes, the chef is a she, Laetitia Cosnier) found at the market. This 28.50 euro menu will get you a first course, a main dish, cheese and dessert—a beautiful concept, and a most excellent bang for your buck.
The menu could start with a lobster bisque, brought to your table in its white ceramic soupière. Braised pork chops would follow, cooked and served in a cast iron cocotte, with roasted garlic, parsley and haricots coco, those very flavorful white beans. Cheese would be a Brie de Meaux with walnuts, and dessert a raspberry clafoutis. Another excellent dessert choice is the Cappucino de chocolat et mousse de café, a luscious chocolate cream served in a coffee cup and topped with a foam of coffee.
All around the very pleasant restaurant room are dark wood shelves with bottles of wine, which you can buy to go, or drink with your meal. A selection of jams and condiments are on display, and in particular a large array of products based on the famous Basque pepper, the Piment d'Espelette—jellies, sauces and spreads of varying spiciness. From the deli counter you can also buy some of their charcuterie. Try the terrine, it is made by Yves Camdeborde, the famous chef from the Régalade restaurant, or get tapas slices of the wonderful Bellota ham.
The service is extremely friendly, and the waiter, with his South-Western lilt, takes the time to describe the dishes carefully. The restaurant has just a few tables, so be sure to make a reservation—and if the weather allows, you may get lucky and catch one of the little tables on the sidewalk!
Les Papilles is open Monday through Saturday. The wine and grocery store is open from 9am to midnight, while food is served between 12pm and 2:30pm, then from 7:30pm to 10:30pm. Also note that they have a room downstairs with a large table, which you can book to organize a little party.
Les Papilles
30, rue Gay-Lussac
75005 PARIS
RER B: Luxembourg
Tel: +33 (0)1 43 25 20 79
In her column "A Parisian Home Chef," native Parisian Clotilde Dusoulier happily shares recipes, food shopping bonnes adresses, entertaining tips and restaurant recommendations. Read more of her writing on her gastronomic blog, Chocolate & Zucchini.