Just off of the
Champs-Elysées, tucked away between good restaurants and chic hair
salons, so close to Man Ray, one of the hottest clubs in Paris, that
you'll hear the "thump, thump, thump" of the speakers on your nightly
walk…you'll find the Hotel Franklin D. Roosevelt.
The
train arrives at métro Franklin Roosevelt. I strategically boarded a
middle car when getting onto the line 1, putting me in the perfect
location for the "Sortie." I like the Franklin Roosevelt station
because when you get off the train there is only one "Sortie," so you
don't have people banging into each other while they pretend to know
where they're going– pushing and shoving until they are close enough
to actually read the sign, at which point they realize that this is not
the exit they want and that the one that they are looking for is
located at the opposite end of the quai.
I
reach the main entrance of the station and make a mental note of the
24-hour photo print place and the booth that takes passport
photos–these miniature photographs are mandatory when one purchases a
week or month métro pass.
I
arrive at the top of the métro stairs, right at the crosswalk that will
take me to the other side of the Champs-Elysées, where I will make a
left on rue Marbeuf. After a couple of more blocks on this street,
passing expensive designer stores and unaffordable real estate, I reach
my destination at 18, rue Clément-Marot.
I
pull open the understated double glass doors leading to the reception
lobby of the Hôtel Franklin D. Roosevelt. The tail wind off a brand new
black Mercedes blows my long denim skirt upwards, pushing me forward
into a regal sitting area with high-back antique chairs in royal reds
and greens sitting on top of rich, thick rugs.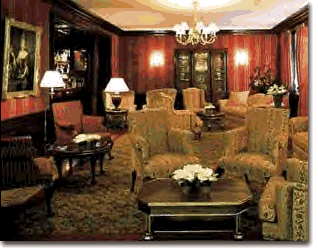 Everything
is perfectly polished. The furniture looks old but brand new. I left my
cigars at home. The room reminds me of the one on the 13th floor of my
grandpa's club in Los Angeles, where women still were not permitted
until a few years ago. The chandelier provides a hazy glow from its
collection of miniature lampshades attached to each arm of the
chandelier. There is a tall wooden hutch against the far wall filled
with what look like, but that I doubt are, actual antique figurines,
perfectly placed between two matching wall lamps.
Behind
the sitting area is a bar, where three businessmen sit drinking
Manhattans on the rocks while they peruse (as I conclude from the
tassels on their shiny black loafers that go with the red tassels on
the ceiling lights) a million-dollar contract. The bar is small, red
and intimate, with its long red booths situated around tiny tables
where the drinks barely fit. This is the perfect place to have a drink
after a long day at the office or before a night at the theater.
I
approach the reception desk to my right, where a long-haired brunette
wearing a white silk blouse and a pair of pearl earrings stands behind
a tall wood counter. To my left there is a brochure holder advertising
various tours and parks offered in Paris. My eye is attracted by the
large mouse ears of Mickey on the cover of the Euro Disney brochure.
Personally,
I hate it when hotels display brochures like this in their lobby. I
would prefer them to keep the information hidden behind the counter
with the concierge's "Recommended Restaurants" cheat sheet.
There
is a man carrying a used brown leather briefcase squinting over the
wire rims of his specs, shopping the free brochures–he seems to find
them helpful. Perhaps he is collecting them for his scrapbook.
The
receptionist is extremely pleasant while she begins my brief check-in
process. I fill out a few forms and sign my name and she hands me the
keys to room 27, a standard room with a queen-size bed.
I
examine my key, which is a strange pin-like device. "I guess I just
stick it in the hole?" I ask her in French. She blushes and nods. I
guess my translation was not so good.
En
route to the elevator I pass another sitting area where two men in
button-up shirts without ties take their coffee. This room is more cozy
than the first sitting area; there seems to be more light and some of
the furniture even has flowers on it. A women sits in the corner in a
high-back chair sipping tea while reading a book.
The
elevator is quite large for France and very, very clean and shiny. In
fact, so far the entire hotel has been spotless–which is unusual for
Paris, as the buildings aregenerally so old. But at this hotel there's
not a speck of dust anywhere.
The
elevator transports me safely to the second floor, where I catch a pair
of maids in action. I step around their supply cart overflowing with
soaps, shampoos, shower caps and toilet paper and locate my chambre
just down the hall.
I stare down
at the large key chain shaped like a bell–it could be used as a paper
weight. I take the circular pin thing and insert it in the "key" hole.
It takes a few tries, but eventually the door opens.
The Standard Room:
There
is a small entrance way lined with two closets covered in mirrors. I
open the second closet to shed my coat. I pull on a hanger, but it
won't budge. Oh–it's one of those hangers that is attached permanently
to the closet rod. I hate those–I'm sorry, but if I can afford to pay
255 euros per night for a standard room, I can certainly afford my own
set of hangers at home.
The Bathroom:
In
order to reach the toilet paper, I have two choices: I can lean forward
off the seat, reaching my right arm out for the scroll located
approximately two arm lengths from the stool and risk tipping over head
first onto the cold white tile floor, or I can scoot to the left and
reach my arm all the way around the back, and pray that I don't pull a
muscle surrounding my lower spinal area.
There
are two sets of towels with the FDR Hotel embroidered on the front.
They feel like they're made out of paper. There is no scale to be found
in the bathroom or magnifying mirror to pick at my complexion. Though
the mirror located over the sink is certainly making my hips appear
larger than life (I hope).
The
lotions and bath gels are mediocre. Their scent is not offensive but
not heavenly either–I won't bother concealing the extra bottles at the
bottom of my carry-on.
The Bedroom:
Brown
and taupe. Wood panels on the walls are covered in framed sketches of a
very old, very strict Paris. Men in tall hats and horses with grand
carriages. Long, thick drapes cover the windows, hiding a view of storm
pipes.
I search for a means to
connect my computer to the internet. The hotel offers Wifi, but it
costs 10 euros per hour or 30 euros per 24 hours. Dial-up is also a
possibility but guests must bring their own cord to hook it into the
wall, which I did not.
Room 51–Deluxe:
Pink.
More effeminate then standard room 27. Has great closet space and a fax
machine. The artwork is the same–pencil sketches of an old, strict
Paris. The furniture is minimal, clean and a little cookie cutter in
style.
This bathroom has the
same towels and lotions as the standard room, but it has beautiful
natural lighting and a Jacuzzi. So relax with bubbles and jets after a
day touring Paris, all right with me!
The Elenore Suite:
Perfect
for the couple in Paris for business but want some romance in the
evening when the day's work is finished. A fax machine and desk
contrast with the charming slanted ceiling and stereo playing Edith
Piaf. Pink stripes and flowers on the wallpaper warm up this masculine
hotel and track lighting and a view of the Eiffel Tower make the
Elenore suite a cozy place to come home to.
In the bathroom you'll find a Jacuzzi and a magnifying mirror.
The Roosevelt Suite:
More
masculine than the Elenore, it offers yellows and taupes. High tech,
with stereo, TV, DVD Pay TV, and three phone lines. Double French doors
separate the rooms. The perfect suite for two people: if one plans on
working late and the other is ready for bed, the sitting area is very
comfortable for a nightcap and the late night news update.
In
the bathroom you'll find a Jacuzzi, a huge shower if you're not into
bubbles and a magnifying mirror for trimming those nose whiskers.
All of the rooms are equipped with direct phone, satellite TV, minibar and personal safe.
A
note on choosing a room in this hotel: the rooms in the back of the
hotel are very quiet but do not have a view, whereas the rooms towards
the front have lovely views but also the noise from the Champ-Elysées.
If it is your first time in Paris, you must have a view.
The
next morning, on my way to breakfast, I opted to take the stairs. I
felt like a princess arriving at the ball as I descended down the
slightly spiral dark polished wood. If you stay in this hotel, take the
stairs–they're grand.
The
breakfast room is decorated in green and egg shel, with curtains
covered in an ivy design. There is no view or window; however, French
doors allow you to look through into another, slightly more grand
sitting room with sky light and chandelier and a mural of the ocean on
the wall–no sea breeze, but lovely for the eye. Wicker chairs
scatteracross a polished white floor.
The
price for breakfast is 15 euros for croissants, breads and fruit or 22
euros for a larger breakfast that includes meats, yogurts and cereals.
It
is possible to have breakfast in your room, upon request. There is no
restaurant in this hotel, so you'll have to go out to eat at one of the
many good restaurants in this chic area. However, if you are jet-lagged
and can't fathom getting out of bed to pull on a pair of pants for
dinner, it is possible for the hotel to order in for you from one of
the near-by restaurants.
La Fermette Marbeuf
01 53 23 08 00
Maître Pierre
01 47 20 28 29
Lina's Sandwiches
01 47 23 04 63
Café Mode
01 47 20 98 18

Café Blanc-tea room
01 53 67 30 13
I
don't foresee a visit to the Hotel Franklin Roosevelt in the near
future for myself, unless tomorrow I register for law school or go into
business consulting. For a writer, well, there are far more charming
hotels in Paris. Hôtel Franklin Roosevelt is an ideal hotel for the
business traveler, clean and simple. You'll find an attentive staff who
will happily cater to your every need and a quiet room to set up your
computer.
Rates: 255-550 euros
18, rue Clement Marot
75008 Paris
Contact:
[email protected]
Telephone: 01 47 20 44 30
---
Kirsten
joins Bonjour Paris from Los Angeles, California where she recently
graduated from the University in Southern California with a BFA
in Acting. Last year Last year she co-wrote the book and lyrics to a
new pop musical which expects to open in Los Angeles next spring. Two
years ago, while studying at a conservatory in London, Kirsten fell in
love with Paris and decided that she was destined to return for some
time. She's thrilled to experience this dream come true.