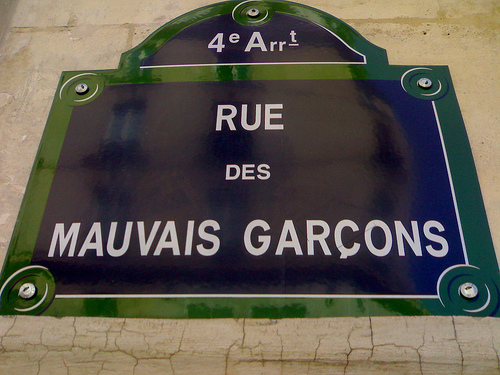 Sunday afternoons in Paris tend to be quiet. There are always some tourists milling through the streets, making their way from museum to museum, but most of the stores and boutiques are closed. It's even difficult to find an open restaurant. It would be easy to think that the city is sleeping, but then you spy the rainbow flags fluttering in the wind. You feel the slight thump of base vibrating through the cobblestone streets.
If you follow these signs you will find yourself in the heart of Paris's gay community, which never, ever, ever sleeps!
Welcome to the Marais, where there is something for everyone and plenty to do every day of the week. One possible itinerary that takes you from morning (meaning noon-ish) till dawn begins with the incomparable Ozo. This two-story restaurant with a terrace serves a great brunch. Seating is from 11:00 to 4:30. Be sure to make a reservation, as the spot is hot. The staff is super friendly and the fresh OJ, yogurt maison and all-you-can-eat fresh, flaky pastries are just the starters.
When you've finished enjoying brunch, stroll up the alley to the cozy Blue Book Paris, a combination bookstore, café and gallery. This lovely shop has more than 10,000 gay and lesbian books, from around the world. They also have a large DVD, CD and magazine collection. If you're not sure where to start, don't hesitate to ask their friendly staff; David, one of the co-founders, speaks perfect English. You can also sit in their comfy café corner and grab a coffee or Perrier and a slice of chocolate tart while looking through a book or simply gazing out the window at the passers-by. While there, don't forget to enjoy the monthly art or photo exhibit.
As the afternoon passes into evening you might be ready to turn up the heat a little. The ladies can head one street over and a couple of blocks up to The Unity Bar, where you'll find a simple neighborhood spot to grab a cocktail, play a game of pool and listen to some music. The afternoons are pretty calm in this dimly lit one-room bar, but things get lively at night, with DJs spinning tunes. Meanwhile, the boys can head straight up the street to one of the legendary clubbing and cruising spots in Paris. Le Dépôt, a three-storey black building, with rainbow flags and palm plants at the entry, hosts a gay tea dance every Sunday starting at 2 in the afternoon and continuing until 8AM.
Details:
The annual Carnaval Interlope costume ball is held each March. For the lesbian and gay community, this lively dance party carries on the tradition started at Magic City, the place for girls who felt like dancing à deux in the 1920s. Expect lots of people in fancy dress, but non-costumed folks are welcome too.
For more information visit www.gaismusette.com (information is available in English).
For more Information:
Ozo: 01-42-77-10-03, 37 rue Quincampoix, 75004. Metro: Rambuteau, line 11. Dinner seating till midnight during the week and 1:30AM on Fridays and Saturdays. Visit their user-friendly website, which has more detailed information on both their brunch and dinner menus, as well as pictures of their upstairs casual dining area and their more lively downstairs room at www.ozoresto.com.
Le Depot: 01-44-54-96-96, rue Aux Ours, 75003. Metro: Etienne Marcel, line 4. Open every day from 2:00PM to 8:00AM. s. The Gay Tea Dance is 7.50 from 2 till 5 p.m. Details about the different theme nights and DJs will soon be available on their website (in French only) at www.ledepot.com.
Unity Bar: 01-42-72-70-59, 176-178 rue Saint Martin, 75003. Metro: Rambuteau, line 11 or Etienne Marcel, line 4. They don't have a website but you can send them an e-mail at [email protected]. for information about their monthly events, or Programme Unity, which includes a list of their guest DJs and theme nights.
Photo credit:  Flickr Creative Commons/fee-ach
And to see Paris in a different light and have a great time:
City Segway Tours are great for seeing Paris in a different light. You'll see more, have more fun, and not feel tired at the end of it. These are highly recommended and truly a great thing to do during your stay.
Fat Tire Bike Tours are another great way to see the city. You'll get the company of an expert guide, the use of a super-comfortable bike, great tips and advice about what to do while in town and an exciting, informative and educational experience.