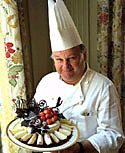 Usually it's the secrets of the upstairs maid that make the headlines.
 But, as always, there's the inescapable "French Exception," the Exception française.This time the secrets are those of Roland Mesnier, the French pastry cook who, after 25 years of serving up end-of-dinner delicacies in the White House for five U.S. presidents and their illustrious guests, recently retired and produced a tell-all book entitled "Sucré d'état" that's burning up the bookstores in France.
The title is a French play on words because the French word for sugar, Mesnier's favourite ingredient, is sucre and sucré d'état in French is pronounced almost like Secret d'Etat or, literally, in English, Secret of State.
Of course Mesnier's secrets are not as spicy as those of the upstairs maid might be. They lean heavily on the sugar-rich recipes for the imaginative cakes and cookies he turned out in the White House kitchens for Presidents Jimmy Carter, Ronald Reagan, Bill Clinton and both George Bushes, Senior and Junior.
But there is more than a taste of spice in his descriptions of his relations with the various first ladies he served—Rosalynn Carter, Nancy Reagan, Hillary Clinton, Barbara and Laura Bush.
 There also are some palate-warming portraits of the culinary weaknesses of their husbands, particularly sweet-tooth-prone Ronald Reagan, when they weren't busy running the country and took a moment off to steal a tiny taste of this or that oh-so-sweet dessert.Heavy set and smiling knowingly, in the white jacket and tall, white chef's cap he sports for his book jacket, Mesnier looks like a casting director's dream of someone to play a French pastry cook—and one who obviously has indulged a good deal in his sugary specialties.
But he knows his trade. Originally from a small village near the city of Besançon in eastern France, he came up the hard way through the kitchens of world-famed hotels in Europe, the Caribbean and the United States garnering ever-increasing numbers of pastry competition prizes along the way.
He was overseeing the dessert delicacies at the ultra-chic Homestead hotel in Virginia when he heard the Carters' White House pastry chef was leaving soon, and mailed in a "what have I got to lose" application for the job.
 To his surprise,
however, after a trip to Washington and an interview with then First Lady Rosalynn Carter, he was offered the post and told to start as soon as he could. It was the beginning of a beautiful friendship and a quarter-century of preparing delicacies for world leaders as varied as Mikhail Gorbachev, Boris Yeltsin, Yasser Arafat, Yitzak Rabin, Jacques Chirac, François Mitterrand, Helmut Kohl and Queen Elizabeth II.  To them add movie stars such as Charlton Heston, Gregory Peck, Frank Sinatra, Elizabeth Taylor and more.
The list is endless. So too is the list of literally thousands of invitees of all sorts descending on the White House and needing to be nourished at receptions, conferences, and holiday festivities. State dinners for 250 guests or more were run of the mill and the numbers easily mounted to 6,000 for a single Reagan-era Christmas season reception. That festivity required the preparation of, literally, 30,000 petits-fours and other pastries. 
Mesnier is polite and discreet about his various employers and even warns readers at the start of his book that if they are looking for scandal and criticism of them from him, they're not going to get it. 
But he nevertheless sprinkles around some non-culinary insights into life at the top, such as the way Secret Service agents, without the President's knowledge, dumped quantities of trout in the river upstream every time President Carter went fishing so that he never came home empty handed.
In terms of organization and authority, he is rather laudatory about all his first lady employers, each in their own way, with Nancy Reagan coming off as the most strict but not unfair and Laura Bush as the most devoted to elegant simplicity.
He tips his hat to the Clintons for their stress on youthful presences in the White House and the way they stuck it out and weathered the tempest caused by the Monica Lewinsky affair. And he is warm in his praise for the basic politeness of the Carters and the warm family-oriented authority exercised by Barbara Bush.
There is a lot of detailed description of the delicacies he prepared for his employers and their distinguished White House guests plus, at the end, for readers who want to try their hand at home, the exact recipes for the favourite desserts of all the Presidents concerned. Would-be domestic pastry chefs should be warned, however, that the quantities of ingredients mentioned are those for dinners where eight to 20 guests are expected.
 Mesnier's book is in French but, even for English-speakers, there are enough ideas for wow-your-guests dessert sensations to enhance the reputation of any hostess, anywhere.  Copyright © R Korengold