Stay in an Apartment with Eiffel Tower Views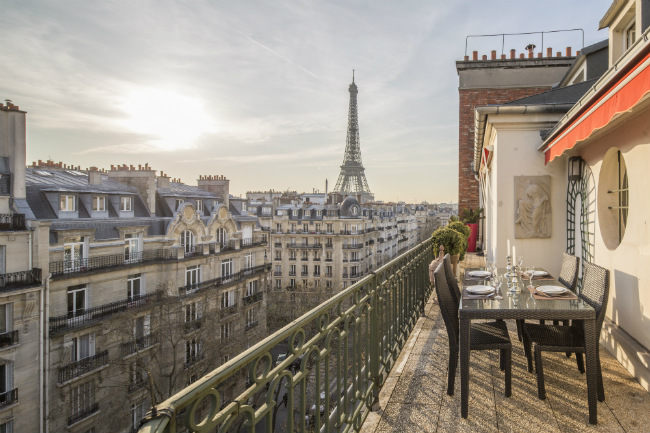 There's nothing better than an Eiffel Tower view, unless there's a terrace involved. Pop the cork on a bottle of Champagne and watch La Dame de Fer put on a sparkling show every hour on the hour. In the morning, opt for breakfast delivery (extra buttery croissants, anyone?) so you can continue your staring, unabated. You don't really have to leave this privileged spot—especially when it's your apartment rental.
Paris Perfect, a popular vacation apartment rental agency, offers 90 different properties across Paris—many in the 7th arrondissement where the company was first founded. Here, in the posh residential neighborhood a stone's throw from both the Eiffel Tower and the fabulous market street Rue Cler, apartments like the Margaux and the Cognac boast balconies you can brag to folks back home about. We particularly liked the Margaux, pictured here. It's equipped with a furnished, wrap-around balcony where you can dine al fresco or just lounge with the newspaper in comfy, cushioned chairs. From its perch above the rooftops on rue de Grenelle, the Cognac also offers an outdoor eating area facing the Eiffel Tower. And the Chambertin apartment comes with a claw-footed bathtub overlooking the splendid monument.
Bonjour Paris recently met with passionate co-founder Madelyn ("Maddy") Willems who started Paris Perfect with her husband in 1999. Her goal? To offer guests "la vie Parisienne" while also guaranteeing the comforts of home. Willems is quite candid in describing her childhood in a constantly moving military family, filled with constant worry about their next home base. She wants her clients to "feel comfortable, welcome, safe" and to know that they have "back-up" when navigating a different city—and a different set of cultural rules. What this means is that the Paris Perfect office is open seven days a week to answer any client questions. Stuck in the entryway of your apartment building because you can't find the "porte" button to open the door? A quick call and your question is answered.
Paris Perfect staff are also available to help you plan your ideal stay in the City of Light: recommending museum exhibitions, the best local restaurants and insider addresses. Prior to your arrival in Paris, you can even book sightseeing adventures, Seine River cruises, and cut-the-line tours including iconic landmarks like the Louvre and the Picasso Museum in the Marais. Need to de-stress or get over jet-lag? Paris Perfect can arrange a Thai massage at a tiny gem of a spa in the neighborhood.
We highly recommend the cooking class with Marie-Françoise Rol, which can be arranged in the kitchen of your very own Paris apartment rental. Marie-Françoise speaks impeccable English, and shares her culinary tips in a gregarious, fun-filled morning, capped off with a wine tasting paired with lunch. (Ask to taste her Oorain line of confitures, sold at La Grande Épicerie. The marmalade, made from oranges cultivated on the Mediterranean isle of Mallorca, is to-die-for.)
Willems is also passionately involved with the décor of many of the apartments, scouring the famous Paris flea markets for finds. Across the board, the apartments are decked out with the same amenities like flat-screen TVs, Nespresso machines, wifi, and a handbook with neighborhood recommendations (also noting the tourist-trap restaurants to avoid!) Kitchens are outfitted with high-quality appliances so you can enjoy one of the best aspects of Parisian life: shopping the outdoor markets to prepare a feast back home. For an additional fee, you can have the fridge stocked with groceries before you arrive (think chilled bottle of champagne, and tasty gourmet greats, including stinky cheese from from La Grande Épicerie). Now that's a warm welcome!
PS. The company's leather key chains, in the shape of the Eiffel Tower, are so popular, that Paris Perfect made them available for guest purchase, just like the signature plastic wine cooler bag.
Lead photo credit : The expansive terrace in the Margaux apartment, courtesy of Paris Perfect
More in apartment rentals in Paris, Eiffel Tower views in Paris
---
---