Home
Tags
Posts tagged with "Paul Prescott"
Tag: Paul Prescott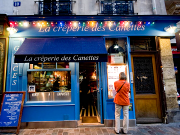 La crêperie des Canettes, Paris 6th. Photo by patrianova. It's easy to get blasé about crêpes in Paris. If you're anything like me, after a brief but...
Seven hundred words. That was the assignment, to write seven hundred words about Leviathan, Anish Kapoor's Monumenta 2011 installation showing at the Grand Palais...