Home
Tags
Posts tagged with "Calder"
Tag: Calder
A major exhibition explores Samuel Courtauld's role as one of the great art collectors of the twentieth century. Don't miss this extraordinary collection. The Courtauld...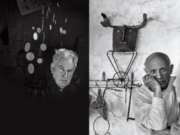 A deep-dive into the artists' bid to represent 'non-space where both Picasso and American sculptor Calder - two of the most influential figures of...