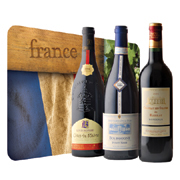 Gift giving isn't always easy. The best gifts are the ones that show that you really thought about your 'giftee.'  They are often the sort of gifts that the person might have not thought to get for themselves, or would feel guilty to – but it hits just the right spot. Something sentimental, unique, or just plain fun.
I know it's a cliché, but most people will agree, it's all about the thought.
So, if you're shopping for someone who happens to love just about anything French, here are some gift suggestions and inspirations from BonjourParis:
Tour de France Wine Gift Set
Can't make it to France? With the Tour de France Wine Gift Set, you can take a tour of France's three most famous wine regions, Bordeaux, Burgundy and the Rhone instead. No passport required! Price: $39.99. Alternative: Make your own wine gift set by purchasing bottles from different regions.
Korbella Eiffel Tower Jewelry
This newly launched collection of limited production fine jewelry contains a genuine piece of the Eiffel Tower.  Company founder Paul Michael Bedell acquired an old section of the Eiffel Tower's spiral staircase and has incorporated pieces of it into the collection of sterling silver and gold vermeil jewelry. So now you can literally own part of the iconic Eiffel Tower. The collection of Korbella jewelry prices range in sterling silver from $190-$855 and gold vermeil from $250-$1170.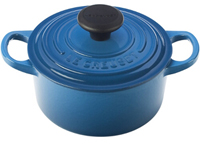 Le Creuset Cookware
Although not all pieces in the Le Creuset line are made in France, the enameled Cast Iron is still produced in the original foundry in the French town of Fresnoy-Le-Grand.
Staub Cookware
Staub's roots lie in the Alsace region of France. Rich in history, food and craft, the area is renowned for hearty one-pot recipes and fine enameled ceramics. With as much attention as the Alsatians applied to perfecting the one-pot meal, Staub's founder set himself to perfecting the pot itself. The grandson of a cookware merchant, Francis Staub designed his first enameled pot in an old artillery factory in 1974, merging cast iron's utility with the latest technology available.
Emile Henry Cookware and Serving Items
Founded in 1850, and located in Marcigny, a small town in the province of Burgundy, France, Emile Henry has established a worldwide reputation for manufacturing the finest quality ceramic ovenware, gourmet cooking products, and bakeware products. Still owned and operated by the Henry family, the company today manufactures all of their new cooking products from Burgundy clay using their proprietary *Ceradon* state-of-the-art manufacturing process.
Le Creuset Crepe Gift Set
The gift that keeps giving…crepes. Le Creuset 3 Piece Crepe Pan with Crepe Mix Gift Set
Embryolisse
French skincare line Embryolisse is a beauty industry cult favorite. It is particularly known for its Lait-Crème Concentrè (nicknamed "24 hour miracle cream"), a staple for many in the fashion industry. Three products in one: the make-up artists use it as a primer, moisturizer, and make-up remover. Even better, it's not tested on animals and retails between $16-$28, depending on size.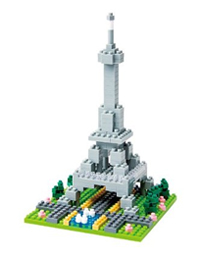 Eiffel Tower Nanoblock
Want your own Eiffel Tower? Build it. For the kids or the kid-in-you: Recreate a replica of the world famous Eiffel Tower with nanoblock by Ohio Art (makers of the world famous Etch-A-Sketch).   With the micro-sized building blocks, you can construct your very own replica piece of history.
All items feature the "Fleur De Lis", a popular french motif:
Fleur De Lis Jewelry
Victoria's Jewelry Box has some great affordable pieces featuring the popular "Fleur De Lis" motif. The symbol of both France and New Orleans, the fleur de lis epitomizes romance and a touch of mystery.
Keep a little secret in this simple but regal locket.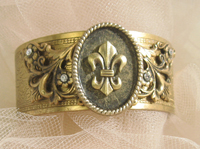 Fleur De Lis Bracelet Cuff
French style and ornate Victorian details are pulled together for a lovely cuff that will have others taking note of your unfailingly unique and romantic style.
Understated fleur-de-lis medallions reminiscent of antique coins.
Love Me Sugar luxury eye masks
These padded Love Me Sugar luxury eye masks are hand-crafted to order by Natalie, or 'Mademoiselle Sugar', in Paris, France. They take the term "beauty sleep" to a whole different level. Tres, tres, chic!
The Gift of French Language
The Early Lingo DVD Series is the perfect gift for those who want to give children the gift of the French language. The award-winning Early Lingo DVD Series gives children ages 6 months to 6 years a solid foundation in a second language through an animated and live-action adventure series, using native speakers and an immersive approach.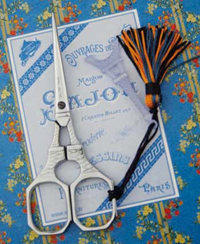 Sajou Eiffel Tower Scissors
These high-end scissors from Sajou are a chic replica inspired by a pair of Eiffel Tower scissors that dates back to the 19th century. These scissors represent a rich history that includes the celebration of the Eiffel Tower at the Universal Exhibition of 1889.
French underpinnings by Va Bien
For a glamourous Holiday: Bustiers, $46.00 – $75.00.
French for "Fits Well", Va Bien is a heritage intimate apparel brand. Sometimes vintage-inspired, and always developed with an elegant French aesthetic, Va Bien draws on the timeless glamour of corsetry. Loyal followers are a diverse group that includes first lady Laura Bush, Jessica Simpson, Jessica Lange, Patti Labelle and more. Bustiers retail from $46.00 – $75.00.