Shopping in Paris: What Just a Few Euros Can Get You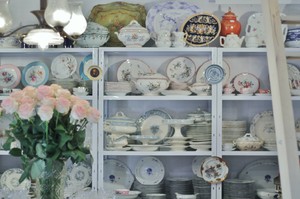 I have just moved into my new apartment in Paris. The first morning I decide to stay in, purely to enjoy the tranquillity and comfort of the new space. The apartment is filled with light and is just about as quiet as a library. I gaze here and there, taking in the neatness of the bookshelves, a Canaletto print,  and a dried posy of thyme. My gaze falls onto an enormous old copy of Baudelaire's 'Les Fleurs du Mal' and then wanders to a beautiful teapot and a potted jasmine wound delicately around the balcony. A fruit bowl holds two French apples in its pale blue interior and gentle music exhales from a set of discrete speakers. At mid-day, I trail reluctantly down the five flights of spiral stairs, across a peaceful courtyard with racks of bicycles and press all my weight against a series of doors that separate the building from the world outside.  When I push open the fifth and outermost door, I find myself pushing into a crowd of African women in big prints buying and selling on my door step. They are completely unconcerned about seeing someone who has just appeared from another world. The woman in my doorway gives me a smile and lets me squeeze past into the heaving African market that is my street. All over the road, crowds move, shout, and call. Every few meters hawkers sell tiny baskets of peanuts balanced on upturned boxes. Strange roots and black bananas are laid out between the butcher's shops selling life-sized piles of cow's hoofs in the open air. Cardboard boxes line the path, standing in for display tables, while water runs along the edges of it all. It feels like the Middle-Ages. I have ventured outdoors in search of some fresh vegetables and perhaps a few woolly jumpers. I could go down to the Marais or the Latin Quarter to browse the devastatingly beautiful boutiques and vegetable stalls where the art of presentation has surely been perfected to its most consummate degree; but today I'm exploring my local neighbourhood in the African Quarter. The presentation is not quite as pretty here but the price tags are consolingly less formidable. I've always enjoyed searching for treasures in op shops so it is with delight that I notice the Guerrissol stores in this end of town. These are second hand clothing stores, selling everything from toys to fur coats and three euros are the average price for most things inside. I start at no. 17 Boulevard Rochechouart. There are two Guerrissol stores opposite each other here, one for menswear and one for women. The latter is a huge store which features an intriguingly enormous table of fur. Gingerly, I pull out one of many little trims for coat collars. Six euros, a pair of Levis and an Italian jumper later, I continue along Boulevard Rochechouart in the direction of Metro Barbés-Rochechouart. I turn left onto Boulevard Barbés and a few blocks up I venture into a shoe store called 'Kata.' I'm drawn to it because of all the bins of leather shoes but once inside I realize I'm standing in an ornate theatre.  A painting on the stage backdrop ties the old and new uses of the building together.  Somebody has crafted an image of a bobcat shovelling hundreds of shoes between red theatre curtains. I nearly fall in love with a pair of tan suede Vero Cuoio boots, new for 30 euros, but they are a touch too big so I continue up Boulevard Barbés. There are three more Guerrissol stores along the way, one opposite the Carrefour supermarket, one at no. 96 and another on the corner, as Boulevard Barbés turns into Boulevard Ornano. I try on one of those black quilted jackets that French women look so good in and realize that winter doesn't have to be such a cold and unstylish affair. I'm almost sad it's nearly over now that I've discovered just how warm those jackets are. A pair of two-toned leather boots with delicate buckles at the back catches my eye; but they're a touch too small. Still, this is the sport of second hand hunting. I turn into Boulevard Ornano, where the Marché Ornano is in full swing lining both sides of the boulevard for several blocks under matching blue tent rooves. I join the crowds and the excitement of the fruit sellers who are clearly enjoying their morning's work. There seems to be nothing over 2 euros a kilo and plenty to be had for less. With the small change in my wallet I stock up on oranges and apples, lemons and bananas, tomatoes, leeks, potatoes, avocados, mint and coriander.  There are trays of 30 eggs for 2 euros and a little further down; seafood, shellfish and oysters. My eyes widen as I pass trays of juicy dried figs and more kinds of marinated olives than I have ever dreamed of, all assembled in the winter sun. Not far past Marché Ornano, at the end of the Boulevard I, come to the beginning of the famous Marché aux Puces de Saint-Ouen. I find fur-lined, leather mittens, every kind of sneaker, army gear, coats and jumpers, scarves and T-shirts, belts and beanies, socks and silk underwear, bags and purses, jeans and dinner jackets, sunglasses and masks, drums and bracelets; all before entering the fabled Antique markets. This is another meeting point of traditional Paris and contemporary multicultural Paris. I squeeze past the themed boxer shorts into one of the entry points to the Antique market and the world changes back in time. Quiet streets with vine covered shops tumble open with collectables. The vendors chat to one another with cups of tea across the narrow lane ways while their dogs nap on antique rugs. Marché aux Puces de Saint-Ouen covers three hectares and has 2,500 stands. It is not so much a place to find a bargain, as it is…
SUBSCRIBE
ALREADY SUBSCRIBED?
BECOME A BONJOUR PARIS MEMBER

Gain full access to our collection of over 5,000 articles and bring the City of Light into your life. Just 60 USD per year.

Find out why you should become a member here.

Sign in

Fill in your credentials below.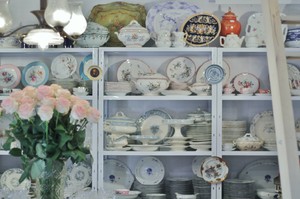 I have just moved into my new apartment in Paris. The first morning I decide to stay in, purely to enjoy the tranquillity and comfort of the new space. The apartment is filled with light and is just about as quiet as a library. I gaze here and there, taking in the neatness of the bookshelves, a Canaletto print,  and a dried posy of thyme. My gaze falls onto an enormous old copy of Baudelaire's 'Les Fleurs du Mal' and then wanders to a beautiful teapot and a potted jasmine wound delicately around the balcony.
A fruit bowl holds two French apples in its pale blue interior and gentle music exhales from a set of discrete speakers. At mid-day, I trail reluctantly down the five flights of spiral stairs, across a peaceful courtyard with racks of bicycles and press all my weight against a series of doors that separate the building from the world outside.  When I push open the fifth and outermost door, I find myself pushing into a crowd of African women in big prints buying and selling on my door step.
They are completely unconcerned about seeing someone who has just appeared from another world. The woman in my doorway gives me a smile and lets me squeeze past into the heaving African market that is my street. All over the road, crowds move, shout, and call. Every few meters hawkers sell tiny baskets of peanuts balanced on upturned boxes. Strange roots and black bananas are laid out between the butcher's shops selling life-sized piles of cow's hoofs in the open air. Cardboard boxes line the path, standing in for display tables, while water runs along the edges of it all. It feels like the Middle-Ages.
I have ventured outdoors in search of some fresh vegetables and perhaps a few woolly jumpers. I could go down to the Marais or the Latin Quarter to browse the devastatingly beautiful boutiques and vegetable stalls where the art of presentation has surely been perfected to its most consummate degree; but today I'm exploring my local neighbourhood in the African Quarter. The presentation is not quite as pretty here but the price tags are consolingly less formidable.
I've always enjoyed searching for treasures in op shops so it is with delight that I notice the Guerrissol stores in this end of town. These are second hand clothing stores, selling everything from toys to fur coats and three euros are the average price for most things inside. I start at no. 17 Boulevard Rochechouart. There are two Guerrissol stores opposite each other here, one for menswear and one for women. The latter is a huge store which features an intriguingly enormous table of fur. Gingerly, I pull out one of many little trims for coat collars.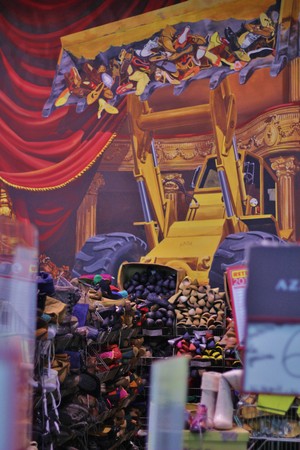 Six euros, a pair of Levis and an Italian jumper later, I continue along Boulevard Rochechouart in the direction of Metro Barbés-Rochechouart. I turn left onto Boulevard Barbés and a few blocks up I venture into a shoe store called 'Kata.' I'm drawn to it because of all the bins of leather shoes but once inside I realize I'm standing in an ornate theatre.  A painting on the stage backdrop ties the old and new uses of the building together.  Somebody has crafted an image of a bobcat shovelling hundreds of shoes between red theatre curtains. I nearly fall in love with a pair of tan suede Vero Cuoio boots, new for 30 euros, but they are a touch too big so I continue up Boulevard Barbés. There are three more Guerrissol stores along the way, one opposite the Carrefour supermarket, one at no. 96 and another on the corner, as Boulevard Barbés turns into Boulevard Ornano.
I try on one of those black quilted jackets that French women look so good in and realize that winter doesn't have to be such a cold and unstylish affair. I'm almost sad it's nearly over now that I've discovered just how warm those jackets are. A pair of two-toned leather boots with delicate buckles at the back catches my eye; but they're a touch too small. Still, this is the sport of second hand hunting.
I turn into Boulevard Ornano, where the Marché Ornano is in full swing lining both sides of the boulevard for several blocks under matching blue tent rooves. I join the crowds and the excitement of the fruit sellers who are clearly enjoying their morning's work. There seems to be nothing over 2 euros a kilo and plenty to be had for less. With the small change in my wallet I stock up on oranges and apples, lemons and bananas, tomatoes, leeks, potatoes, avocados, mint and coriander.  There are trays of 30 eggs for 2 euros and a little further down; seafood, shellfish and oysters. My eyes widen as I pass trays of juicy dried figs and more kinds of marinated olives than I have ever dreamed of, all assembled in the winter sun.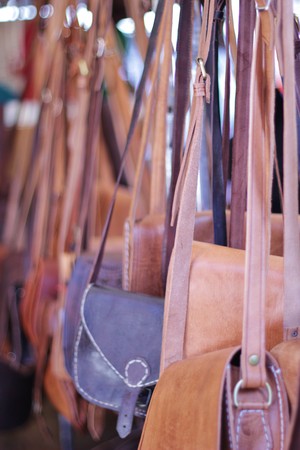 Not far past Marché Ornano, at the end of the Boulevard I, come to the beginning of the famous Marché aux Puces de Saint-Ouen. I find fur-lined, leather mittens, every kind of sneaker, army gear, coats and jumpers, scarves and T-shirts, belts and beanies, socks and silk underwear, bags and purses, jeans and dinner jackets, sunglasses and masks, drums and bracelets; all before entering the fabled Antique markets. This is another meeting point of traditional Paris and contemporary multicultural Paris. I squeeze past the themed boxer shorts into one of the entry points to the Antique market and the world changes back in time. Quiet streets with vine covered shops tumble open with collectables. The vendors chat to one another with cups of tea across the narrow lane ways while their dogs nap on antique rugs. Marché aux Puces de Saint-Ouen covers three hectares and has 2,500 stands. It is not so much a place to find a bargain, as it is a place to enjoy.
The market after a bargain hunter's heart is Marché Montreuil just outside of the periphery of Paris. This market sells absolutely everything you can imagine from reading glasses to circular saws to electrical cords for every device ever made to piles and piles of clothing for two or three euros a piece. The first thing I pick up is a little apple green United Colours of Benetton jacket and the second thing is a rabbit fur vest. This market is also a wonderful place to shop for interesting shoes. It's so good it almost takes the fun out of hunting because the treasures are so abundant. But my favourite thing about visiting Marché Montreuil is the little creperie that mercifully appears at the last moment when I have nearly lost my fingers to the cold. The vendor introduces me to a savoury crepe of Brittany and the sweetest moment of the day is sitting down to a light and delicious mulled wine bought for under two euros.
Marché Ornano

Marché aux Puces de Saint-Ouen
More in Antiques shopping, discount shopping, Marché Montreuil, Marché Ornano, Paris shopping, Shopping
---
---