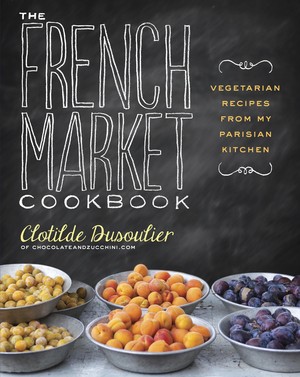 We will never go hungry for opinions about food and cooking, especially related to Paris. Bookshelves, magazine racks, and the blogosphere are bloated with food writers' advice and recipes. But one of the clearest, most consistent, and trustworthy authorities is the sweet and friendly voice of Clotilde Dusoulier. When she began her blog Chocolate and Zucchini in 2003, it was one of the earliest to arrive on the foodie scene. She has been feeding her readers a steady diet of articles and recipes ever since. Her books Chocolate & Zucchini and Clotilde's Edible Adventures in Paris have served to broaden her audience and convert new followers. If "fresh and colorful" can be applied to food writing itself and not only to the edible concoctions described, then she has earned that high praise.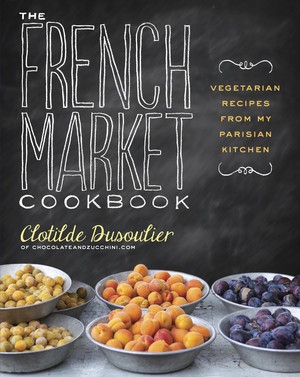 Dusoulier's newest book, The French Market Cookbook: Vegetarian Recipes from My Parisian Kitchen, made its début this summer. The title might be slightly misleading, so let's get a few things straight: You don't need to shop at French markets to find the ingredients. Any market practically anywhere is likely to sell them, depending on the season. You also don't have to be a vegetarian to enjoy many satisfying meals from its pages. Dusoulier acknowledges that she is not a strict vegetarian, only that she prefers to eat plant-based foods. She describes her diet as flexitarian, meaning predominantly vegetarian with limited amounts of dairy, meats and fish.
Classic French cuisine has gotten a bad rap for being unfriendly to vegetarians. And deservedly so in years past. But that's changing, with some highly acclaimed Parisian chefs –particularly among the younger generation–giving the starring role on their plates to vegetables. Sometimes they use complicated methods or, increasingly, they experiment with simple preparations that let the natural flavors shine.
In celebrating the simple goodness of local and seasonal produce, Dusoulier is completely in sync with this trend. But she is not just jumping on the bandwagon. She has been in the vanguard of this movement and much of the credit for the recent changes goes to her. This is a cause célèbre she has been encouraging through her writing for years. Her recipes feature fresh, seasonal, and colorful food (which are reflected nicely in her photographs). Her methods are equally doable—all within easy reach of anyone willing to follow along on her culinary adventures.
The French Market Cookbook is organized by the four seasons, beginning with Spring. Each section opens with an ode to that season and a list of produce that is at its freshest then. She introduces this as "Produce to Play With," which is no gratuitous turn of phrase. Her whole approach encourages spontaneity and improvisation. It starts with "What looks good at the farmers' market today?"
Part cookbook and part primer, The French Market Cookbook includes a generous portion of practical tips. Dusoulier wisely counsels that "learning how to cook should really begin with learning how to shop." She warns that "the key to shopping for produce is to avoid going with a list that you follow rigidly." (I wondered, is she speaking directly to me?) She recommends buying a mix of produce that will keep fresh for a varying number of days. Her categories and examples make this advice easy to implement.
Dusoulier's writing style is warm and relaxed. No diva is she. She shares charming stories from her own experiences and family history. Her overall approach inspires confidence and courage, spontaneity and flexibility.
The book is sprinkled with helpful tips, such as how to select quality produce (the best eggplants are young and small but regardless of size they should "feel heavy, have a smooth and shiny skin, and a stem-end 'hat' that looks green and fresh"). There are tips that explain how to make produce last longer (fresh peas not being used within a day or two should be shelled and frozen and they'll remain sweet). And a recurring feature "pantry gems" gives a shout out to some versatile but often overlooked items worth keeping on hand. She makes a convincing case for prunes, for example. One small design element that makes a big difference is that ingredients in each recipe's list are displayed in a different color. That makes them pop out, lessening the risk of forgetting to buy or add an important flavor. It's a minor detail, but one I appreciate.
I've tried numerous recipes. Yesterday I made assorted savory puffs, a riff on the classic French gougères, which had me playing with cumin, parsley, and Comté cheese variations. I followed them up with a curried leek tart tatin. Taking its inspiration from the upside-down apple dessert, this savory tart was as aromatic and beautiful as it was sumptuous. The final dish was French endive, orange, and walnut salad. Fresh and crunchy with a sweet juiciness, it was a perfect closer. I found it easy to source the ingredients and prepare the dishes without muss or fuss, all within a couple hours of my guests' arrival. The results were delicious, and I was not too exhausted from whipping it together to enjoy a relaxing meal with friends.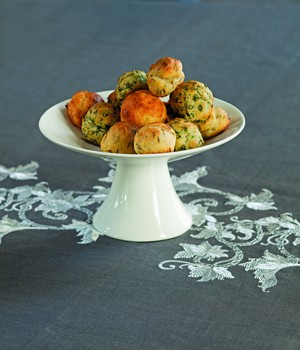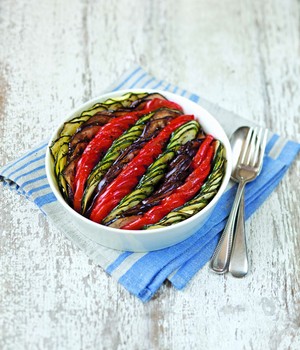 Assorted Savory Puffs                                             Ratatouille Tian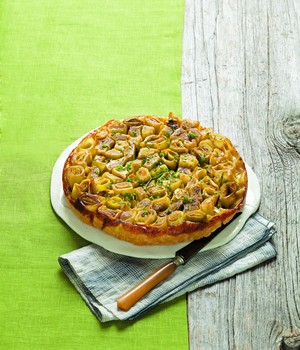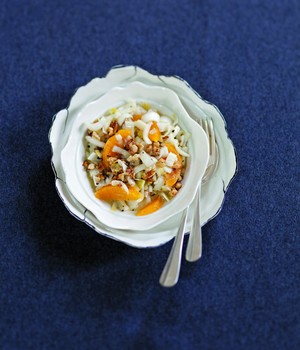 Curried Leek Tart Tatin                                           French Endive, Orange, and Walnut Salad
That's been my experience with all the recipes I've tried so far in this book. They evoke longstanding French culinary traditions, and yet Dusoulier's emphasis on vegetarian ingredients modernizes them in exciting ways. She'll not only expand your repertoire and possibly improve your diet, but her friendly tone might make you feel that you have gained a lifelong friend as well.
This book makes a perfect holiday gift, either for others or as a treat to oneself. Get the book, and then get going to the nearest farmers' market!
Marjorie R. Williams is co-author and photographer of Markets of Paris, 2nd ed.  Her work has been featured in numerous travel and food magazines and blogs. She lived in Paris while researching and photographing the markets. Visit Marjorie's website for more information.
Leave a reply
Your email address will not be published. Required fields are marked *