For Sale: Magnificent 4-Bedroom Apartment on Place Victor Hugo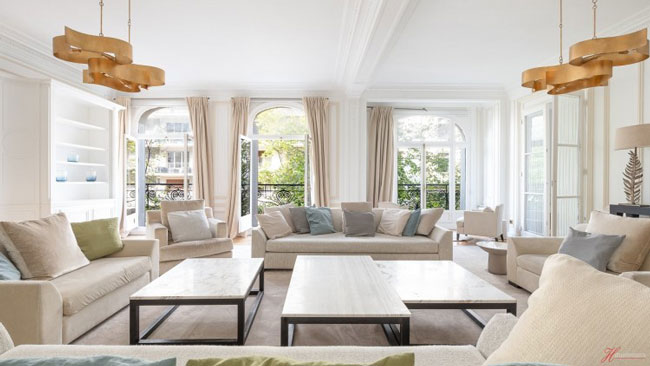 This stunning 4-bedroom apartment on Place Victor Hugo in the 16th arrondissement offers a luxurious living experience. Situated on the 2nd floor of a beautiful art nouveau building, this apartment retains all the charm of the old while boasting modern amenities. The apartment features Hungarian parquet floors, original moldings, and a 3.25m ceiling height, lending it an air of elegance and sophistication.
Upon entering the apartment, you'll find a large entrance gallery leading to a bright and spacious 63m2 living room with an adjoining 30m2 TV area. The apartment includes 4 bedrooms, a large dressing room with its own bathroom, and 3 additional bathrooms with toilets. The kitchen adjoins the dining room, and there's also a separate toilet and two small rooms that can be used for staff, one of which has a bathroom, a kitchen, and a laundry area. A large 30m2 cellar in the basement completes this property.
This apartment is equidistant between Place de l'Etoile and Place Victor Hugo and is surrounded by shops, restaurants, cafes, and entertainment options. With its elegant design, modern amenities, and prime location, this apartment is perfect for those who desire the best in luxurious living.
Property price: €4,950,000
Property reference: EMPTA292-02