Photo of the Week – September 14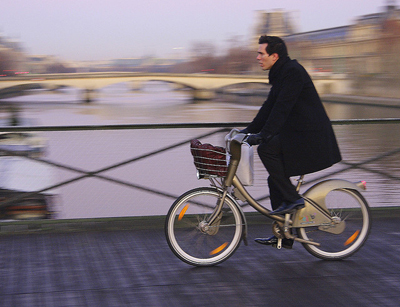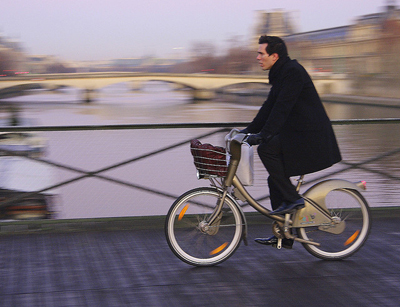 One of my absolute favorite things to do in Paris is to vélib'. That is, to take a bike out from Paris' public bicycle sharing system and ride around town. Paris is a relatively bike-friendly city and lanes exclusively for bikers have been implemented along many routes. I love the experience of riding up and down ancient cobblestone roads and getting glimpses of the city's majestic architecture with every turn. Today's Vélib' system, which first started in 2007, includes 16,000 bicycles and 1,200 bicycle stations networked around Paris and it's surrounding banlieues. It's the world's second-largest bike share system (Hangzhou, China takes the cake with a 61,000 bike system!). It's something that I've seen absolutely everyone do – smartly suited businessmen at rush hour, artsy kids going home after a party. The main downside is that stations in popular areas (especially central Paris) will often have either no bikes or are completely full, so sometimes there are no more spots left at a station when you need to return a bike. I think this photograph, taken of a cyclist vélibing over le Pont des Arts, captures the experience well with a panning technique.
photo by Jean-François Gornet [CC BY-SA 2.0], via Flickr

Subscribe for
FREE

weekly newsletters.
BonjourParis has been a leading France travel and French lifestyle site since 1995.
Readers' Favorites: Top 100 Books, imports & more at our Amazon store
We update our daily selections, including the newest available with an Amazon.com pre-release discount of 30% or more. Find them by starting here at the back of the Travel section, then work backwards page by page in sections that interest you.
Current favorites, including bestselling Roger&Gallet unisex fragrance Extra Vieielle Jean-Marie Farina….please click on an image for details.
Click on this banner to link to Amazon.com & your purchases support our site….merci!
Leave a reply
Your email address will not be published. Required fields are marked *