The Château de Malmaison: Napoleon and Josephine
For a complete change of scene during a trip to Paris, I'd recommend catching a 258 bus from La Défense and getting out, after about 40 minutes, at the bus stop helpfully named 'Le Château'. A 10-minute walk down a leafy lane, then up an elegant driveway will take you to one of the city's most romantic spots: the house which Josephine bought while Napoleon was away on the Egyptian Campaign. (He approved the purchase upon his return.)
The Château de Malmaison is said to be the house where Napoleon found it easiest to relax. In the earliest years of the 19th century, the couple spent most weekends here, hosting hunting parties, balls and salons, music and theatrical evenings. At glamorous receptions and dinners, Josephine took great pride in serving produce from the estate, especially exotic fare like bananas and pineapples from the estate's hothouse. The food was presented on Sèvres porcelain dishes, often decorated with reminders of Napoleon's battle victories, all glistening in the light of the candelabras. Stand in the mahogany-paneled dining room and you can almost see it happening before you.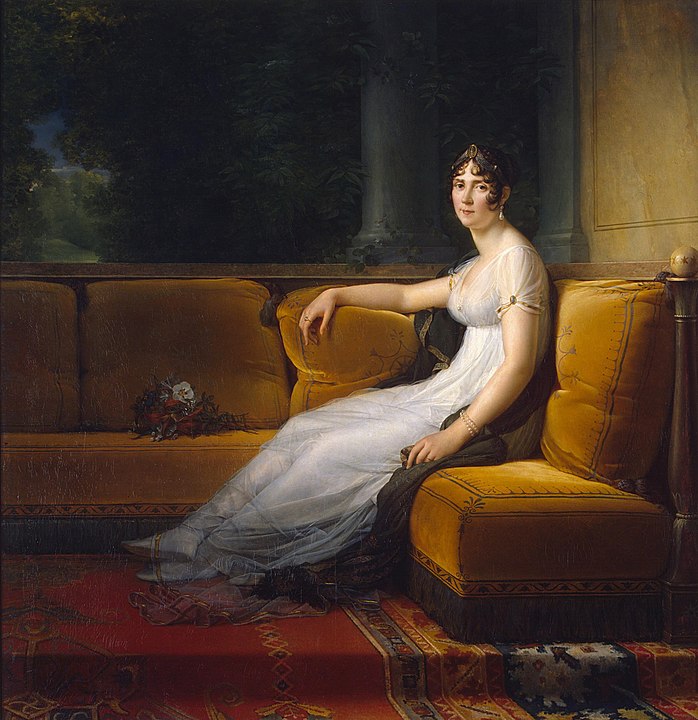 Some of the rooms are very masculine in feel. Napoleon's library still contains some 500 of his books, monogrammed with the letters BP for Bonaparte, and next door is his 'Salle de Conseil', where he met with advisors summoned from Paris. Its décor was designed to please him, the walls and ceiling being hung with striped twill in order to resemble the inside of a military commander's tent. It was here that he created the Légion d'Honneur, France's highest order of merit, and worked on the Code Napoléon, France's first legal framework which still informs the way the country is governed today.
The Arms Room is a tribute to his military prowess, dominated by the Jacques-Louis David painting, Napoleon crossing the Alps, an 'action shot' of Napoleon as First Consul of France, astride a rearing horse, pointing forwards to territory in Italy which he is off to conquer at the Battle of Marengo. Also in here is the Austerlitz Table, commissioned – of course! – by Napoleon himself to commemorate another of his great victories, with an inlaid portrait of himself, surrounded by smaller pictures of his generals. Nothing, then, which hints at modesty.
Malmaison though, was first and foremost Josephine's house. The Music Room has a more feminine feel, being lined with some of the many paintings she bought and home to her harp, often beautifully played by her daughter Hortense at musical soirées. The Billiard Room, rather unexpectedly, was also Josephine's territory and her 'Première Femme de Chambre', Mlle Avrillion recalled in her Mémoires that "on leaving the table, Her Majesty used to enter the Billiard Room, where she played one or two games, which she did rather well." It's said to have been the only activity at which she could triumph over Napoleon.
Upstairs, the Empress's bedchamber is sumptuously decorated in red and gold and contains her original curtained bed, the gilded bedposts carved in her favorite swan motif. A second bedchamber, dressing room, boudoir and wardrobe room are linked to the greatest passion of her life: fashion. A never-ending stream of dress-makers, milliners, parfumiers and jewelers visited her here, all greedy for some of her seemingly unlimited budget. In one year alone she is known to have bought 136 gowns, 520 pairs of shoes and 985 pairs of gloves. Napoleon was frequently enraged by her extravagance and would shout and refuse to pay her debts, but then give in when she wept and pleaded with him.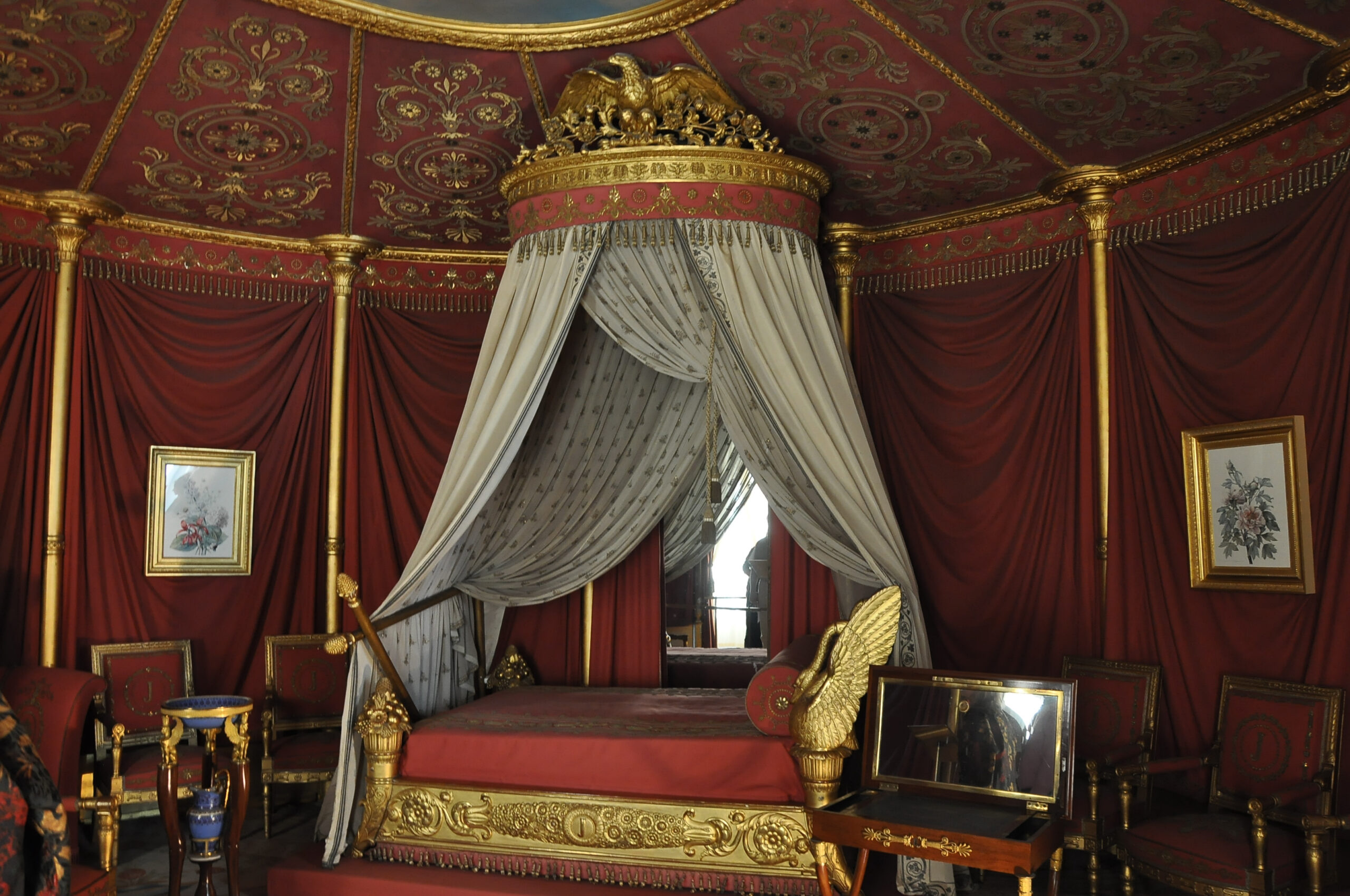 The grounds were very much Josephine's territory. She collected plants and animals from all around the world, commissioning botanists and travelers to bring them for her. It's said that ministers told the Natural History Museum that Josephine would have first choice of whatever travelers brought back, and they could then have the rest. She had hothouses built for her imported plants and let her exotic animals roam freely: peacocks, kangaroos, the first zebra ever brought to Europe, black swans from Australia and a favorite orang-utan which was trained to eat at a table using a knife and fork. The Paris elite all talked about Josephine's menagerie.
The relationship between the couple was very much bound up with this house. Josephine first fell in love with it, Napoleon bought it to please her and it was their love nest in the early years. But it was also the scene of some of their most tempestuous rows. Suspicious, not without reason, that Josephine took lovers while he was away fighting at war, on one occasion Napoleon arrived back to find her not at home. Enraged, he had all her belongings piled up at the door and only when she sobbed and pleaded at his door all night did he relent and allow her to stay. Napoleon took many mistresses and thought nothing of humiliating Josephine publicly over them. One, the opera singer Giuseppina Grassini, whom he had brought to Paris after hearing her sing in Milan, was installed in a house near the Tuileries and invited to perform at Malmaison in front of all Josephine's guests.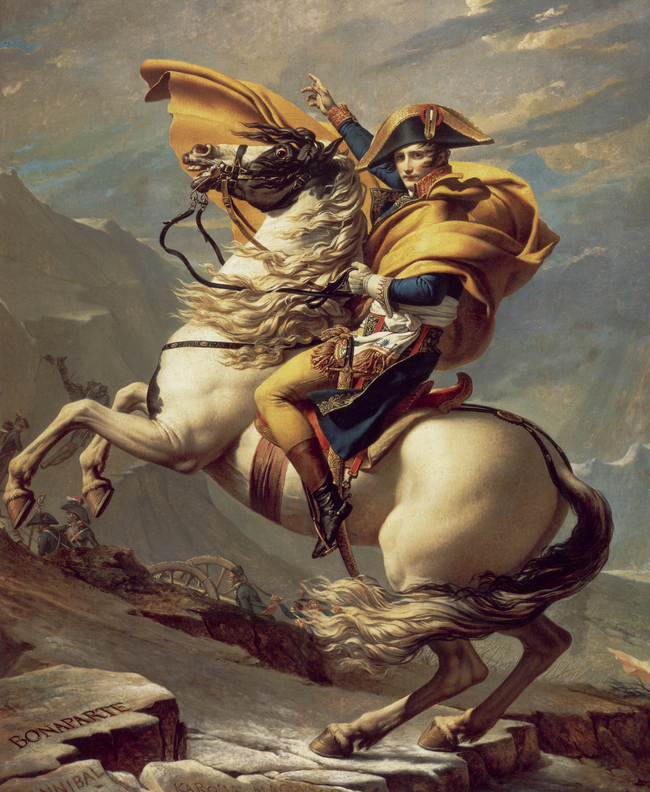 Napoleon, realizing that Josephine could not give him an heir, eventually divorced her and married Marie-Louise of Austria. He tore himself away from Josephine with great difficulty, eventually agreeing to let her keep Malmaison and continue living there. But neither could give the other up entirely. Arriving back in Paris after abandoning his army in Russia in 1812, it was to Malmaison that Napoleon hurried, arriving at midnight. After another defeat at Leipzig the following year, Josephine wrote to him: "Sire, although I may no longer share in your joys, your grief will always be mine too. I can no more resist the need to tell you this than I could cease to love you with all my heart."
Napoleon was in exile on the island of Elba when he read a newspaper report of Josephine's death in May 1814. She had succumbed to pneumonia, dying in the swan-carved bed at Malmaison and lying in state there for three days as 20,000 people came to pay their respects. When he escaped from Elba back to Paris, one of the first things he did was to visit Malmaison, describing afterwards how his fondest memories of her centered on this château. "I still seem to see her, walking along the paths and collecting the flowers that she loved so much. Poor Josephine! She was truly more full of charm than any other person I have known." Visiting the house that meant so much to both of them, you do feel that you are back in another age, in the presence of the Emperor who conquered, then lost, so much of Europe and the woman who was the love of his life.
For more information, visit the official chateau website.
Lead photo credit : Malmaison Castle. Photo © Needpix.com
More in castle, chateau, culture, Napoleon
---
---