Montmartre Village in Paris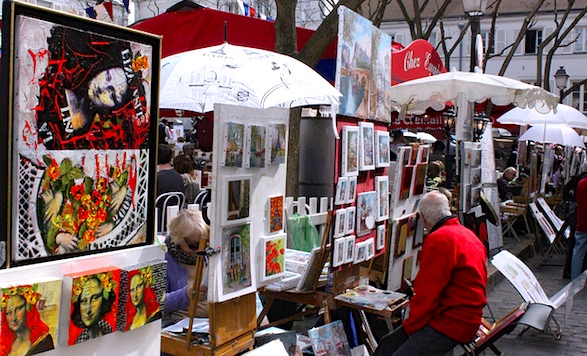 Place du Tertre artists. Photo by hazboy.

When friends of mine say they are staying in Montmartre or buying or renting apartments or houses there, long ago I imagined they were heading to Never Never Land or into the world of contradictions.
No visitor should leave Paris without having seen Sacré-Coeur, a basilica that resembles an alabaster wedding cake. Montmartre is also the summit of the city "where on a clear day, you can see forever."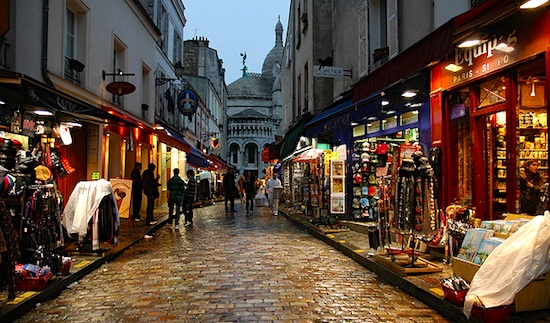 Souvenir shops at Montmartre to the side of Sacré-Coeur. Photo by arquet.
My previous forays were to the touristy part of Montmartre. The Place du Tertre (a 14th century square—see top photo) has long been home to formule restaurants. Hawkers do their best to lure diners, in any and all languages. They have an uncanny sense of determining people's country of origin. There are also wanna-be artists who are ever so happy to do an on-the-spot portrait for more than a few euros. I should mention the rows of stores filled with overpriced items made exclusively for tourists.
Years ago when a friend offered me the use of an apartment in Montmartre, I did not jump up and down for joy. Little did I realize that it's only nine Métro stops away from my apartment in the 6th arrondissement. Nor did I realize I would be staying in a 50-meter apartment located in a complex behind a closed gate where all of the residents' bells had names such as Chagall, Monet, Matisse, Picasso and so on, to protect their privacy. Once I entered the heavy black iron gates, I was no longer in the city. I had been transposed to the country village, which Montmartre once was.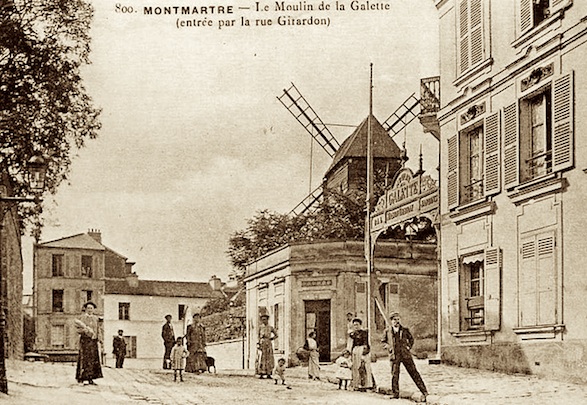 Montmartre in 1910, when construction on homes along avenue Junot and rue Girardon replaced farms. Antique postcard.
It would be impossible to keep the location a secret since it is home to the remaining two (out of 14) windmills that were originally located on this hillside dotted with farms. However, it's true that French director Claude Lelouch and other well-known persons own homes there.
Because it was raining, a friend who is a native of the area and I headed down the hill a few steps and ate at the restaurant Le Moulin de la Galette. The food was pleasant, the décor lovely. However, she assured me we were really missing out by not being able to eat in the outside garden because of the rain.
After dinner, Martine took me on a tour of a nearby lane that seemed more like a mews. "Look up," she kept saying as she pointed to private homes that are or were artists' ateliers. Numerous buildings had plaques denoting who had lived where. This quartier is steeped in charm and history.
By this time, we were on a roll. Many well-known films (Amélie , An American in Paris, French Kiss, Funny Face, Ronin, the 1995 remake of Sabrina with Harrison Ford, etc.) were at least partially filmed in the area and I wanted to take it all in. The rain had let up and Martine and I walked and then walked some more. Up and down staircases, spotting familiar movie settings, some marked, some not.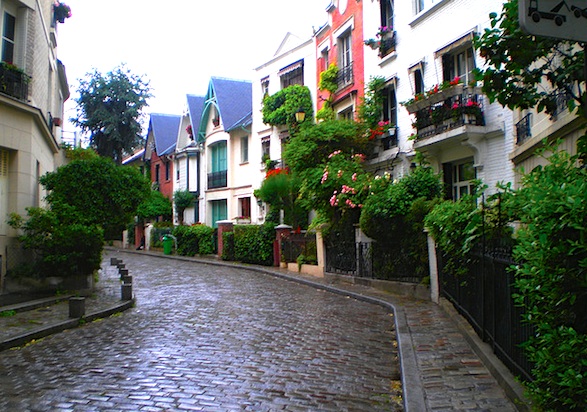 Villa Léandre just off avenue Junot in Montmartre. Photo by pantchoa.
Lining avenue Junot were the beautiful 1920s Art Deco-style buildings that replaced the last farms on the Montmartre butte. On to Villa Léandre, an private street with large homes favored by those seeking privacy and the village life Montmartre residents adore.
By that time, we were thirsty (climbing up and down stairs takes energy and negates having to go a gym). We stopped in a couple of Montmartre cafés where my companion knew at least one person there—if not more.
After spending a couple of days and exploring the "other" Montmartre, I felt as if I were in a neighborhood where residents take the time to say bonjour and au revoir. I loved staying an apartment where I could feel part of the village.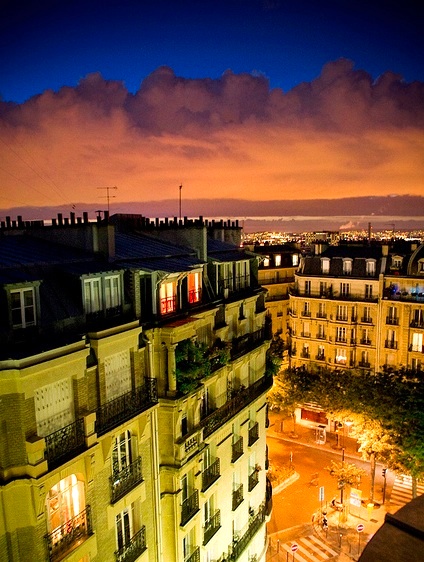 From Montmartre, one can watch the skies change over Paris. Photo by jorgealbarracin.
Drinking my morning coffee while sitting on the balcony and watching the world go by was also a delight. People heading to work, mothers taking their children out in their strollers and residents returning from the shops toting carts overflowing with groceries just sang Paris to me. The same was true of watching Paris sunsets.
After my few days in Montmartre, I found myself looking in real estate windows thinking with an understanding of why so many people choose to live in this area.
Take the time to wander just a few blocks (and several staircases) away from the tourist madness to discover the real Montmartre, a charming place to stay and only minutes from the center of Paris by Métro.
Staying in Montmartre proved to be a lovely location for travelers who like to explore Paris neighborhoods.
Restaurant:
Le Moulin de la Galette
Tél: 01. 4606. 8477
83, rue Lepic, Paris 18th
Open daily  12pm—11pm with continuous service
Métro: Lamarck-Caulaincourt, Line 12
PHOTO CREDITS: Flickr photos published per Creative Commons 3.0 license with photographer credit in captions
---
---