Nights out in Paris: Art of Apéro with The Chamber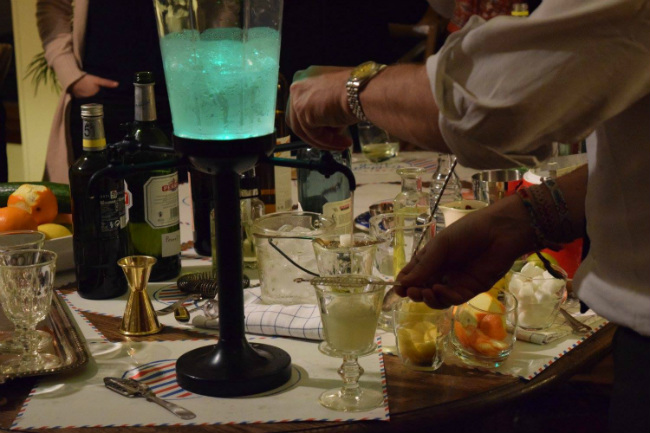 On a trip to the City of Light and looking for some fun evening entertainment? Interested in meeting locals and partaking in la vie parisienne over an apéritif? Consider an event organized by The Chamber—a private members' club—called the Art of Apéro. The Chamber was founded by Forest Collins, the cocktail expert behind the website 52 Martinis. Over the course of nine years, she's sampled 250 Parisian bars and written about 200 of them for her site. Collins started The Chamber as a sort of modern-day salon, where individuals can gather for cocktails and convivial conversation in interesting locations. Outside guests are welcome (and Bonjour Paris readers can get a 10-euro discount on the non-member price; just enter "BonjourParis" when reserving your spot online).
The Chamber hosts a number of themed pop-up events and series like "Art of Apéro." This specific event explores the French concept of the apéritif, or apéro, when friends gather for pre-dinner drinks. The tradition got its start in ancient times as a "prelude to a good meal," preparing "the taste buds and stomach" for the food to follow. Hence the apéritif had medicinal virtues, featuring aromatic beverages to aid digestion. There are a number of traditional French apéritifs—from Lillet and Byrrh to Dubonnet (originally made with quinine to fight malaria).
The Chamber's "Art of Apéro" events aim to resurrect the traditions of yesteryear, while also shedding light on a cool French concept.
Each of The Chamber's "Art of Apéro" events explores a different food and drink pairing. Take Suze, for example. First created in the 19th century, Suze is made with gentian, a plant that grows in the mountains of the Jura, and is known for its bitter, medicinal taste. Is Suze now making a come-back as the apéro du jour? Collins dubbed the event "Suze and Salé," serving salty snacks (like mimolette cheese, tapenade, and smoked fish) alongside two different Suze cocktails: mixed with absinthe in a punch, and another was crafted with tequila and agave syrup. The Chamber partnered with Perfectly Paris and The World Gourmet Society for "Art of Apéro."
The Chamber has a full social calendar of diverse events including Wine Tastings, "One Pot and a Punchbowl" (in partnership with Emperor Norton), and the "Tiny Boat Apéro" which takes place on an electric boat on the Canal St Martin! Check the website for details. Santé!
Photo credit : Art of the Apero Master Class for Paris Cocktail Week, courtesy of The Chamber
Leave a reply
Your email address will not be published. Required fields are marked *