Letter from Paris: November 17, 2021 News Digest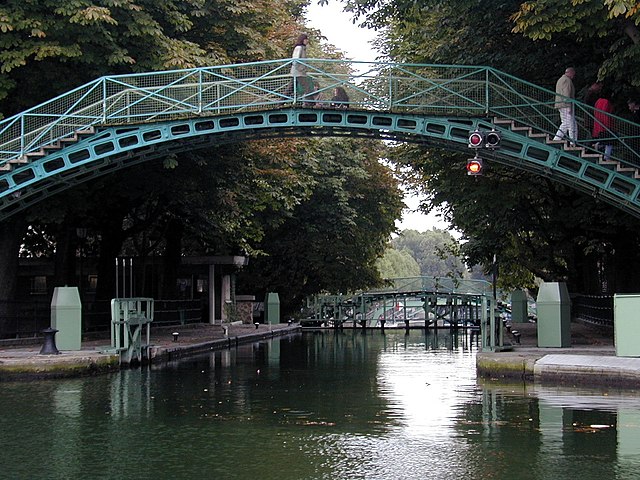 Never before seen! The Canal Saint-Martin flooded — without one drop of rain — on Monday evening around 7 pm. Following an electrical malfunction at a lock, the streets were completely inundated and cars were forced to plow through the water on the roadways. The pompiers were able to fix the problem. There were no injuries reported, except for a pedestrian who slipped, but there will need to be a big clean-up. Firefighters also had to pump water from a flooded parking lot.
File this under weird and wacky. A French daredevil has broken the world record for standing on top of a hot-air balloon. As reported by France 24, "Remi Ouvrard performed the stunt for France's annual Telethon charity event" while dressed in a white astronaut suit. His father piloted the balloon, which reached 4,016 meters (13,175 feet) over Châtellerault in western France. He used a selfie stick to broadcast a video of himself live on social media during the first part of the flight.
VIDEO: Frenchman breaks world record for standing on top of hot-air balloon at altitude.

Remi Ouvrard stands on top of a hot-air balloon for France's Telethon fundraising event at a peak altitude of 4,016 metres (13,175 feet) over Chatellerault, western France pic.twitter.com/OlhOIfc7mQ

— AFP News Agency (@AFP) November 11, 2021
Facing a presidential election next year, French President Emmanuel Macron appears to be starting to campaign. Last week he announced that France will build more nuclear reactors in order to fight global warming, lessen dependence on foreign countries for energy supplies, and keep energy prices reasonable, "with concerns over purchasing power topping opinion polls five months before the presidential election," to quote Reuters. In Macron's televised address, he said "we are going, for the first time in decades, to relaunch the construction of nuclear reactors in our country and continue to develop renewable energies."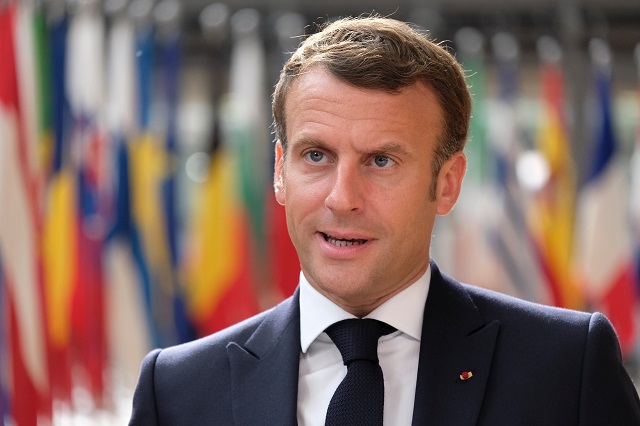 In other political news, U.S. Vice President Kamala Harris has wrapped her diplomatic visit to Paris. NPR published an interesting article about her husband titled "Doug Emhoff is America's first second gentleman. In Paris, he showed what that means." His time in Paris included visits to the Shoah Memorial, the Suresnes American Cemetery, and an art gallery with French First Lady Brigitte Macron. He also escorted the VP to official state dinners. To quote: "On his first diplomatic trip abroad with the vice president, [Emhoff] showed how he is taking a very traditional approach to the unpaid and unheralded role as second spouse — and yet using it to send a message about gender equity, which he has chosen as a key priority."
𝙇𝙚𝙨 𝘽𝙡𝙚𝙪𝙨 𝙨𝙤𝙣𝙩 𝙤𝙛𝙛𝙞𝙘𝙞𝙚𝙡𝙡𝙚𝙢𝙚𝙣𝙩 𝙦𝙪𝙖𝙡𝙞𝙛𝙞𝙚́𝙨 𝙥𝙤𝙪𝙧 𝙡𝙖 𝘾𝙤𝙪𝙥𝙚 𝙙𝙪 𝙈𝙤𝙣𝙙𝙚 𝟮𝟬𝟮𝟮 ! 🇫🇷 #FiersdetreBleus pic.twitter.com/yxXsdeaq28

— Equipe de France ⭐⭐ (@equipedefrance) November 13, 2021

The French national football/soccer team has qualified for the 2022 World Cup in Qatar after an 8-0 win against Kazakhstan. (Kylian Mbappe scored four of the goals.) But as beautifully explained by ESPN, Saturday in Paris was not just about qualification for Les Bleus. "Six years to the day after a series of coordinated terrorist attacks across Paris — including at the national stadium while France were playing a match — killed 130 people and injured more than 400, there was a duty of remembering, of paying tribute and of honoring the memory of those lost on that dreadful night. The Parc des Princes, where the game was played, was filled with emotion and banners in homage to those lost on Nov. 13, 2015. There was a minute of silence perfectly respected before kick-off. There was an incredible rendition of "La Marseillaise" by the crowd on 15 minutes to mark the moment when the first bomb exploded outside of the Stade de France on that night six years ago during a match between France and Germany, while at the same time thousands of fans lit up their phones to create an amazing wall of lights in the stadium. And there was Antoine Griezmann's celebration after his goal, when he displayed a big heart and the date "13.11.2015" written on his T-shirt under his jersey. (His sister, Maud, was one of the survivors of the attack on the Bataclan theatre that night.)"
In other, not-so-happy sports news, masked men attacked a Paris St. Germain women's player in what appears to be an incident taken right out of Tonya Harding's playbook. Kheira Hamraoui's legs were beaten with a metal bar, leaving her badly injured and unable to play. As reported by the New York Times, "a player was taken into custody by French investigators looking into a violent assault on a teammate who shares her position." Midfielder Aminata Diallo, 26, was being questioned as part of the investigation.
Lead photo credit : A typical iron bridge over the canal (C) Atlant, CC BY 2.5
More in Election, News, President, Update, Vote, Weather report
---
---