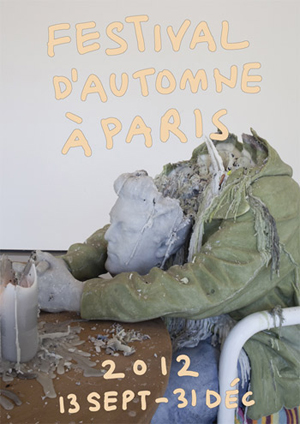 The great hall of the Chapelle des Petits Augustins is dominated by the larger than life figure of the Colleone; a plaster mold copy based upon an original by Verrocchio which still stands in a Venetian square. A proud figure on horseback; erect, dynamic, for all the world as if were about to charge down the aisle toward the exit and make a break for it.
From a small anteroom to the side, the distinctively haughty French of the 16th arrondissement can be heard. "How old is this artist? Is he still alive?" she enquires. "Good, good. A perfect time to buy then." When the attendant idly mentions that the artist in question produces work that is already going for quite a sum this causes a minor eruption. "Who are you to tell me what's expensive? You know nothing about how much money I have. What is expensive to you may not be expensive to me, you know." And with that she charges out, as proud and erect as Verrocchio's rider.
The artist in question is Urs Fischer, who will be forty next year and is already selling for millions.  But the work besides which this spat took place, a piece of what Gustav Metzger would call "auto-destructive art" could scarcely be more difficult to sell. It was only installed a month ago and already it is close to evanescence; seeping away into the ground upon which it sits like so many bath suds down a drain. But amongst all the grand old replicas which surround it, monuments to permanence and stolidity all; Fischer's fugacious statue is a true original.
It was in this chapel, built at the dawn of the 17th century as adjunct to the convent of Petits Augustins, that the Reine Margot assembled one of France's first major art collections. When the school was founded around it, part of Louis XIV's Académie Royale de Peinture et de Sculpture, it became increasingly a home for fakes. As the college's students copied the great works of Italian masters, their replicas were stored here. Today the hall is stuffed to the gills with such efforts appearing to a casual glance the result of some extraordinary plunder of the whole Renaissance by some time travelling aesthete – only revealing their secrets to close examination. Urs Fischer's intervention follows on from Anish Kapoor's installation of last year.
Born in Zurich, Fischer studied photography at the Schule für Gestaltung. At twenty, he moved to Amsterdam and visited de Ateliers, the prestigious artist-run foundation for the development of young talent. In 1995, he received a grant from the Swiss Bundesamt für Kultur and in the same year launched himself onto the European art world, taking part in group shows in Zurich, Amsterdam and London. Today, he lives in New York with his girlfriend, the American artist Cassandra McLeod, and their daughter, Lotti.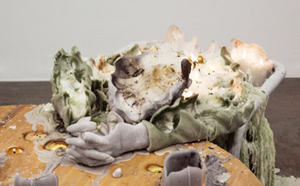 Since his very first solo exhibition in 1996, Fischer has shown an interest in impermanence, crudescence, what the New Yorker magazine once called a certain "inspired sloppiness", and a passion for unusual materials like unfired clay. All of which are fully in evidence at the present show for the Parisian Festival d'Automne.
In the Cour Chimay courtyard of the École Nationale des Beaux-Arts we find, scattered hither and thither, a sad menagerie of molten lumps formed from what looks like grey mud (in fact, unfired clay again), resembling the drooping shades of Joseph Beuys's rather more virile primal forms.  Modelled on site by students at the college following the artist's specifications, even in their decay the sculptures remain expressive, primitive and interact with the classical statuary that encircles the courtyard (more student copies) in often amusing and surprising ways.
At Sadie Coles's headquarters in London in 2003, Fischer displayed What If the Phone Rings? A series of slightly garish female nudes in classical poses made entirely of wax. At the start of the show, wicks are lit and the figures melt through the course of the exhibition. The same means are applied to the two figures currently deliquescing in the Chapelle des Petits Augustins. In our aforementioned anteroom, a man relaxes in an office chair, gazing up at statue dedicated by Pierino de Vinci to the Medici family (La Reine Margot's mother's people), his face already drooped into his lap, small flames licking up all about him.
Within the context of this once-sacred space, the figures take on a quite different meaning from that specific to a collector's gallery. Here, they seem to be ordinary people sunken in awe; paradoxical tributes, perhaps, to the power of art. In the entrance hall, a wax figure is sat at a table, his hands clasped together in prayer, his body melting away, as if transfigured, shrugging off his mortal coil. The Beuysian reference to the divine clay of Genesis becomes more explicit, the work becomes almost devotional in a peculiarly modern way.
Images © Urs Fischer Courtesy of the artist and Sadie Coles HQ London Photo

Subscribe for
FREE

weekly newsletters.
BonjourParis has been a leading France travel and French lifestyle site since 1995.
Readers' Favorites: Top 100 Books, imports & more at our Amazon store
We update our daily selections, including the newest available with an Amazon.com pre-release discount of 30% or more. Find them by starting here at the back of the Travel section, then work backwards page by page in sections that interest you.
Current favorites, including bestselling Roger&Gallet unisex fragrance Extra Vieielle Jean-Marie Farina….please click on an image for details.
Click on this banner to link to Amazon.com & your purchases support our site….merci!