Invention and Design: Fascinating Exhibit at Musée des Arts et Métiers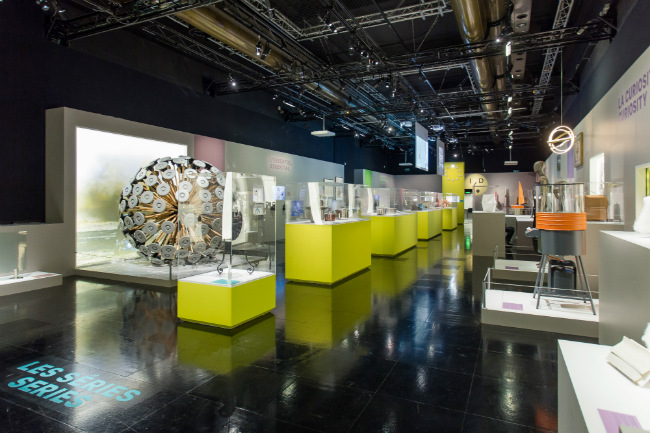 Have you ever wondered how designers incorporate sound into the creation of an object? The noise when you open a Mercedes car door will sound decidedly different than the sound of a vintage Citroën 2CV (or "deux chevaux"). And what about the start-up tones of a MacBook Pro? Universally recognized…
Visitors are confronted with this exact subject when walking into a fascinating exhibition called "Invention/Design. Regards Croisés" at the Musée des Arts et Métiers. Stepping into a dark space, you're immersed in a soundtrack, "Modern Things," created by Augustin Muller (Klang Agency) featuring sounds created with different everyday objects. In that moment, visitors absorb a basic principle of design: it incorporates all sensory aspects, including sound.
This thought-provoking exhibition was curated by Antoine Fenoglio and Frédéric Lecourt, the founders of the award-winning Sismo Design Agency. Based in Paris, this innovative design duo were named to the Order of Arts and Letters by Culture Minister Aurélie Filippetti in 2013.
A recent behind-the-scenes tour with Antoine Fenoglio shed light on innovation and the design process. What happens historically with the introduction of a new object- like the world's first Walkman? When some technological inventions are a commercial success and others are flops, what are the sociological implications for people to accept a new invention? How has the process of invention changed, and how do designers fine-tune an invention and adapt it for different purposes? The exhibition showcases the evolution of these métiers, while also shining the spotlight on the evolution of contemporary design in the industrial age.
"We started with everyday consumer objects," explains Fenoglio. An example: a collection of cocottes-minutes, or steam pressure cookers, ubiquitous in French kitchens. The earliest one (the "marmite de papin", 1679) experimented with the power of steam, and people were astonished to see that a bone could be reduced to mere jelly. Later, after World War II, pressure cookers were cheaply mass-produced because of the use of cast aluminum. Over time, in the object's evolution, designers worked within the framework imposed by the inventor (the function remains constant)- but adapted to consumer demand. So what was once heralded by housewives as a wonderful invention to make their lives easier, later morphed into something aesthetically pleasing because of the sociological evolution. Consumers started to prioritize the object's appearance! Newer models displayed even included a cocotte-minute controlled wirelessly (by SmartPhone) through Bluetooth technology.
The exhibition explores the process of invention and design through four themes: the Essential, Curiosity, Context, and Audacity.
Above all, designers are tied to form and function in creation; a cool example of this "Essential" is the LeafBed, which is used in emergency situations after natural disasters. NGOs requested that the camp furniture be feather-light, easily transportable and modular- so that a bed could convert to a table and more. The result invented by designers? A beautiful, efficient, and simple construction resembling a series of foldable cardboard boxes.
One of the most interesting parts of the exhibition looks at audacity in design: how bold projects are born out of a desire to change the world. Risk-taking has produced things like an autonomous drone to clean up the oceans (César Harada has made the manufacturing plans freely downloadable).
"Today, if we ask a designer to create a bridge, the bold one will ask himself what is the best way to cross the river," explains Fenoglio.
Situated in the 3rd arrondissement, the Musée des Arts et Métiers is a marvelous museum devoted to industrial design and technical innovation. Visitors are invited to "to follow in the footsteps of inventors and pioneers of progress and explore a one-of-a-kind repository of scientific and technical knowledge." You'll find Foucault pendulum's, the original model of the Statue of Liberty by Auguste Bartholdi, and some of the earliest airplanes. There's something fantastical here- conjuring the imagination of Jules Verne.
Open Tuesday to Sunday, 10 am to 6 pm. Late night Thursday until 9:30 pm. Closed on Mondays, 1 May and 25 December. "Invention/Design. Regards Croisés" runs through March 6, 2016. Web: www.arts-et-metiers.net. Tip: The café serves a lovely weekend brunch and there's even an outdoor terrace for warmer days.
Photo credit : Invention/Design. Regards Croisés/ © Sismo Design, photo by Tony Trichanh
Leave a reply
Your email address will not be published. Required fields are marked *