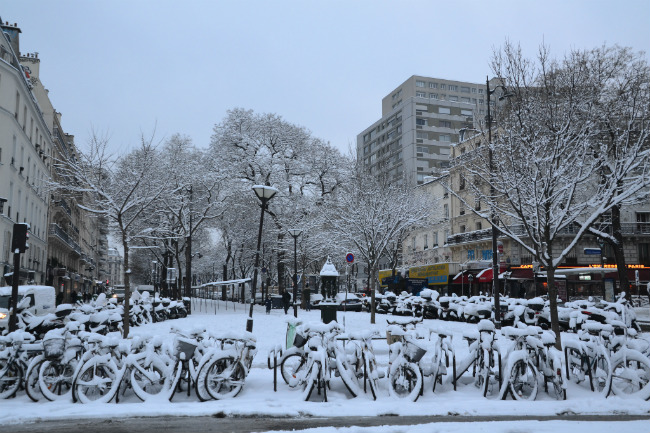 'Qui a tué Grand Maman?' Who killed Grandmaman?, I sang happily. It was Thursday evening choir at the community center near Ménilmontant in the 20th arrondissement. Although I spoke some French, I couldn't quite understand the context for the words, but decided it must be a traditional folk-song – there were birds and trees in the song and there was a wolf too. 'Le bulldozer' in the third verse threw this interpretation a bit, but who knew, it might be an update of the wolf concept.
Our singing teacher had just had us jumping about and chanting Pamplemousse, pamplemousse, pamplemousse – which must be the most delicious word in any language for ordinary old grapefruit – to exercise our mouths and lips. I was pleased to do whatever he said – this was my second attempt at 'finding a choir in Paris', top of my 'To Do while I live in Paris' list.
The ad for the first choir I tried did specify 'bon niveau', good level, but it also said everyone accepted without audition. Well, I thought, I'll be fine. I'm a weak singer, and inexperienced, but if I stand next to a strong singer I can sing in tune. I turned up on the day at the rehearsal space and waited with lots of confident-looking people.
We began with warm-up exercises and I was immediately alerted that my Australian idea of a bon niveau might not be quite the same as the French idea. Too late to leave now, may as well plunge on, I thought in my mindlessly optimistic way. Then off we headed into Something from Someone's Requiem – I can't remember any more detail than that, as the utter out-of-depth mortification which followed obliterated normal memory function.
Powerful bel-canto voices soared out around the room; sopranos as pure as bells, altos rich as dark honey, spine-tingling tenors and baritones. My little mouse voice squeaked once or twice and then sensibly scurried back into its hiding place. I mouthed the words for the next two hours then hurriedly left, never to be seen in that quartier again.
A week later I regained courage and obtained a little book called Chanter à Paris which listed all the choirs in Paris. I studied it carefully, limiting my choices to ouvertes aux debutantes which doesn't mean you get to wear a ball dress and satin shoes but that the choir accepted beginners.
So here I was in the 20th arrondissement, a working class migrant and artistic quartier, singing old French folk-songs. Who Killed Grandmaman was followed by Petit Poucet, Tom Thumb – the French rhythms were odd to my ears and hard to remember. The long, muttery phrasing left me dashing over syllables to reach the end at approximately the same time as the others. And then we tried La Paysanne, The Peasant, which resembled La Marseillaise with lots of patriotic sounding 'Marchons, Marchons'. My back straightened, my shoulders squared and I felt like Ingrid Bergman in Casablanca, although I wasn't sure anyone else caught my likeness.
Finally the teacher looked at me and said, Alors, maintenant, pour toi, Mercedes Benz en Anglais. Well, now, for you, Mercedes Benz in English. Only my all time favorite Janis Joplin song! Mais, oui, this was my kind of choir. 'It's an old American folksong,' I explained in French, with a wink, to the woman next to me. She laughed and I realized people laughed in the same language every where .
Before I left Paris several months later, our choir performed in the streets as part of the Fête du Musique, which is held outdoors in the squares and rues every year. I sang Mercedes Benz with a French accent; 'Ma fren erll drive porchez, Ah merzt mairk amen.' We also sang 'Qui est tue Grandmaman'. By now I knew it was an environmental protest song from the 1970s – which explained the bulldozers. I didn't care who or what killed Grandma; I was singing in the streets of Paris.
To find a choir in Paris: https://www.anousparis.fr/a-tester/5-endroits-pour-chanter-a-paris/
Patti Miller is the author of Ransacking Paris and Writing True Stories. She also takes a memoir writing class to Paris each year; the next one will take place October 22nd through November 1st, and there are two places being made available for Paris locals. For more information or to enroll, contact [email protected].
Lead photo credit : Boulevard de Belleville, Ménilmontant, in the snow. Photo: Jeanne Menjoulet/ Flickr
Leave a reply
Your email address will not be published. Required fields are marked *