Planning the Perfect Mother-Daughter Trip to Paris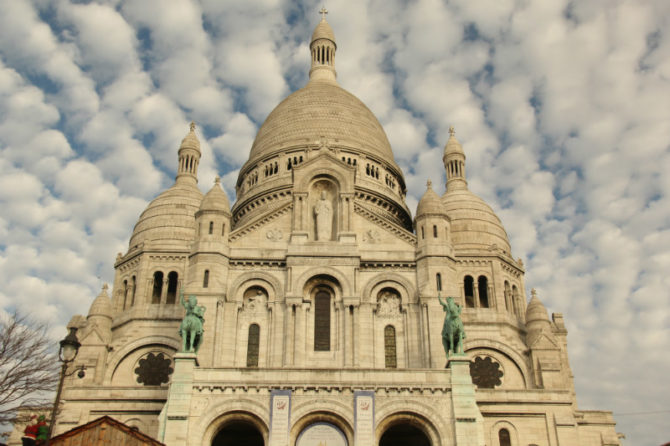 Paris has long been my favorite city in the world. My first time visiting was with my mom and we've since returned three times together for 'silver and gold' vacations –her the silver fox and me the goldilocks. While some may not relish at the thought of traveling with their mothers for even a local car ride, I have found great joy in several European adventures with her. Paris has been the scene of some of our best and here I offer a few tips to make the most of a mother-daughter trip.
Have a plan for arrival: Nothing is worse than arriving in a new place (or a familiar place after a long flight!) without a plan for getting to where you need to go. If your mom has any mobility or medical issues, you can arrange to be met by an attendant and a wheelchair upon arrival at Charles de Gaulle airport. This service is top notch and makes navigating the airport and endless queues far easier. Arrangements must be made at time of booking through your airline or travel agent. In my experience, the attendants will take you from the arrival gate through security and on to the nearest Roissy Bus. The Roissy Bus is our preferred way to get into central Paris as it balances cost with convenience and avoids a long métro ride with luggage after a transatlantic flight. Also, what better welcome to Paris than a view of the Opéra Garnier? The Opéra is the one stop for the service. From there you can transfer to a métro or, as we prefer, grab a quick taxi to your hotel from the taxi rank just around the corner in front of the Intercontinental Le Grand Hotel on rue Scribe.
Settle in to the rhythm of the city: Paris is the perfect place to live like a local for several days. Each arrondissement offers its own vibe and rental apartments abound. Ah Paris or comparable agencies provide search engines for properties by arrondissements so that you and your mom can pick locations best suited to your interests and personalities. Though my mom is in wonderful shape, I have always been deliberate about selecting accommodations that are centrally located and near métro stations to be able to enjoy Paris for the walking city that it is rather than having to spend energy and time on traveling from further neighborhoods to reach the sights. Central accommodation also offers the opportunity for an accessible spot for a mid-day rest, if it's needed. My preferred is somewhere between the 6th and 7th near the rue du Bac where you can join the daily rhythm of locals through a trip to Poilâne for bread, a stroll to Le Bon Marché for some fancy shopping or groceries at the fabulous food hall, or a stop by Pâtisserie des Rêves or nearby Dalloyau to take a treat home to have with tea as you plan your next day. When you do take the métro, relish in the politeness of many Parisians who often do jump up to offer their seats to silver-haired travelers.
Enjoy traveling at a deliberate pace: I have never once felt held back on travels with my mom, but I have benefitted from a slightly more deliberate pace to our days with breaks built in. By spending more time in one city rather than buzzing about, the temptation to rush from postcard sight to sight is diminished and every bit of Paris can be savored. Every morning in Paris, we take advantage of the nearest café to enjoy a café crème and discuss what we've already seen or what is to come. Every early evening, we stop somewhere else for our aperitif and to have a pause before heading 'home' to change for a later dinner. Angélina is the spot for an indulgent treat amid Belle Époque atmosphere (though note that toilets are upstairs) and many places in Paris have caught on to the pleasure of 'happy hours'.
Partake in the pleasure of sitting: As great as Paris is for walking, it's even better for sitting! Paris's parks provide the perfect spot for a short rest and those iconic park chairs are available just when you need them. We've enjoyed breaks on those chairs at the Jardins des Tuileries and, our favorite, to watch the children sailing boats or listen to a concert in the bandstand at the Jardin du Luxembourg. The Place des Vosges in the Marais provides benches on its perimeters, which are just the place to rest after shopping on the rue des Francs-Bourgeois, and the benches behind Notre-Dame allow a shaded spot for quiet contemplation after a walk through the vast cathedral.
Don't fear the climb to Montmartre: Although Montmartre is at the top of a butte (or big hill), don't fret the climb. The Abbesses métro, though the deepest in Paris, does have an elevator up. The last few steps that you need to take to exit offer an Art Deco canopy to admire when you reach the top. Rather than being daunted by another climb around the windy rue Lépic, take a flat walking route to the base of Sacré-Coeur via rue Yvonne le Tac and rue Tardieu. This will take you by the charming Librairie des Abbessess, which has a wonderful collection of books about Paris, and will lead you directly to the Funiculaire. For the cost of a single métro ticket, you can avoid the stairs up to the church and take a ride up. The many neighborhood staircases or a windy walk down the other side of the butte will allow you to take in the scenery while not getting winded. A warning, though: a cute mother-daughter pair brings the street artists flocking for business as you approach Place du Tertre.
Size does matter: Though the Louvre has one of the largest collections in the world, the sheer size can be totally exhausting. While this is not a sight I would ever suggest missing, I would urge consideration of smaller museums with more targeted collections. The Musée d'Orsay and the Orangerie both offer exquisite Impressionist collections in interesting settings and more manageable doses than some of the galleries at the Louvre. For a taste of sculpture, the Musée Rodin and Musée Maillol (currently closed for renovation) offer smaller and more focused selection of works.
Most importantly, enjoy yourselves! It is often said that you only regret the things in life that you did not do – don't let a mother-daughter voyage to Paris be on that list.
Photo credit : Basilique du Sacré-Cœur by Sarah Viehbeck
Leave a reply
Your email address will not be published. Required fields are marked *
Comments