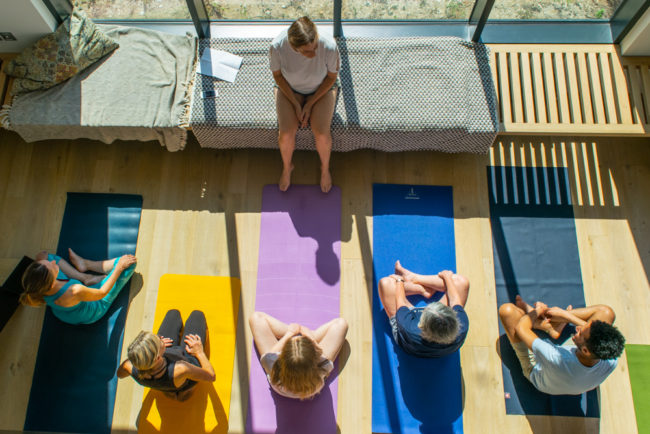 Imagine a party that leaves you feeling incredibly relaxed and infused with energy… this is exactly how I felt one glorious Saturday morning in July following my inauguration into the world of yoga parties.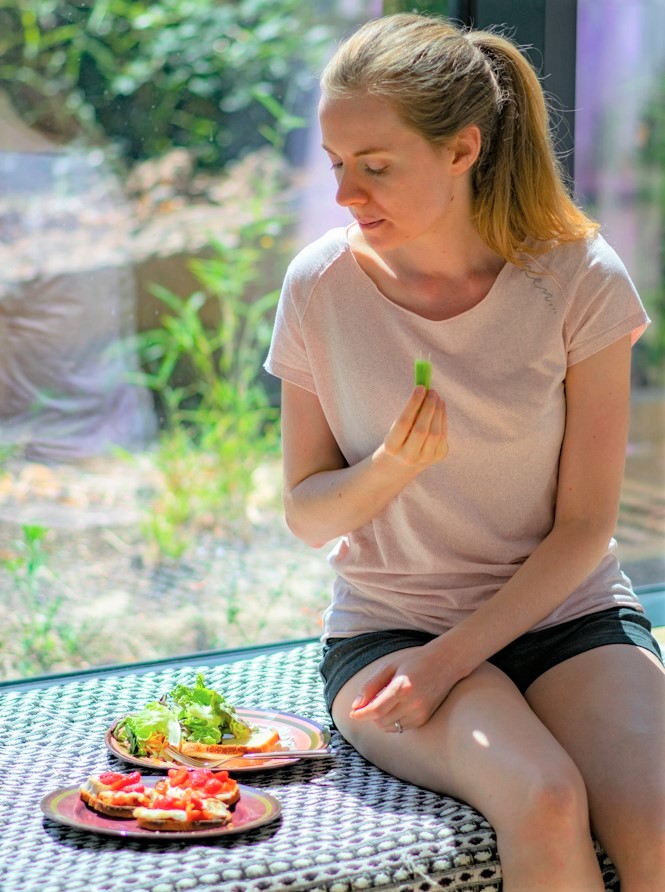 Care for your Well-being
I arrived a little sleepy and not sure what to expect. Having been greeted with a cooling glass of delicious juice, I was led towards the sound of soft music and the quiet chatter of friends, seven dear friends to be precise who were sat around on cushions and chairs, supping at their own juices that were being subtly refilled. Yoga mats were casually stacked in the middle of the floor looking rather like a contemporary campfire.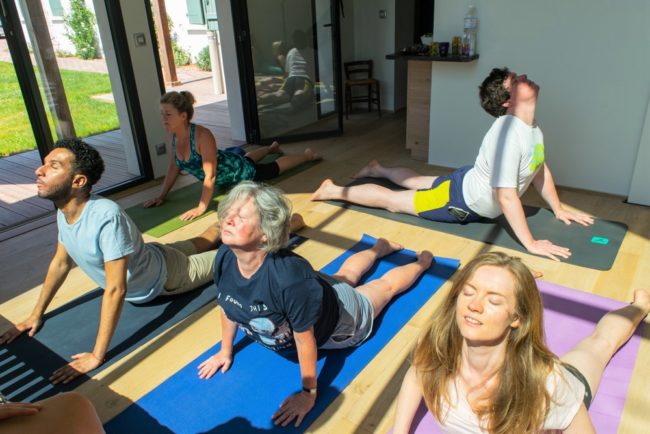 Mindfulness and Bliss
Slowly taking to our yoga mats, music still softly playing, we began to be led through gentle yet effective yoga postures that teased away tension from the spine, neck and hips, working through the entire body – stretching, twisting until a tingling sensation travelled through me as the blood flow reached my extremities. The yoga postures were not designed to extend your yoga practise. Simply, to undo, realign and relax. Two of our friends had never stepped onto a yoga mat before and one was quite experienced.
This did not matter as the class was beginner friendly yet effective enough to reach the more experienced too.  All of us were fully immersed into a blissful state and we finished our session with a visit to the realms of deep relaxation. A place that none of us wanted to leave. Eventually, ethereally, we were gently brought back down to earth and upon hearing the soft music once more we opened our eyes. This time a glass of water with lemon greeted us.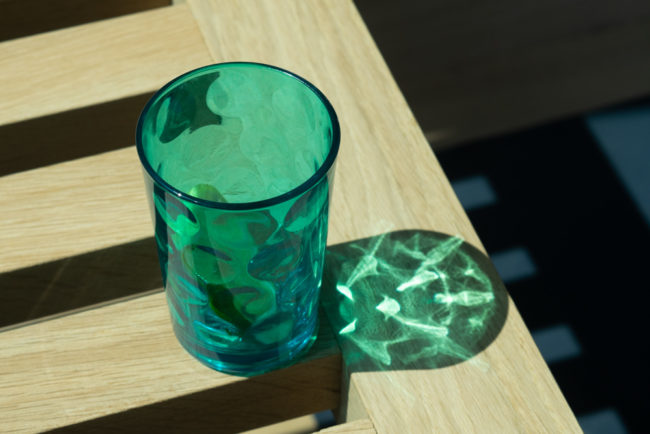 The room was filled with serenity and peace. Eyes calm and bright, expressions free of concerns – transformed in fact. Bodies liberated of our city stresses and tensions. What made this so special was that you took the journey with dear friends; an unspoken bond was felt.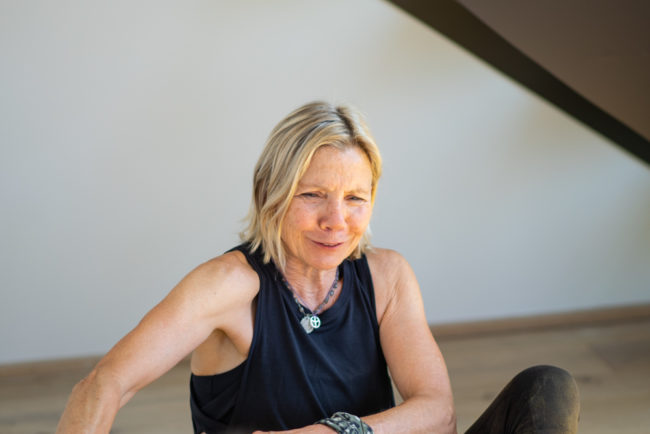 Friendly Faces in a Peaceful Environment
With heightened senses my nose picked up the smell of melting cheese and then more subtle smells such as fresh herbs and fruit. On a corner table a colourful, mouth-watering array of wholesome looking food had appeared to tempt us. Soon enough we were placing our choices onto our plates and returning to wherever we felt like sitting.
Some had grown rather attached to their yoga mats, perhaps wishing to prolong its' energy, others sat on cushions on the floor or chairs. We sat differently from before somehow. We chatted, we ate, we smiled and laughed, cherishing the time, I found myself humming along to Amazing Grace that was playing in the background.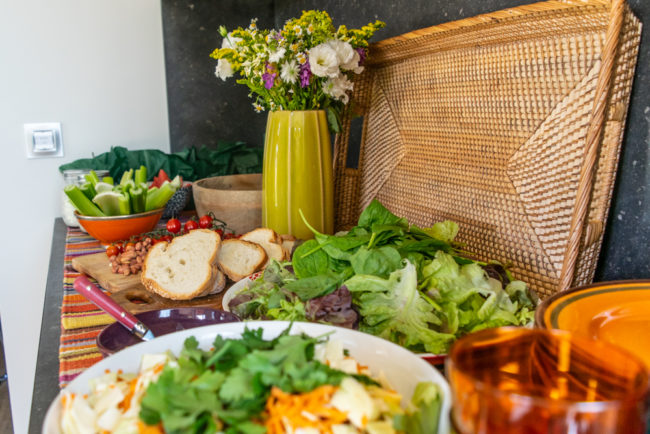 As time went on and my appetite truly fulfilled, it was time to leave. Regretfully, I had commitments but I wanted nothing more than to stay, I know friends stayed for some time after savouring the afternoon. Upon leaving our host handed me a small take away gift of a simple candle and attached were the words, thank you.  As I drove away I felt an enormous sense of well-being and contentment.
The yoga party was the creation of Lisa, an English yoga teacher based here in Paris. Lisa loves to teach yoga with a splash of humour. According to Lisa, a yoga party is the perfect way to spend real quality time with friends, family and even colleagues!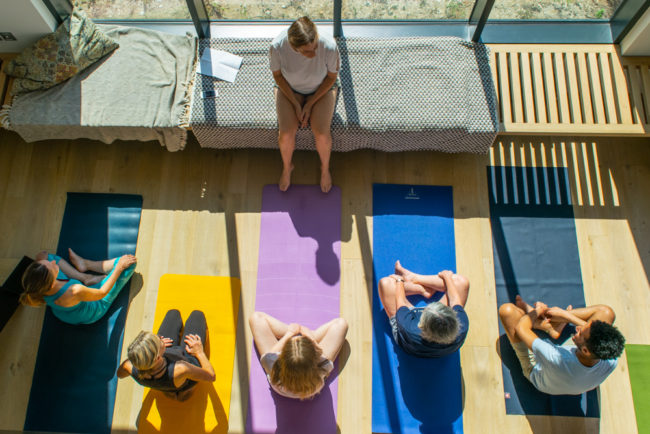 She wants you to enjoy this wonderfully relaxing yoga party as much as your guests. Therefore, she insists that you let her host for you; Lisa brings the food, arranges, teaches the yoga class and relaxation, serves the food and clears away.  While you relax…perfect!
So what is a Yoga Party exactly?
It's a get together in your own space with friends, where you unwind completely with yoga and deep relaxation, enjoy delicious food and savour the ambience, feel wonderful and calm.
Why have a Yoga Party?
The yoga party I attended was to celebrate the start of the holidays before we all went away for the summer. Lisa says the her yoga party is also perfect for a wide range of occasions from birthday parties, teen parties, bachelor/bachelorette parties, trips to Paris using your airbnb as the hosting venue, baby showers, corporate well-being, after exam de stress with friends, end of project celebration. The list is endless!
Here's what some of my Fellow Party Goers had to say…
 "Thank you so much for the yoga party on Saturday. It made a lovely beginning to the holidays – really relaxing and fun, and the food was delicious…" – Christina Bourmaud
"The yoga party was a success & why wouldn't it be with such a hands on instructor (such as yourself) who seems to know exactly what she's doing! Really enjoy the body scan and think it does a world of good to relax and focus. "- Ellen Camusat
www.yogaparty.fr
[contact-form-7 id="40774″ title="Yoga Party Paris"]
349735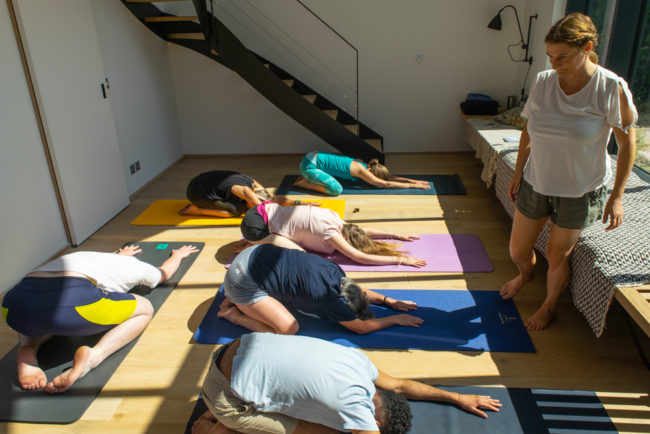 Send enquiry
Hi, please find below details of an enquiry from Bonjour Paris.