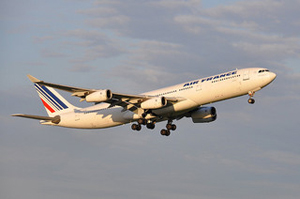 "A year!" repeats the astonished bank teller.
"Yes," I stammer, suddenly feeling irresponsible.
"And where is it that you'll be spending most of your time?"
"Um, in Paris," I swallow, immediately becoming aware of my blue and white striped T-shirt.
I have come to the bank on instructions from my travel agent to warn them of my travel plans so that when money starts disappearing from my account in mysterious European locations, they don't step in and lock it down. The man at the desk does a stellar job of trying to convince me to use the bank's travel card, but in the end a travelex card works out to be the most economical way to take spending money with me before I open an overseas account.
This is one of the last logistical conundrums on my list of things to figure out before leaving home.
Having just navigated my way through the process, I have put together some notes on most-things-you-need-to-know to help speed you down the runway.
La Visa
My adventure began by digging up a yellow, plastic A4 envelope with a press stud on the flap. In this precious receptacle I compiled my neatly filled out application form, proof of funds, Police check, photo, medical insurance and a return ticket to Paris!
If you're planning to stay for more than 90 days you'll need a visa so the first stop is the French Consulate website. From Australia, there is a very solemn APPOINTMENT ONLY system which you book online and is usually booked out for a couple of months in advance. The sentence, 'Incomplete applications will not be processed' may sound terrifying, but the few moments I spent in the French Consulate office turned out to be one of the my most pleasant administrative experiences.
Finding a job
If you're anything like me, the relief of having your visa approved will leave you feeling a little giddy and to settle your nerves there's nothing like a little light browsing of Craigslist Paris to reassure you that you've made a good decision. Annonces d'Emploi has a long list of job categories to browse at your leisure and at the very bottom there is the humble link entitled, Enseignement followed by, temps partiel.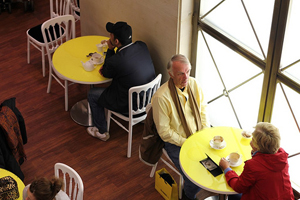 There are always positions for native English speakers to teach English.  Previous training is not always required and some positions are as simple as meeting in cafes to facilitate conversation amongst students. If you have a little French under your belt you can sign up to 'Anglo Buddy' and find French friends who would like to practice their English with you. If you'd like to be a private English tutor, you can write up your own ad to place in Craigslist Paris, Lebancoin, and the American Church notice board. The best time of year to get a job teaching is early September and the worst is the summer vacances.
If you have experience working with children, positions for English speaking nannies are plentiful. You can even register in advance with a number of agencies who connect native English-speaking babysitters with French families who want to introduce a second language without too many tears. You might like to look out for nannying positions which exchange a set work schedule for your own separate studio apartment. Some amazing opportunities do crop up!
Speaking French
Friends who have gone before me recommend Campus Langues or la Mairie de Paris as the most inexpensive and flexible French courses in Paris.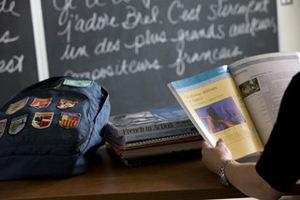 My decision to go to France followed my desire to speak the language. I was stuck on a memory from a visit to Paris a few years earlier. I was on the Paris metro and a mother on the seat in front of me was teaching her daughter the French alphabet. It was just the same as the English alphabet but so, so beautiful. I enrolled myself in a diploma of languages at university and unable to contain my eagerness to speak French, I rushed off and bought a plane ticket after the first year of classes. Most language courses give you a solid grounding in the mechanics of the language and really build your reading and writing skills but the knowledge stays mostly in your mind until it's forced into your mouth by the necessity ofneeding to know where to buy high-end lingerie.
Staying Optimistic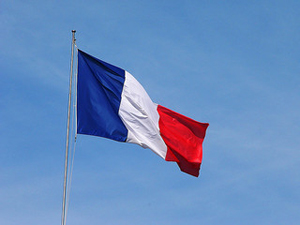 When all the excitement of farewells has passed and you find yourself tired and lonely, walking an endless street that is not on your map, it is easy to lose heart. What reasons could possibly have been good enough to inspire you to leave your family and friends? These feelings are normal. Get your friends to remind you why you came and get lots of rest because the stimulation of new situations and environments will burn through lots of energy. But before long, you will catch yourself chatting to a new friend, buying bread from your favourite boulangerie or stepping off the metro like a seasoned Parisian. Take yourself off to the Crazy Horse, buy some flowers, enjoy some triple cream brie and walk it off in the gardens of Versailles.
photo 1 by abdallahh [CC BY 2.0], via Flickr
photo 2 by iamtheo [CC BY 2.0], via Flickr
photo 3 by Nazareth College [CC BY 2.0], via Flickr
photo 4 by Frédéric BISSON [CC BY 2.0], via Flickr