Letter from Paris: December 2, 2020 News Digest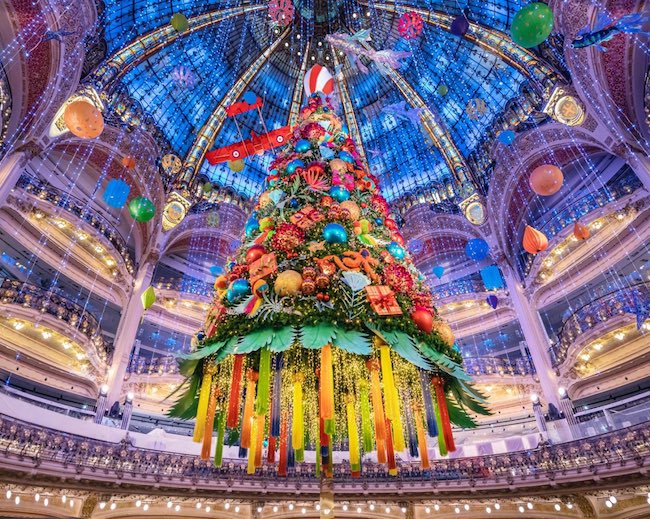 The sun was shining and there wasn't a cloud in the sky when the lockdown restrictions were eased last Saturday. Allowed to travel a distance of 20 kilometers (as opposed to the previous limit of one kilometer from their residences), Parisians flocked to the riverbanks and parks like the Bois de Vincennes for a dose of nature after the urban confinement.
The Jardin des Tuileries has long been a lieu de promenade, and with so many walkers on Saturday, admiring the statues and taking a seat in the green metal chairs next to the bassins, you could almost imagine the parade of people in their finery in centuries past. The beauty of the sunset on the Seine was only topped by an almost-full moon rising over the rooftops and boulevards.
🎄Les @Galeries_Laf Haussmann donnent le coup d'envoi de leur "#Voyage de #Noël" de cette fin d'année 2020 en dévoilant leurs installations grandioses et fabuleuses : 12 #vitrines animées et un #Sapin monumental, invitant à l'évasion dans des contrées lointaines et imaginaires🎄 pic.twitter.com/lft863H0Wp

— Groupe Galeries Lafayette (@Galeries_Laf) November 19, 2020
Holiday Spirit
Shops are now open, following strict sanitary regulations– festooned with twinkling holiday lights and festive decor. Many restaurants and cafés offer take-out options, so it's possible to order lunch, coffee, or an afternoon goûter while you're out shopping for those on your holiday list. The Christmas decor is up in the city's famous grands magasins and it's particularly beautiful this year after so many months without much merriment. On the Left Bank, Le Bon Marché has dazzling windows and Christmas trees suspended inside, while near the Opera, Printemps and Galeries Lafayette Haussmann are rolling out the red carpet with giddy decorations galore. Le BHV Marais also puts on a good show.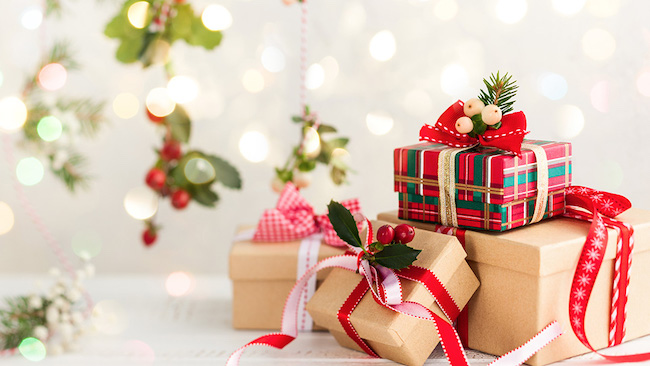 Gift Ideas
Even if you can't make it France to revel in the yuletide season, you can still give the gift of France to those on your holiday shopping list. Naughty or nice, they'll appreciate a dose of French-style joie de vivre. Check out France Media Group's newly launched website for gift inspiration, or get ideas from Elaine Sciolino's recent New York Times article showcasing French museum shops. Indeed, the Paris museum boutiques are our favorite go-to spot for unique gifts. (See our article here.)
Finally, for the book worms in your life, consider supporting your local independent bookstores by ordering these books which recently snagged awards in France. To quote the New York Times: "Judges of the Renaudot gave the prize for best novel to Marie-Hélène Lafon, an outsider of France's clubby literary circles. Her book, "Histoire du fils,'' was published by Buchet-Chastel, a company with an annual catalog of about 50 works and the first-time winner of a major award." And last but not least: Hervé Le Tellier, a trained mathematician and former scientific journalist, has been awarded the Prix Goncourt, the most prestigious literary award in France, for L'Anomalie, published by Gallimard.
Lead photo credit : Photo credit © Elodie's Paris (@Paris_by_Elodie), Twitter
More in Christmas, Christmas in Paris, letter from paris, pandemic, pandemic in paris
---
---