BUZZ – MOB: Domaine Des Trente Arpents & Gourmandise Sportive At The Shangri-La
MOB MOB located, on the left bank, at the Cité de la Mode et du Design is totally vegan, the idea and dream of Cyril Aouizerate, philosopher and co-creator of Mama Shelter, read, a little bit of Brooklyn by the Seine. "I want to blow the dust off French vegan menus", he says. Toulouse born Aouizerate calls himself a "former beef eater", so, when he fell in love with his vegan, now, wife, he decided to change his way of eating. "I was seduced by the flavour combinations and want that for my restaurants", he said one day last week on the boardwalk of his kitsch and colourfully decorated MOB cafe. The concept began in a little space on rue Charlot, since closed. "America's ahead of France in all things vegan, so I test all the new recipes over there in Brooklyn where I have a MOB, acronym for "Maimonides of Brooklyn", where the likes of Bill Clinton eat. "I want to create spaces that reflect the philosophies of the pro-veg medieval scholar Maimonides (1135-1204) combined with the global creative culture of hip hop", he explains. On the menu, to eat in or take-out. Meatless MOB Burgers, home-made corn breads for the buns, fat fries. No sausage MOB Hot-Dogs, quinoa avocado salads, to order at the counter, there's no wait staff,  you have to go to Atlantic Avenue, Brooklyn for that. Try the Le Mob signature arch-shaped spinach pizza, with aoili and shitake. "It's low calorie, with no animal fat", insists Aouizerate. Desserts include "No-Cheese" cheesecake, made from soy-protein cream, house "Noutella", chocolate cake, fresh fruit salads, chocolate chip cookies and soya milk ice cream topped with pomegranate seeds. MOB is original, child-friendly and has a fun space decorated with Philippe Starck gnomes. Drink Brooklyn lager, Domaine de Capendu, red, rosé or white wine: Ruinart champagne and geek chic juices. "We'll be making our own fresh juices very soon", promises Aouizerate. From Thursday night there's Mr DJ and, in fine weather, plan to spend the day/night on the boardwalk. Take sunscreen and, if you don't appreciate wooden knives, forks and spoons, take your own eating irons. Les Docks, Cité de la Mode et du Design,34 Quai d'Austerlitz, 13M: Quai de la GareT: 01 42 77 51 05Open 7/7 from 10am-midnightAverage Spend Starter:Main:Dessert 15€ + drinks
Website
Who knew? 30 minutes from Place de la Concorde, Baron Benjamin de Rothschild has a 4,000 acre estate for hunting, shooting, farming and the artisanal production of cheese? This is not a tourist destination, far from it, you can go there, but you must make an appointment and the cheese, cream and butter is only sold on Fridays. 150 handsome Holsteins produce the milk transformed into the delicious raw milk cheeses and butters of the farm including the AOC Brie de Meaux and Brie de Melun named for two local towns in the Seine-et-Marne region. The cheeses are made in a spotless stainless steel fromagerie, where tradition and modernity combine. The cows, milked twice daily, are treated like the divas they are, housed in airy barns or left to roam in the pastures of Les 30 Arpents (Arpent is a measurement of about an acre). The farm also produces Brillat-Savarin a mild cheese to which butterfat is added giving it a unique "white flavour". Brie Noir, aged for about five months, which changes and makes richer its' colour and texture. Coulommiers, made with raw milk: Delice de Favières with truffles, not from the estate as the climatic conditions are not favourable for producing black diamonds. The Merle Rouge Tomme is rubbed with sediment from Rothschild wines. Sustainable agriculture is practised on this estate as well as sustainable hunting organised along strictly ethical lines. In the game season the Domaine hosts hunters with the plus of gastronomic shooting lunches held in the farmhouse/trophy room washed down with Rothschild fine wines such as Château Clark. Find the products at good fromagers such as Bathelemy, Paris and taste the Brie de Meaux fermier at
Boeuf Couronné
La Villette, in the 1860's dubbed "City of Blood" as the abatoirs were located there. Compagnie Fermière Benjamin Rothschild,Domaine des Trente Arpents,Favières-en-BrieT: 01 64 07 01 12 Get a Room – Shangri-La Paris Located in the extension of the elegant mansion built by Prince Roland Bonaparte in the late 19th century, the new Garden Wing of Shangri-La Paris has eleven rooms and nine suites, bringing the number of keys to 101. Rooms can be connected making sublime private and luxurious apartments. Choose either views of the Palais d'Iena or, with the Eiffel Tower as backdrop, Shangri-La's bucolic French gardens, created by Architecture & Exterior Scenes, in hommage to the botanist Prince and Prince of botanists Roland Bonaparte. There are flat screen TV's bien sur, even one in the bathroom mirror! The first floor, suite and 'garden room', covers a total area of 120 sqm, with a "shared" 45 square meter terrace and uninterrupted views of the Eiffel Tower. Decor's by interior designer Pierre-Yves Rochon, who created Shangri-La's style. Check out the 15-meter pool, bathed in natural light, book a Carita treatment. Until 31st August "Gourmandise Sportive" includes use of the pool and fitness centre with state-of-the-art equipment. Take in the rays on the sundeck and as a reward treat yourself to Tea Time, created by Chef Pâtissier Franҫois Perret, in one of the Shangri-La's lounges. Scones and cream, sandwiches, macarons, sweet and savoury bites and bien sur, an incredible selection of teas. From 5pm the best kept secret in town is the just open Bollinger terrace featuring sublime cocktails, lounge music Mr DJ Thursday and Friday and a tasty selection of sweet and savoury tapas. No wonder they call it Shangri-la ! By reservation onlyGourmandise Sportive,T: 01 53 67 19 78
Email
Bollinger Terrace until 8th September10 Avenue d'Iéna, 16thM: IénaTél. : 01 53 67 19 98
Website
SUBSCRIBE
ALREADY SUBSCRIBED?
BECOME A BONJOUR PARIS MEMBER

Gain full access to our collection of over 5,000 articles and bring the City of Light into your life. Just 60 USD per year.

Find out why you should become a member here.

Sign in

Fill in your credentials below.
MOB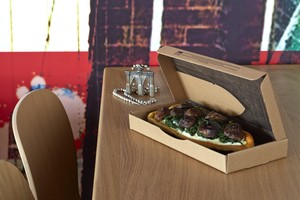 MOB located, on the left bank, at the Cité de la Mode et du Design is totally vegan, the idea and dream of Cyril Aouizerate, philosopher and co-creator of Mama Shelter, read, a little bit of Brooklyn by the Seine. "I want to blow the dust off French vegan menus", he says.
Toulouse born Aouizerate calls himself a "former beef eater", so, when he fell in love with his vegan, now, wife, he decided to change his way of eating. "I was seduced by the flavour combinations and want that for my restaurants", he said one day last week on the boardwalk of his kitsch and colourfully decorated MOB cafe.
The concept began in a little space on rue Charlot, since closed. "America's ahead of France in all things vegan, so I test all the new recipes over there in Brooklyn where I have a MOB, acronym for "Maimonides of Brooklyn", where the likes of Bill Clinton eat. "I want to create spaces that reflect the philosophies of the pro-veg medieval scholar Maimonides (1135-1204) combined with the global creative culture of hip hop", he explains.
On the menu, to eat in or take-out. Meatless MOB Burgers, home-made corn breads for the buns, fat fries. No sausage MOB Hot-Dogs, quinoa avocado salads, to order at the counter, there's no wait staff,  you have to go to Atlantic Avenue, Brooklyn for that. Try the Le Mob signature arch-shaped spinach pizza, with aoili and shitake. "It's low calorie, with no animal fat", insists Aouizerate. Desserts include "No-Cheese" cheesecake, made from soy-protein cream, house "Noutella", chocolate cake, fresh fruit salads, chocolate chip cookies and soya milk ice cream topped with pomegranate seeds.
MOB is original, child-friendly and has a fun space decorated with Philippe Starck gnomes. Drink Brooklyn lager, Domaine de Capendu, red, rosé or white wine: Ruinart champagne and geek chic juices. "We'll be making our own fresh juices very soon", promises Aouizerate. From Thursday night there's Mr DJ and, in fine weather, plan to spend the day/night on the boardwalk. Take sunscreen and, if you don't appreciate wooden knives, forks and spoons, take your own eating irons.
Les Docks, Cité de la Mode et du Design,
34 Quai d'Austerlitz, 13
M: Quai de la Gare
T: 01 42 77 51 05
Open 7/7 from 10am-midnight
Average Spend Starter:Main:Dessert 15€ + drinks
Website
Who knew?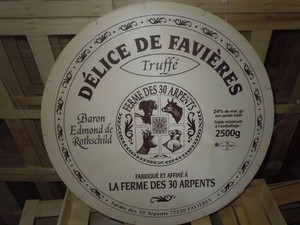 30 minutes from Place de la Concorde, Baron Benjamin de Rothschild has a 4,000 acre estate for hunting, shooting, farming and the artisanal production of cheese? This is not a tourist destination, far from it, you can go there, but you must make an appointment and the cheese, cream and butter is only sold on Fridays.
150 handsome Holsteins produce the milk transformed into the delicious raw milk cheeses and butters of the farm including the AOC Brie de Meaux and Brie de Melun named for two local towns in the Seine-et-Marne region.
The cheeses are made in a spotless stainless steel fromagerie, where tradition and modernity combine. The cows, milked twice daily, are treated like the divas they are, housed in airy barns or left to roam in the pastures of Les 30 Arpents (Arpent is a measurement of about an acre).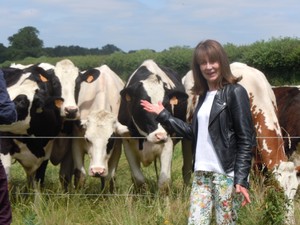 The farm also produces Brillat-Savarin a mild cheese to which butterfat is added giving it a unique "white flavour". Brie Noir, aged for about five months, which changes and makes richer its' colour and texture. Coulommiers, made with raw milk: Delice de Favières with truffles, not from the estate as the climatic conditions are not favourable for producing black diamonds. The Merle Rouge Tomme is rubbed with sediment from Rothschild wines.
Sustainable agriculture is practised on this estate as well as sustainable hunting organised along strictly ethical lines.
In the game season the Domaine hosts hunters with the plus of gastronomic shooting lunches held in the farmhouse/trophy room washed down with Rothschild fine wines such as Château Clark.
Find the products at good fromagers such as Bathelemy, Paris and taste the Brie de Meaux fermier at Boeuf Couronné La Villette, in the 1860's dubbed "City of Blood" as the abatoirs were located there.
Compagnie Fermière Benjamin Rothschild,
Domaine des Trente Arpents,
Favières-en-Brie
T: 01 64 07 01 12
Get a Room – Shangri-La Paris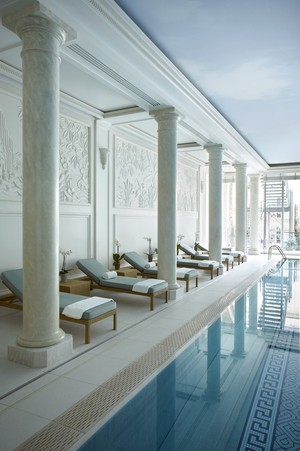 Located in the extension of the elegant mansion built by Prince Roland Bonaparte in the late 19th century, the new Garden Wing of Shangri-La Paris has eleven rooms and nine suites, bringing the number of keys to 101.
Rooms can be connected making sublime private and luxurious apartments. Choose either views of the Palais d'Iena or, with the Eiffel Tower as backdrop, Shangri-La's bucolic French gardens, created by Architecture & Exterior Scenes, in hommage to the botanist Prince and Prince of botanists Roland Bonaparte.
There are flat screen TV's bien sur, even one in the bathroom mirror! The first floor, suite and 'garden room', covers a total area of 120 sqm, with a "shared" 45 square meter terrace and uninterrupted views of the Eiffel Tower. Decor's by interior designer Pierre-Yves Rochon, who created Shangri-La's style.
Check out the 15-meter pool, bathed in natural light, book a Carita treatment. Until 31st August "Gourmandise Sportive" includes use of the pool and fitness centre with state-of-the-art equipment. Take in the rays on the sundeck and as a reward treat yourself to Tea Time, created by Chef Pâtissier Franҫois Perret, in one of the Shangri-La's lounges. Scones and cream, sandwiches, macarons, sweet and savoury bites and bien sur, an incredible selection of teas. From 5pm the best kept secret in town is the just open Bollinger terrace featuring sublime cocktails, lounge music Mr DJ Thursday and Friday and a tasty selection of sweet and savoury tapas. No wonder they call it Shangri-la !
By reservation only
Gourmandise Sportive,
T: 01 53 67 19 78
Email
Bollinger Terrace until 8th September
10 Avenue d'Iéna, 16th
M: Iéna
Tél. : 01 53 67 19 98
Website
More in artisanal cheese, Les 30 Arpents, MOB, Shangri-La
---
---