Proust's Overcoat: The True Story of One Man's Passion for All Things Proust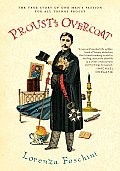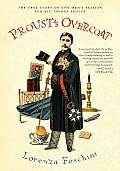 If your home were on fire, what would you take? The photo albums? That's so 1999. In 2012, you'd just grab a bag of memory chips and DVDs. Jewelry? Sure. But if it weighs less than twenty pounds, you can take something else. Like a favorite possession.
For Marcel Proust, this was not a difficult question. Take the notebooks in which you've been writing your book—well, have Celeste Albaret take them—and walk out. Favorite possession? Wearing it. Always.
Marcel Proust lived in his double-breasted, fur-lined, dark gray wool coat. When he went to the Ritz for dinner, he wore it at the table. At home, in bed, it was his blanket. Indeed, it is so linked to Proust that, if you picture him, you see the hair parted in the middle, the moustache, the sunken, mournful eyes—and the overcoat that made him look like a renegade penguin.
What happened to that coat? If you have time for 144 pages, an amazing story awaits you.
Of course, it's not really about the coat. The real subject of Proust's Overcoat is what happens to precious possessions when their owners die. (You may recall another book on this theme, this one about a collection of netsuke: The Hare with Amber Eyes.) For starters, this book is about how we value what we value and how that deepens—or not—over time. At the most exalted level, it's about an idea Proust subscribed to: Objects hold something of the souls of the people who loved them.
Lorenza Foschini—a Proust devotee who is, of all things, an anchorwoman on RAI, the state-owned Italian radio and television network—believed, from the beginning, that Proust's coat, his "ultimate relic," was "evocative of the physical form of the writer." In 2006, Forschini interviewed costume designer Piero Tosi, who told her about his own experience following the trail of Proust:
I was shooting a television documentary in which the great costume designer of Visconti told everything about his life. When we had finished it was evening and while the TV technicians were dismantling the set, I couldn't resist asking him what all fans of Proust were wondering:Why did Luchino Visconti renounce the dream of his life, namely making a film of Récherche?
Tosi started to tell me about when the project became feasible thanks to the funding from the large American majors and he had the job of going to Paris to look for Proustian characters and places.He knew the aristocratic descendants of those who had inspired Proust's characters but the meetings had been disappointing. Someone told him about the person who could help him….Tosi went to meet him and remained so fascinated by what this gentleman told him about Proust, and amazed by what he showed him (the coat), that he never forgot it, not even after 30 years!
But unfortunately he could not remember his name.The next day he found his business card, which he had always kept and which had his name on it: Jacques Guérin.
Jacques Guérin (1902-2000) was a Parisian of wealth and taste. He inherited a perfume company and ran it well. But his real work was collecting—especially anything owned by Marcel Proust.
Now we get into the question: destiny or coincidence? Marcel Proust's brother, Robert, once treated Guérin for a serious illness. In 1935, soon after Robert's death, his widow moved out of their apartment, leaving behind Marcel's desk and bookcase. Fortuitously, Guérin heard about this furniture and bought it.
There was much more than furniture to be collected. Robert Proust's widow hated Marcel's homosexuality, and, after her husband's death, she took her revenge, discarding letters, notebooks and other personal material. Guérin, who was also gay, saw himself as her opposite—as the protector of Marcel's legacy. And he set about saving as much as he could.
Eccentric cast of characters? Guaranteed. Brisk storytelling? Absolutely. Great gift for anyone who loves France, Proust or collecting? Yes—but this book is also a keeper.
Leave a reply
Your email address will not be published. Required fields are marked *