Gagnaire at Les Airelles, Bistro de Breteuil, Michelin NYC 2013, Salon du Chocolat & Give Vines for Christmas Buzz
"It's fifteen years since we arrived in Paris", recalled 3-star superchef Pierre Gagnaire, one day last week, the very day Michelin Great Britian and Ireland 2013 announced the second star for Sketch his luscious London addy.
Gagnaire, hasn't had an easy ride for such a talent, remember, he went belly up in Saint Etienne and thought he'd cooked his goose. But the boy bounced back, says it's all good now. "In May, I climbed the red carpet stairs of the Palais des Festivals, Cannes, watched all the films and cooked for my favourite directors, actors and musicians, a dream come true, he sighs".
"I'm in Dubai, Moscow and Las Vegas now, he says rubbing his salt and pepper stubble, as if he'll wake up soon, smell the coffee. "I'm also at Les Airelles, Courchevel, a breath of fresh air. It's in the heart of an alpine garden, in the spirit of the grand chalets of the past. Located beside the slopes, it's ski in – ski out. And, snow valets are on hand to assist with equipment, guide guests through the Trois Vallées, one of the greatest ski areas in the world", notes Gagnaire.
My cooking's like jazz, it's improvised", he continues. To-day we've got Féra from Lac Leman, so I'm treating it as I would if I were in the mountains: Meunière".
Who's going to argue with that? And it's paired with ravioli made with waxy Belle de Fontenay potatoes, watercress and cèpes. Washed down with Chassagne Montrachet 1er Cru Clos Saint Jean G. Amiat 2009.
The starter's Coeur d'Artichaut/lettuce leaf: tender first walnuts, grated Gruyère de Garde, tome de Carayac, céleri branche. A side of reine de reinette apple crème glacée and a touch of mirabelle. Sublime!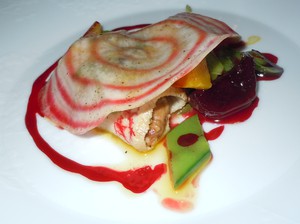 Gagnaire knows how starving a ski-day makes you, even if, to-day, Ashton and me have only hiked to the summit of his rue Balzac flagship. He adds another main of melt in the mouth semi-confit oregano spiked veau fermier. fragments of foie gras, fondue d'oseille à la moutarde Fallot, tops it with raw organic paper thin slices of beetroot see photo.  Dream on! And you will after the Monthélie 1er cru Les Duresses Domaine des Comtes Lafon 2008.
To finish – Les desserts Pierre Gagnaire. Take your time – Prends le Temps says the neon installation by Fabian Chala in the entrance to the restaurant. I will, I will.
Pierre Gagnaire pour Les Airelles,
At Le Jardin Alpine,
LOV Hotel Collection,
Courchevel 1850
And Spa Cellcosmet for Him & Her
Menus 170. 240. 290 (truffles)
A La Carte 300-400€
T: 04 79 00 38 38
Pierre Gagnaire,
6 rue Balzac, 8th
M: George V
T: 01 58 36 12 50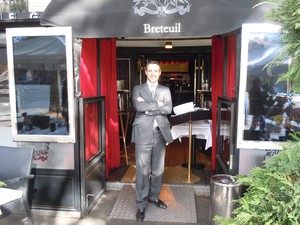 Parisiens know Bistro de Breteuil, it's what French foodies call a valeur sûre. "Where else can you get food and atmosphere of this quality for 42€?" they reason. So it's with surprise, arriving at their weekly favourite Willy Dorr bistro where they and their families have been regulars for 36 years, to find the addys have all had a facelift. "Mais, they really didn't need to, but how chariming", they chorus as they take it in.
Thing is they've had a major brainstorming session chez Dorr and uber-brasserie maven Willy decided he can now take it a bit easier, go fishing, play golf, wash the Merc. His boy Garry has already proved "yes he can" with the transformation of the 4 mouthwatering La Bar à Huïtres restos around Paris where he's put the menus on I-pads and guarantees the largest, and freshest, selection of oysters on the hexagon.
Boy's had good training in London, worked the kitchens of Ducasse, with Piège at the Plaza Athénée, Robuchon and Cussac in Monaco, the legendary Grondard at Drouant. And always discreetly in the background the formidable Jean-Jacques Jouteaux.
The décor may be embellished, the number of tables reduced so that you really cannot overhear your neighbour revealing all. But, Boy's remembered the credo set by his father "All Inclusive".  From soup to nuts, but now you're in a Grand Bistro setting.
"The menus change monthly, we're using vegetables from Joël Thiébault, French meats and products from Hugo Desnoyer and Frank Samoyeau. Delicious breads from Poujauran, butters from Monsieur Bordier, Cheese from Madame Cantin and olive oil from Château d'Estoublon explains Garry.
It's a festival of great food, get along to one of the "Grand Bistros" (Breuteil, Muette, Villiers, Maillot) as soon as possible it's what Paris eating is all about, just what you're looking for.
Willy Dorr, insists he's no way taking a back seat. "It's the new generation, an "histoire de famille", same receipe, tout compris", he grins. "Bienvenue chez nous".

Bistro de Breteuil
,
3, place de Breteuil, 7th
M: Duroc/Sevres Lecourbe,
T: 01 45 67 07 27
"Menu Signature" includes a bottle of wine
42€
Children's menu 19€ + A La Carte
Valet Parking
Open 7/7 – Terrace
Diary Date:
Fashion designers and chocolate makers combine to present eyewatering unique pieces for the Salon du Chocolat. This years' theme: "The New Worlds of Chocolate". Six Gourmet Domains.
Daily at 5:00pm, the Salon becomes a fashion runway, presenting the now legendary Choco- Fashion Show. This year, the show includes the collaboration of the students and teaching staff of the iconic French multidisciplinary school MJM Graphic Design.
"This year we are showcasing a visionary journey featuring the new worlds of chocolate in six gourmet domains", say event creators Sylvie Douce and Franҫois Jeantet.
Le 18th Salon du Chocolat from 31st October-4th November
Porte de Versailles
Christmas Shopping:
For the wine lover in your life you should gift a few vines for the duration of a vintage. He/she can follow on-line the evolution of the vines and wine all the way to the personalised bottling of the cuvée. 6 vines on the domaine of his/her choice in Bordeaux: Château La Mothe du Barry: Burgundy Château de Chamilly: Rhône: Mas Pouperas. About 149€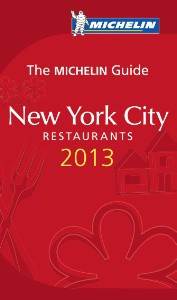 Michelin Guide NYC 2013
Before you check out the results go here.
Alors, no changes to the seven NYC 3-stars. : Daniel, Per Se, Masa, Le Bernardin, Eleven Madison Park, Jean Georges, and Chef's Table at Brooklyn Fare.
Matt Lightner's much hyped Atera, opened earlier this year in Tribeca, joining two-stars: Corton, Gilt, Gordon Ramsey at The London, Marea, Momofuku Ko, and Soto.
Fifty-two restaurants win one star, nine included for the first time.
896 restaurants are included in the 2013 guide, up from last year's 805. The restaurants, located across the city, include 61 different types of cuisine! Yum!
If I could go to just one it would be Le Bernadin.  Where would you go?
New York City is one of three American cities rated by Michelin. The others are Chicago and San Francisco Bay Area and Wine Country. Follow the inspectors on Twitter @MichelinGuideNY
France 18.50€

Subscribe for
FREE

weekly newsletters.
BonjourParis has been a leading France travel and French lifestyle site since 1995.
Readers' Favorites: Top 100 Books, imports & more at our Amazon store
We update our daily selections, including the newest available with an Amazon.com pre-release discount of 30% or more. Find them by starting here at the back of the Travel section, then work backwards page by page in sections that interest you.
Current favorites, including bestselling Roger&Gallet unisex fragrance Extra Vieielle Jean-Marie Farina….please click on an image for details.
Click on this banner to link to Amazon.com & your purchases support our site….merci!