The New Cheese Cellar at Le Bristol
"Il n' y a pas de bonne cuisine sans bons produits." -Eric Frechon
Among Paris fooderati, the talk of the town recently was "the living bread" made with ancient-style wheat ground in a flour mill that's the only one in the world to be found in a hotel. But that's just the beginning…
At Le Bristol (book your stay here), the "Ateliers du Bristol" comprise a chic chocolate factory and impressive wine cellar. Now Michelin-starred chef Eric Frechon and his brigade invite you to discover the finest French cheeses maturing in the ripening cellar situated on the lower level of this remarkable palace hotel.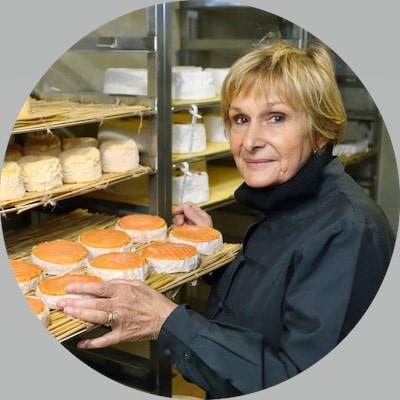 "To make a perfect cheese, you need raw milk, patience and knowledge. We've always held a reputation for excellence and Marie Anne Cantin is supplying the cheeses for our newly established cellar," explained chef Frechon when we caught up with him recently.
Margaret Kemp: Bravo for the collaboration with Mme Cantin, is this a long-standing project created because you're a cheese aficionado?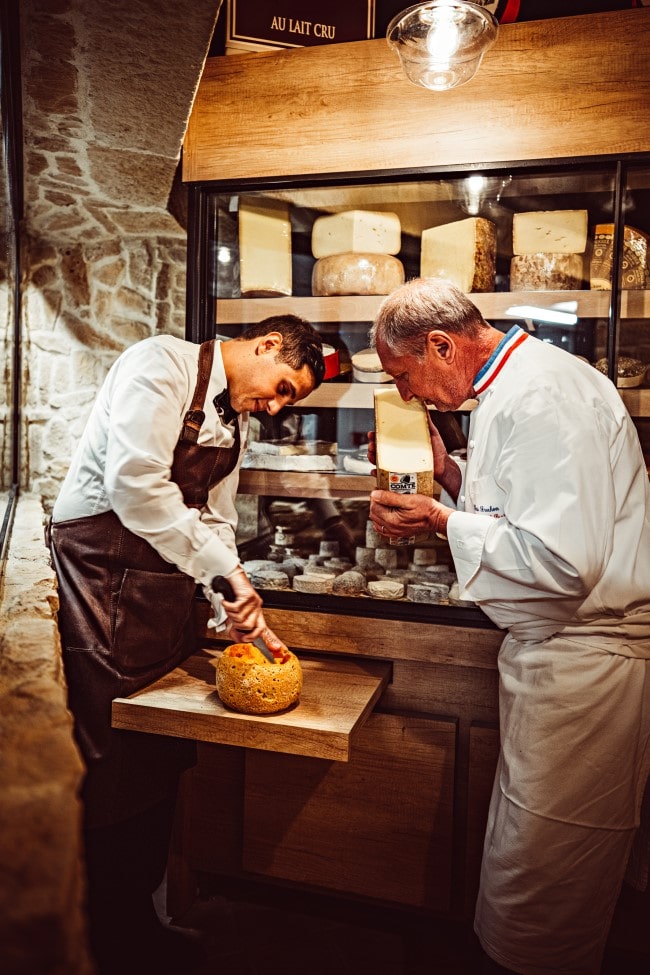 Eric Frechon: Yes, the Bristol Paris, cheese cellar is a concept close to my heart dating back about a year. The real added value of great cheeses is storage and ripening.
MK: What was your first cheese memory as a child. And the first cheese you tasted?
EF: Being of Norman origin, I was more or less born eating cheese! The first that stood out to me was, and always will be, Le Camembert – signature of Normandy.
MK: What do you think of a meal serving only cheese. Starter, main, dessert?
EF: Cheese can be served as a starter and main course. I disagree with dessert; the cheese creates a transition between savory and sweet dishes, cleaning the palate.
MK: Which cheese do you eat at Christmas?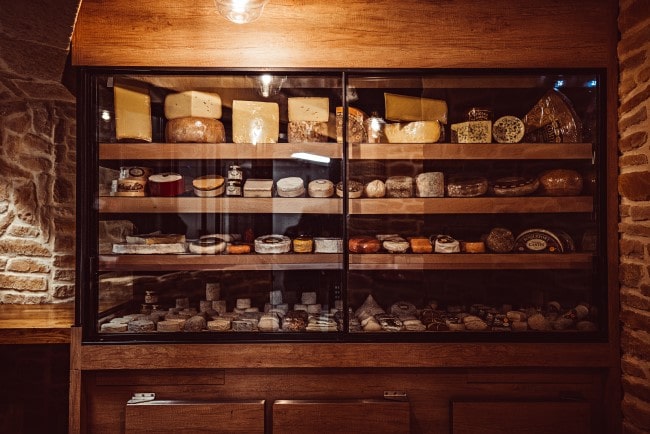 EF: During the holiday season I really like a ripe and runny Vacherin.
MK: The temperature for the cheese cellar?
EF: The ideal temperature is 7 degrees Celsius.
MK: How many cheeses in the cellar?
EF: The refining cellar has around 50 cheeses.
MK: Your favorite cheese after dinner / lunch – and which wines to drink?
EF: As mentioned, my favorite cheese is Normandy Camembert, I recommend tasting it with semi-dry cider. Then, with a glass of yellow wine, Vacherin, spooned from the box, it caresses the palate.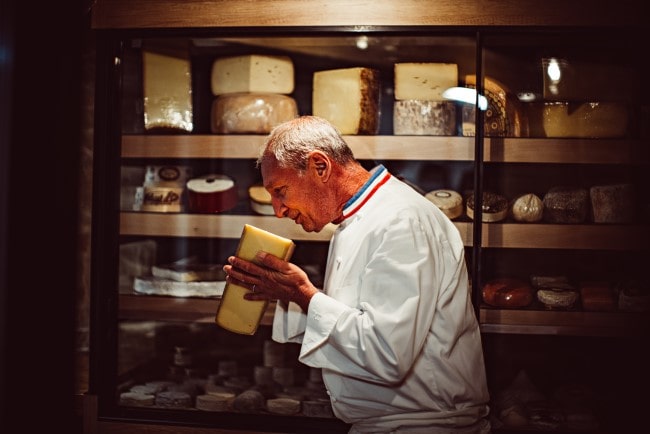 MK: Of the artisanal breads offered to match the cheeses – which one will you choose?
EF: My favorite's made with Khorasan wheat, the grains are huge with a rich nutty flavor.
MK: Approximately how much is charged for cheese in the three restaurants?
EF: At Epicure, Le Bristol's 3-Michelin star restaurant, the assortment of about 20 seasonal cheeses on the cart, is €32 and, at 114 Faubourg, the 1-star Brasserie, they are presented on a plate and priced at €22. From January a selection will be available to take home from the Epicérie des Ateliers du Bristol, located adjacent to the hotel's entrance on rue du Faubourg Saint-Honoré.
Le Bristol's cheese cellar is the result of the friendship bonding two passionate artisans of taste, Chef Eric Frechon and cheese maker/affineur Marie-Anne Cantin.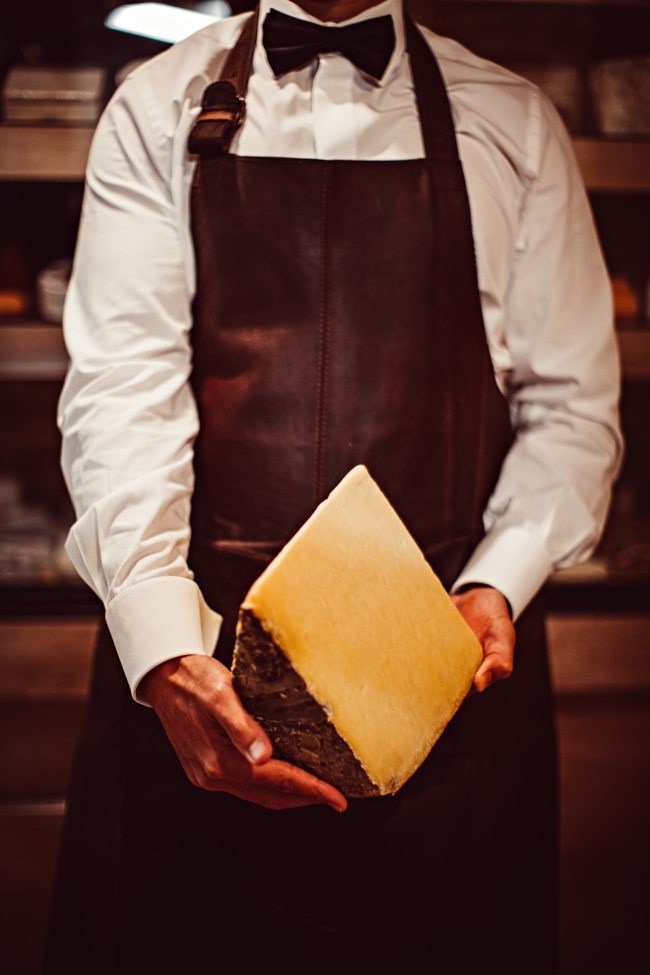 I contacted Mme Cantin at the left bank temple of fromagerie created in 1950 by her father Christian Cantin, where she admitted she goes weak at the knees tasting a perfectly ripened Comté AOP (Appelation d'Origine Controlé). "This is an exciting project taking place in perfect conditions," she said of the new cheese cellar at Le Bristol. "It's during ripening that cheese acquires its texture, color, character and develops distinct aromas. The duration of this final stage of production varies from 15 days for certain goat cheeses, to two years for Beaufort and Comté".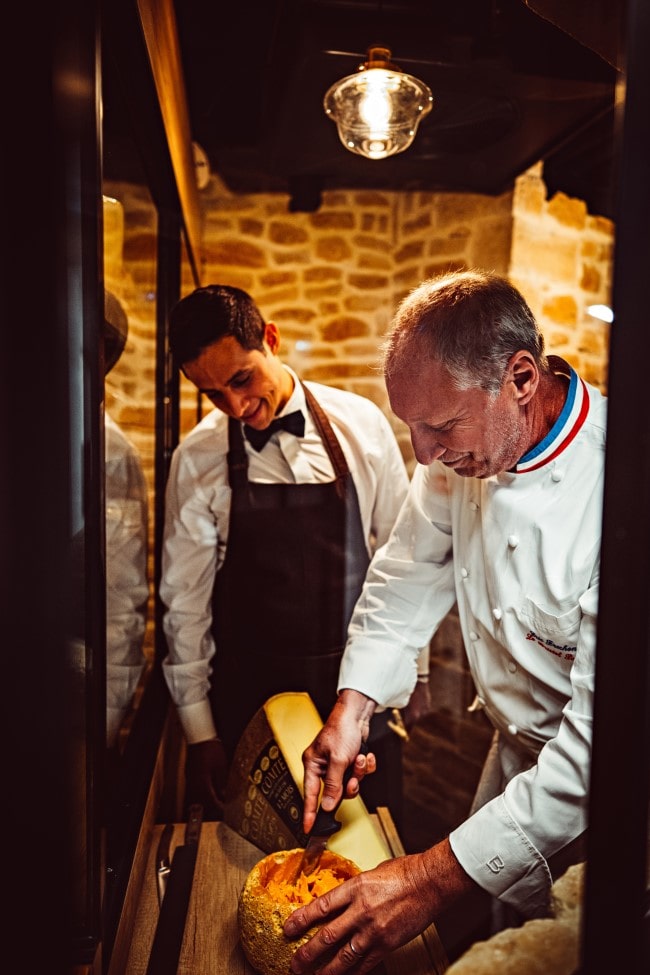 Need to Know: Eric Frechon
Born in 1963 in Normandy, Eric Frechon graduated from The Hotel School, Rouen then went into the kitchens of La Grande Cascade, followed by a short spell at Le Bristol, then Le Taillevent (for three years) and La Tour d'Argent. Frechon recalls Le Crillon kitchens with chef Christian Constant and two fabulous years at Hotel Byblos, Andaluz. By 1993, age 36, he was awarded MOF (Meilleur Ouvrier de France) then, in 1995, launched La Verrière in the 19th arrondissement, acclaimed in the New York Times by Patricia Wells as "the new face of Paris bistrots" and which attracted le tout Paris. However, in 2000, the owners of Le Bristol made him an offer he couldn't refuse and he returned as Executive Chef. He holds the Légion d'Honneur and counts four Michelin stars: three for Epicure and one for 114 Faubourg.
Le Bristol Paris
112 Faubourg Saint Honoré, 8th
Metro: Miromesnil
Tel: +33 (0)1 53 43 48 00
Lead photo credit : Fromage (C) Le Bristol
More in Cheese hotel, Cheesemakers, fromage, Interview
---
---