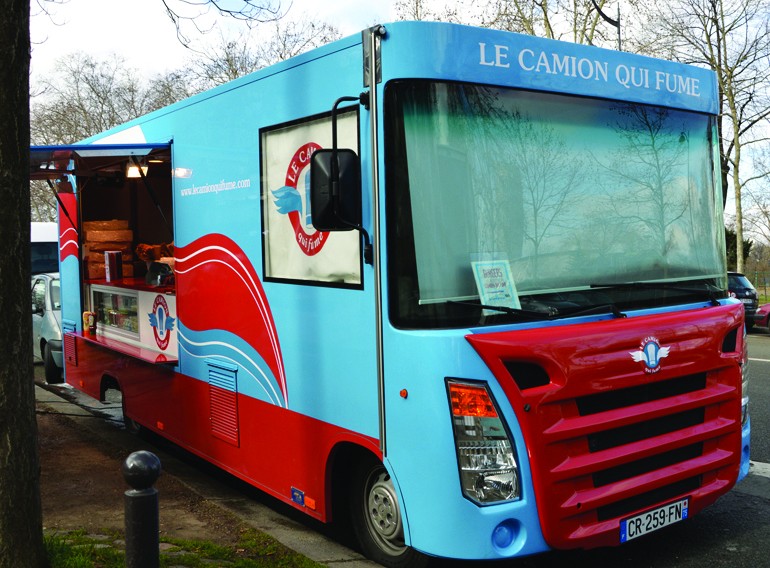 While the notion of fast food for all intents and purposes flies in the face of France's culinary culture, gourmet fast food trucks serving anything from burgers and tacos to pulled pork and hot dogs have – against all odds – made it big in the capital. The question is – can they keep a foothold in Paris, firmly establishing themselves in this competitive culinary landscape or are they merely a lingering fad?
The gourmet food truck trend came originally from the United States and following remarkable success in London, arrived in Paris in 2011. Since then, stationary versions of popular food trucks such as Le Camion Qui Fume, Leoni's Deli and Cantine California have been popping up to meet demand – indicating that the gourmet fast food trend is anything but fleeting.
Californian Kristin Frederick is considered to have pioneered the movement with le Camion Qui Fume – Paris's first American-style burger truck. Classically trained at Ferrandi's culinary arts school in Paris, Frederick exchanged fine dining for life on the road, sharing her gourmet burgers, homemade fries and fresh coleslaw with hungry Parisians. Le Camion Qui Fume quickly gained notoriety for serving authentic American grub using quality ingredients and fresh local produce (all their buns are made daily by Rachel's, a Parisian artisan boulangerie and their meat is certified French). The truck's success on the road set the wheels in motion for the opening of a brick-and-mortar version earlier this year in the 2nd arrondissement. The restaurant, which is located at number 168 Rue Montmartre, serves all the truck menu favorites complete with tables and chairs!
Often leaving you with sticky fingers and ketchup on your face, New York hotdog dining is not exactly the refined cuisine the French are accustomed to. However, following a successful voyage across the capital, bringing hot dogs from the streets of Manhattan to the streets of Paris, Leoni's Deli opened a sit-in restaurant on rue d'Argout in the 2nd arrondissement. On the last Thursday of every month, the deli even goes gourmet, allowing patrons to enjoy a more glamorous offering of hot dogs and a glass of champagne – now who said street food can't be classy?
Another popular joint touting nomadic origins is Cantine California. Serving tacos and burgers made with locally sourced ingredients alongside other house specialities such as frosty margaritas, Cantine California also seeks to marry American gastronomy with French organic produce. In order to cater to the phenomenal demand, Cantine California opened an off-road branch in 2014 on rue de Turbigo near Arts et Métiers and it seems to be thriving.

Jumping on the bandwagon
The overwhelmingly positive response of Parisian diners to the gourmet food truck movement has actually seen established restaurants taking to the road. This reverse trend gives traction to the claim that quality food trucks are here to stay. Since Paris's love affair with Le Camion Qui Fume, traditional Thai restaurant Khaosan Road in the 9th arrondissment has launched a truck "Thai Road" by Khaosan which travels the cobbled streets serving  nems, samosas, Pad Thaï, curries and satay skewers. The Sunken Chip in the 10th arrondissement has also gotten on board. Its mobile version can be seen crisscrossing the city serving traditional English fare in the form of fish and chips.
Where's the truck?
We should say that the food-trucks-turned-restaurants we have mentioned have not abandoned their nomadic roots and still send their trucks roving around so traditionalists can get their roadside fix. Although locating their whereabouts can sometimes be tricky, easyfoodtruck.com and monitinerant.com give full daily itineraries of each truck on the road so you can find out what is close by and when. Alternatively, you can track the movements of your favorite food trucks through their dedicated websites or by following them on Twitter or Facebook.

Hungry for more?
Don't miss the 3rd annual edition of the street food event of the year – Le Street Food Temple. From the 23rd to the 25th of September, foodies can explore a cultural exchange between France and America in Le Carreau du Temple. This year the theme is "Picnic in Central Park," celebrating New York American cuisine, so you can be sure that at least one of our favorite speciality food trucks will be in attendance. Paris will meet New York through culinary workshops, a street food market, DJ sets, exhibitions and some of the best food going. If last year's event is anything to go by, this is a date to put in the diary.
The Verdict
A question that remains when we look at the trend of upmarket fast food trucks in France and their transition from on-road to off-road fixtures is whether their nomadic existence is integral to the charm of the movement. The answer is perhaps: not necessarily. It seems that what most importantly distinguishes this kind of food from its greasy competitors like Quick and McDonalds is the strong emphasis on the freshness and quality of ingredients which are most often locally sourced and the care and attention paid to the preparation – which, above all, the French deeply value. It therefore seems that on four wheels or not, quality fast food is permanently parked in Paris's culinary landscape.