Cocoa Canard: Spooning Chocolate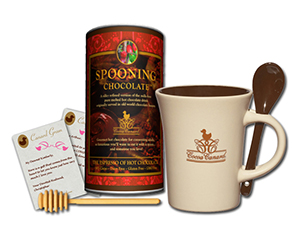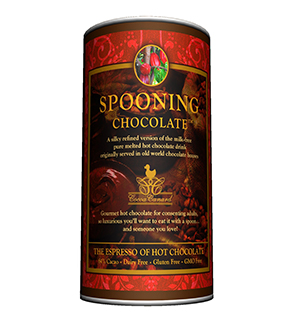 As anybody who has ever visited Paris can attest, there's nothing quite like sitting in a cafe, sipping hot chocolate and watching the world pass you by.
A sip of the rich drink can easily take you back to that memory of a lazy Parisian day, but good luck finding the real deal in North America.
That's where Cocoa Canard's Spooning Chocolate comes in.  The company refers to it as the espresso of hot chocolate, and it's easy to see why. Like an Espresso, the drink uses a smaller amount of liquid at a lower temperature. The dairy and gluten free pure non-bitter dark chocolate, which comes packaged in a can with a wooden mini-molinillo (South American whisk), instantly melts in a cup of hot water — turning in a velvety, rich, delicious drink that mimics an authentic Parisian hot chocolate experience. It's intoxicating.
Taking great care to ensure the quality of their product, Cocoa Canard uses the finest imported cocoa beans, including the flavorful Criollo beans. Their beans are artfully aged and then slow roasted and blended in small batches using real vanilla, not an extract, to create a rich complex range of flavors.
Although the beans are processed and finished in the USA, Cocoa Canard uses a lot of the old world French techniques and stone mills them.
Cocoa Canard wants Spooning Chocolate to be part of a ritual – part of the 'slow food' trend. "We want people to take time out of their day to slow down, relax, and savor each spoonful of this sumptuous drink," they say.
At one point, hot chocolate was all the fashion amongst the upper class and poets. Somehow, though, the flavor was lost as it made its way to the masses. Now, the art of hot chocolate is back!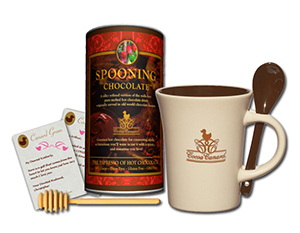 Better than a Kiss?
Okay, so we all know how sensual chocolate can be, but is it better than a kiss?
From CocoaCanard's site:
The BBC aired a report that showed that melted hot chocolate on the tongue was actually better than a passionate kiss! The volunteer's brains were monitored while they first melted chocolate in their mouths and then kissed. Hot chocolate caused a more intense and longer lasting "buzz" than kissing.

The research was carried out by Dr. David Lewis, formerly of the University of Sussex, and now of the Mind Lab. Dr. Lewis said: "There is no doubt that hot chocolate beats kissing hands down when it comes to providing a long-lasting body and brain buzz. "A buzz that, in many cases, lasted four times as long as the most passionate kiss."
He said substances in chocolate were already known to have a psychoactive effect, but that allowing it to melt on your tongue could be the secret to maximizing the buzz. The study also found that as the chocolate started melting, all regions of the brain received a boost far more intense and longer lasting than the excitement seen with kissing.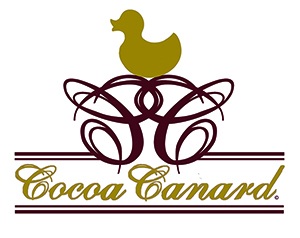 For more information, including a history of the evolution of hot chocolate, visit: www.CocoaCanard.com. Their Spooning Mug gift set (which comes with a branded mug and spoon) makes a great gift, especially for Mother's Day at only $24.95 (or $17.95 for just the chocolate). Cocoa Canard ships worldwide.
Lead photo credit : Cocoa
Leave a reply
Your email address will not be published. Required fields are marked *