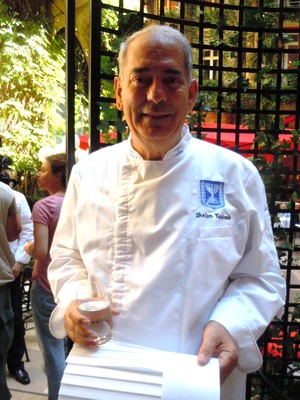 35 years years ago Gilles Bragard created the exclusive Club des Chefs des Chefs. As CEO of Bragard, the Dior of chefs' clothing, Bragard has been up close and personal with more super-cooks than you've had hot dinners, darling. his "Grand Chef" jacket worn by the likes of Paul Bocuse and Alain Ducasse, the Club an important partner of the epic Bocuse d'Or.
Working on the theme that "all work and no play make Jacques a dull chef", the CDCDC organise "away-day" weeks globally. A big ask getting 20 chefs to leave their pianos, but when Bragard whistles they usually mark themselves present.
Recently, the road show hit Paris where, by invitation of Alain Ducasse, the chefs made the Hôtel Plaza Athenée their base and invited a few fortunate foodies to tap into their concept. Excited anticipation of dishing the dirt on the favourite foodstuffs of, say Vladimir Putin, Prince Albert 11 of Monaco, Franҫois Hollande was quickly dispelled.
"They're discreet", explained restaurant maven Albert Namias whose bestie is Shalom Kadosh, the new-boy toque in the Club (see photo).
In charge of official receptions for the State of Israel, Kadosh's been a member since 2011. Based at Hôtel Plaza, Jerusalem, Kadosh has cooked for Jimmy Carter, George Bush, Henry Kissinger, Franҫois Mitterand and Prime Minister Benjamin Netanyahu. "I'm from Morocco, so there's diverse Berber, Moorish and Arab influences in my cooking", he says.
"I had the honour of preparing "The King David's Feast" celebrating 3000 years of the city of Jerusalem.  My dream is that one day I'll be asked to prepare a banquet for Arab Leaders – in Israel", said Kadosh, looking skywards.
Sweet, but where's the beef? Here's Vakhtang Abushisi, the Kremlin chef! Everyone wants to know if tasters still exist. "Designated tasters, yes, but only in the Kremlin, where a doctor checks each and every dish and the rule is, it's the head chef who always has first taste!"
Not unusual apparently as George Bush kept two former FBI agents in the White House kitchens.  Apparently, American leaders are particularly suspicious of non-US food. Secretary of State Hillary Clinton is, for example, said to have 'got rid' of the French chef when she arrived at the White House, finding his cuisine too rich. In his place is the delightful Cristeta Comerford from the Phillipines. Yes, Ms Comerford does use Michelle Obamas' potager products and they're very focused on eating healthy, no restrictions really, but make sure The President never even gets a sniff of the veg he hates most – beetroot!
During their visit to Paris, the chefs spent time at the Elysées Palace with the formidable Bernard Vaussion, who has been there since 1975, working his way up to the top. Now on his third President, Monsieur Vaussion says he's changed his menus with the help of Franҫois Hollande's partner Valerie Trierweiler who put the President on a strict pre-election diet. "If he puts it all back on, I'll be blamed for sure", sighs Vaussion.
At the Elysée Palace cheese, banned under Sarkozy, is back. "But artichokes are a no-no", he reveals.
For Angela Merkel, chef Ulrich Kerz cooks lots of vegetables. Christian Garcia (President of the Club) chef to Prince Albert of Monaco tells how he created a new dessert "Star of South Africa" in honour of Nelson Mandela. Prince Albert and  Princess Charlene eat produce from Farm Roc Agel and are very fussy about sustainable fishing refusing to have anything to do with red tuna.
British chef Anton Mosimann recalls Baroness Margaret Thatcher complimenting him on a state dinner for Franҫois Mitterand. "Anton", she gushed, "the meal was superb, but the ingredients you used were
far too expensive".
"Usually heads of state eat late don't want heavy food", adds Mosimann who works with Royal chef Mark Flanagan. He recalls FBI agents swarming over his kitchen when George Bush was in London. "They tasted everything before we sent it out". The Duke and Duchess of Cambridge planned their wedding feasts during romantic dinners at Mosimann's restaurant, only altering one ingredient in a cake.
Arriving in Paris from a tour of Germany, the chefs, from Beijing, China, South Africa, Sweden, Ireland, Canada, Austria, Italy, Sri Lanka, Switzerland, Denmark and The United Nations, New York, joined together to meet Franҫois Hollande at the Elysée Palace. To take a bateau-mouche along the Seine and dine at Eric Frechon's Mini-Palais. On Mini-Palais' menu: Gougère au fromage, Tomates en tartare, sorbet et jus au thym citron, Ris de veau en croûte de Comté et, pour finir, le Baba géant au Rhum.
They toured the Palace of Versailles and admired the Potager du Roi . Dined at "le 144" restaurant Petrossian and toured the Manufacture de Sevres.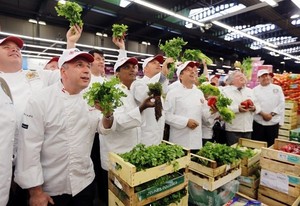 An early call (4am) took them to Rungis Market for breakfast, then back to Paris and the Jules Verne, Alain Ducasse's unique eatery in the sky, on the third floor of the Eiffel Tower. The Paris tour ended with a Gala Dinner at the Sénat.
Winston Churchill maintained that, "the stomach governs the world". Bragard says, "Presidents come and go, but chefs stay".

Subscribe for
FREE

weekly newsletters.
BonjourParis has been a leading France travel and French lifestyle site since 1995.
Readers' Favorites: Top 100 Books, imports & more at our Amazon store
We update our daily selections, including the newest available with an Amazon.com pre-release discount of 30% or more. Find them by starting here at the back of the Travel section, then work backwards page by page in sections that interest you.
Current favorites, including bestselling Roger&Gallet unisex fragrance Extra Vieielle Jean-Marie Farina….please click on an image for details.
Click on this banner to link to Amazon.com & your purchases support our site….merci!