10 Favorite Wine Bars in Paris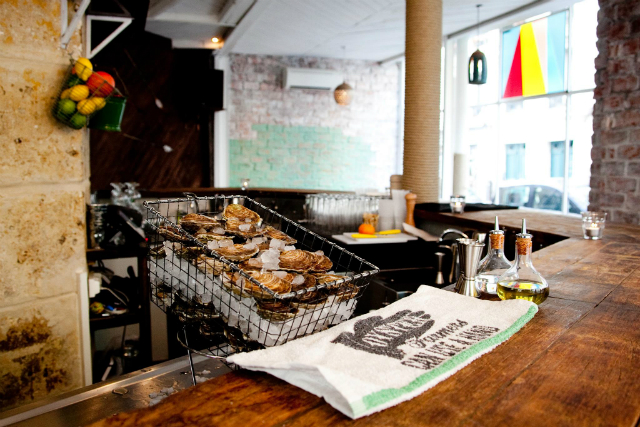 What better city in the world to enjoy a glass of wine than Paris? The city revolves around a monument that sparkles like a glass of champagne on the hour and is the capital of one of the largest wine producing countries in the world. While visiting the vineyards of France will give you a more personal experience with these esteemed winemaking regions, Paris wine bars bring the best of the country- and beyond- together in one place. Here are some favorite spots to sip on a glass of Chardonnay or a bottle of Beaujolais.
Café de la Nouvelle Mairie
A perfect place to wind down after an afternoon stroll at the nearby Luxembourg Gardens, Café de la Nouvelle Mairie is located on a quaint square a stone's throw from the Pantheon. Despite its name, this cosy restaurant doesn't specialize in coffee, but rather in wonderful wines from all around France. Tables are reserved for diners during mealtimes, but the quiet times in between are ideal for grabbing a table and enjoying a glass of wine with a plate of cheese or charcuterie.
19 Rue des Fossés Saint-Jacques, 75005. Tel:  +33 1 44 07 04 41. Closed Saturday and Sunday.
This tiny bar located on a side street off the busy rue de Rivoli fills up fast, but the friendly staff seems to adopt a "more the merrier" attitude and is always happy to try to fit as many thirsty visitors as possible. Grab a spot at the bar or the rickety table out front and explore an exciting wine list that features a variety of small scale French winemakers.
41 Rue de l'Arbre Sec, 75001. Tel: +33 1 49 26 90 60
Located next door to Vivant the restaurant, Vivant Cave offers a similarly interesting bar menu at a fraction of the price. French and Italian wines are available by the glass or bottle and the self-service wine cellar is a fun place to pick out a bottle to go.
43 Rue des Petites Écuries, 75010. Tel: +33 1 42 46 43 55. Open Monday-Friday evenings, closed Saturday and Sunday. (Annual August closure until August 23, 2015.)
Le Baron Rouge
This quintessential day drinking address is a common stop for locals after they've finished shopping at the nearby Marché d'Aligre. Wine is available by glass or bottle, and can also be taken home in a reusable bottle that can be refilled or returned on your next visit. Come during oyster season and order a half dozen of the shellfish to enjoy with a crisp glass of muscadet.
1 Rue Théophile Roussel, 75012. Tel: +33 1 43 43 14 32
Camille Fourmont's pint sized space in the 11th arrondissement is constantly abuzz. Get there early to grab a small table or space at the bar before the crowds arrive. Enjoy a bottle from the small but carefully curated selection of wine and watch as Camille performs her one-woman show, serving customers while whipping up creative small plates that feature seasonal ingredients.
67 Rue Saint-Maur, 75011. Tel: +33 9 83 56 94 11. Closed annually for August vacances until August 26, 2015.
If you can't get a much coveted table at neighboring Le Chateaubriand, pull up a stool at Le Dauphin, which has the same wine list and offers a unique Paris dining experience. The wine list is experimental, featuring foreign wines from Georgia, Australia, and Serbia to name a few. If you catch the wine bug, watch out for the occasional tastings that are hosted here and feature up-and-coming winemakers.
131 Avenue Parmentier, 75011. Tel: +33 1 55 28 78 88. Open in the evenings from Tuesday-Saturday.
Functioning as both a bottle shop and wine bar, Le Siffleur des Ballons is a great place to grab a bottle to go or enjoy some wine on site. An affordable and filling lunch menu is one of the best deals in Paris. Stop by for a before dinner snack of wine and cheese before heading across the street to the Ebauchoir, for more great wine and ambience.
34 Rue de Cîteaux, 75012. Tel: +33 1 58 51 14 04. Closed Sundays and Mondays.
While Mary Celeste is more commonly known for their cocktails and fusion cuisine, there is no doubt also a passionate sommelier behind the bar. The friendly staff is happy to help you make a decision when choosing a wine from their extensive and eclectic menu.
75003, 1 Rue Commines, 75003. Open every evening. Online reservations available.
A not-to-miss spot in St Germain for the excellent wine list (including natural wines) paired with plates of charcuterie. It's an atmospheric spot, with exposed stone walls, and the wait staff are knowledgable and friendly. Best part of all? It's affordable.
8, rue Grégoire de Tours, 75006. Tel: +33 1 43 26 09 09. Open from Tuesday-Saturday.
This hole-in-the-wall bar is the perfect compromise for beer geeks and oenophiles. Serving both an excellent selection of craft beers and a modest list of quality natural wines, Les Trois 8 takes the snobbery out of wine drinking and provides a relaxed location for drinkers of all types to come together. Don't miss the stellar cheese and charcuterie plates, served with fantastic jams homemade by the owner's grandmother.
11 Rue Victor Letalle, 75020. Tel: +33 1 40 33 47 70.
Photo credit : Le Mary Celeste/ Guillaume Belvèze
Leave a reply
Your email address will not be published. Required fields are marked *
Comments