XXVI Biennale des Antiquaires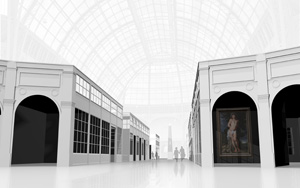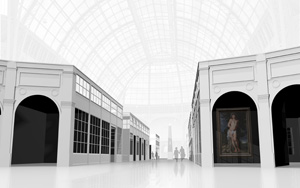 Do you love expensive jewelry? Well, who doesn't (aside from the poor sap footing the bill). If you happen to be happy with just admiring up close, the XXVI Biennale des Antiquaires, the $50,000,000,000 grand dame of fine jewelry/art/antiquities fairs, will be held September 14-23, 2012 in Paris' Grand Palais.
Ten fine jewelry houses will all be unveiling new/unreleased designs. It's nothing to scoff at with participants including Boucheron, Bulgari, Cartier, Chanel, Chaumet, Christian Dior, Harry Winston, Piaget, Van Cleef & Arpels, and Wallace Chan. None other than Karl Lagerfeld, official scenographer, will be responsible for staging, decorating and designing the 26th Biennale. "The creative genius of Karl Lagerfeld, his sensitivity and his sense of set design are just some of the reasons why I am delighted about this collaboration for the 2012 biennale," said Christian Deydier, President of the Syndicat National des Antiquaires.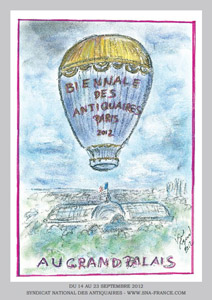 "The era is different, I wanted to evoke, not reconstitute," said 2012 Scenographer Karl Lagerfeld, "The intended effect is "that the visitor immediately feels enveloped by the atmosphere as soon as he enters the Grand Palais."
Since 1962, the Syndicat National des Antiquaires has hosted the Biennale des Antiquaires, opening Paris' Beaux-Arts Grand Palais to welcome the foremost art and antiquities exhibitors.  A curated selection of exceptional works which span 1000 years and six continents in origin will be on display, with a selection of rare works vetted by a panel of international experts.
Don't want to just look? Guests can even elect to buy some of the jewels on the display.
Syndicat National des Antiquaires has undertaken a 24 city global tour in countdown to the largest Biennale to date. Exhibiting over $50 billion worth of Archaeological treasures, arms and armor, furniture, paintings, drawings, graphic works, sculpture, books and illuminated manuscripts, tapestries, rugs, objects d'art, coins and medals, stamps, ceramics and jewelry, the fair is expected to draw more than 100,000 visitors.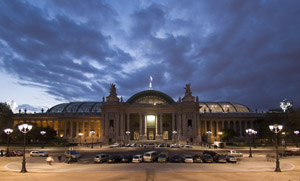 Located on Avenue Winston Churchill, Paris 8eme arrondissement, the fair expands within the Grand Palais for the first time this fall. Re-opening the famed Salon d'Honneur wing after years of renovation enables an unprecedented 150 exhibitors to show their works, including first-time exhibitors. New jewelry represented in 2012 include Wallace Chan, Chaumet, Bulgari and Boucheron, exhibited alongside Piaget, Chanel, Van Cleef & Arpels, Harry Winston, Cartier and Christian Dior.
Not ones to skimp, some of the booths cost more than $125,000 to design and create with visionaries such as Jacques Grange and Peter Marino behind them.
While you're there, want to pick a little something for me?
Public Viewing: 14th-23rd September, 2012, 11AM – 9PM (Open until 11:00PM 18th, 20th, 22nd September)
All images courtesy of the SNA

Subscribe for
FREE

weekly newsletters.
BonjourParis has been a leading France travel and French lifestyle site since 1995.
Readers' Favorites: Top 100 Books, imports & more at our Amazon store
We update our daily selections, including the newest available with an Amazon.com pre-release discount of 30% or more. Find them by starting here at the back of the Travel section, then work backwards page by page in sections that interest you.
Current favorites, including bestselling Roger&Gallet unisex fragrance Extra Vieielle Jean-Marie Farina….please click on an image for details.
Click on this banner to link to Amazon.com & your purchases support our site….merci!
Leave a reply
Your email address will not be published. Required fields are marked *