The Alliance Française Zooms In to Share Great Tips About Learning French
Did you know that Bonjour Paris has a relatively new series of online events?
Well, they do! These presentations include lectures by experts on a variety of topics, and conversations about la vie française. Added bonus: they are free for Bonjour Paris members ($10 for non-members). And in January there was a wonderful presentation by Linda Witt, President of the Federation of Alliances Françaises USA and Pauline Chateau, Educational Coordinator at the Seattle branch of the Alliance.
This webinar was titled "Mastering French: What You Need to Know," but beginners should not think the presentation is too advanced for them. I watched this program and was amazed at not only how packed with helpful tips, insights, and suggestions it was — all in only an hour! — but also how Linda and Pauline provided useful information for everyone from absolute beginners to those who are already quite fluent. (In fact, I wouldn't be surprised if even some native speakers of French might learn something interesting from it.)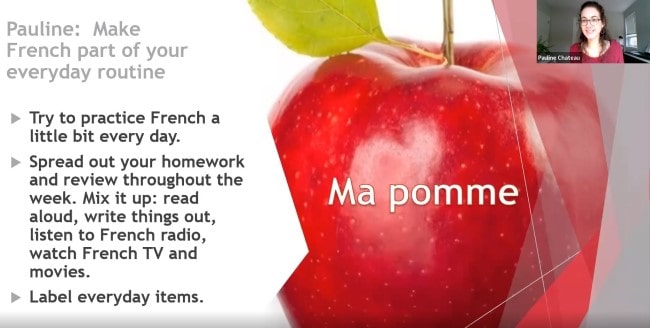 They explained that at the Alliance the pedagogical approach is encouraging, not perfectionist. "Find a good balance between comfort and challenge," Pauline urges. She encourages people to "base your learning experience on pleasure and realistic goals" (so French, to want the experience to be pleasurable, n'est-ce pas?)
That said, Linda also urged listeners to not only learn to speak French correctly, but even develop the ability to "simply sound more French," which is actually setting one's sights pretty high. In this regard, the presenters explained the concept of régistre in the French language, which refers to the level of formality of a word, expression, or grammatical structure. While I had certainly sensed some of the nuances involved in navigating the language and using the right régistre in various situations, I had never heard the term before. Fascinating!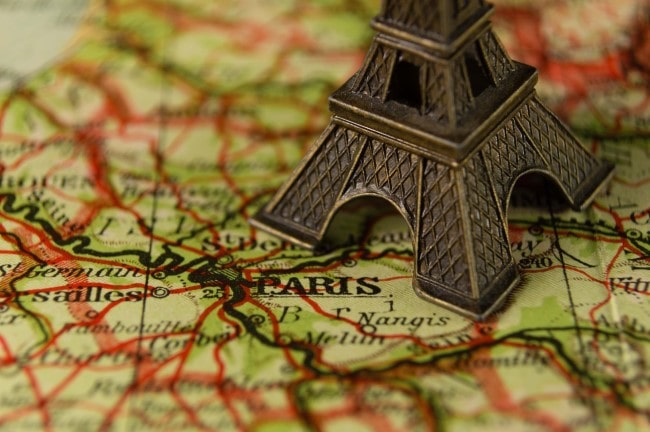 Along with encouragement, tips for learning, some basic vocabulary, and a few colorful or amusing idiomatic expressions, a great many invaluable suggestions for fun ways to augment your learning of French in a variety of ways are offered in this presentation, along with information about how to access helpful online resources, many of them free.
Some of the tips are perfectly obvious pieces of helpful information that sadly are rarely acknowledged by French teachers or addressed in textbooks: for example, the fact that in real life, with real people speaking French, "Je ne sais pas" often becomes "Ch'ai pas…" Pauline pointed out that this kind of elision is certainly not unique to speakers of French, though: just think about how we often pronounce the words "I don't know." ("I dunno.") How is someone just learning English supposed to understand that, anyway?
If you missed this presentation but you would like to see it, you can watch it here, and also browse the page to see what other programs you might enjoy.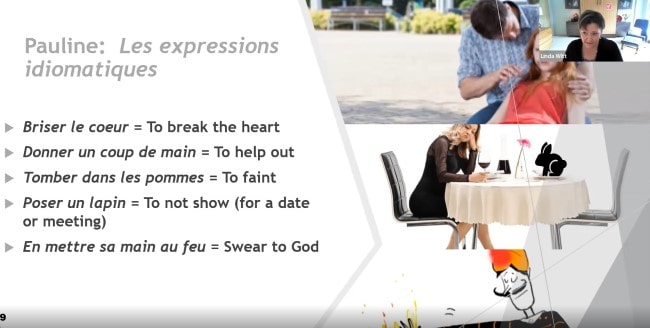 For those who don't know already, the Alliance Française USA offers French classes in person but also online, and in hybrid combinations of the two, in their more than 100 branches across the country. Many years ago I took classes at the Alliance Française in Paris, and when I returned to the U.S. I continued at the Alliance Française in New York. In both places I had excellent teachers — all of the teachers in the U.S. are native speakers of French — and I learned a lot. By the time I took classes in New York I was able to read literature in French; our teacher introduced us to a variety of really good writers, and we had lively discussions of their books. Some of the authors I was introduced to in that class I still enjoy reading today.
In addition to French classes at all levels, most of the branches of the Alliance also offer a variety of cultural and social events: films, book signings, lectures, and other events. I strongly urge anyone who is close to a branch of the Alliance Française to visit — you won't be sorry. And if you're not close to one, you can visit them online: there's a world of discovery for Francophiles there.
Lead photo credit : Mastering French – What You Need to Know (Jan 22)
More in Events, language, learn french
---
---