Review: La Nuit aux Invalides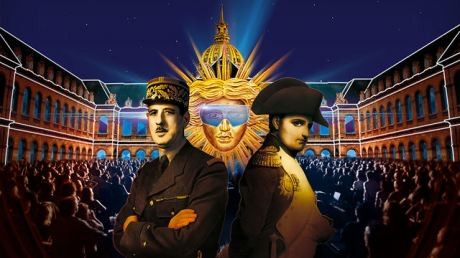 For this week only, a private and spectacular sensorial experience is to be had at the heart of one of Paris' oldest historical treasures. Under the cover of night, a small crowd is ushered into the peaceful heart of the Cour d'Honneur, sheltered from the vast emptiness of the Esplanade des Invalides beyond, to witness a remarkable transformation of this ancient building. Darkness falls, muffled conversations curl away on the air; the walls ignite. In an explosion of lights and music, La Nuit aux Invalides is born.
And it is a glorious birth. This former military hospital becomes the canvas for an extravagant audio-visual display documenting key events in France's history as seen by its creator Bruno Seillier. Narrated by the velvety voice of André Dussollier, and briefly featuring Céline Duhamel and Jean Piat, Invalides is accorded a voice and recounts its personal history under the changing hands of command from Louis XVI through to Charles de Gaulle. Although completely told in French, its story is remarkably comprehensive and can be appreciated from an artistic standpoint alone. Across more than 250m of its walls, with a 180 degree panorama, the court's facade is dynamically manipulated through the use of clever animated projections so that we are transported to ethereal forest settings, become enveloped by a revolutionary mob, and later watch marionettes back-flip their way around its contours. Perhaps more importantly, giant projections of Napoleon expand towards us in impeccable 3-D, capturing the essence of what is essentially a glorified presentation of a bloody and brutal history.
As an iconic piece of French heritage, Invalides itself makes a perfect location for such an extravagant historical presentation. Erected following the 1670 royal edict under Louis XIV, Les Invalides stands as an elaborate symbol of monarchical gratification towards the French army, being a hospital and retirement home to care for aged and unwell soldiers. Due to its central location and strategic importance it has placed an important role in many key historical events, being a prime target of revolutionary mobs in 1789 and the setting for the accusation of Captain Alfred Dreyfus during a wave of French anti-Semitism in the 1890s. It later came to house many notable members of the French military, some of whom are documented in the show, and currently stands as the home of an extensive military museum, welcoming approximately 5 million visitors annually to its cannon-studded courts.
The rare opportunity to see such a cultural splendour at night, and so fantastically illuminated, therefore seems to reaffirm the enduring importance and flexibility of this complex building, and is one not to be missed. An additional price affords you a visit to the Invalides dome and Napoleon's tomb which are exceptionally open until midnight until 18th April.
Rather surreal and unashamedly melodramatic, the clever interplay of imaginative animations and poignant swells of classical music has a powerful effect. If the history presented is rather sensational and partial, the overall production remains glorious in its own right and stands as a refreshing and innovative meeting of culture and technology. Accessible to all ages, La Nuit aux Invalides promises to be a highly-entertaining and alternative evening out, bringing magnificent life to an ancient Parisian wonder and proving that its old stones are encore vivant.
Nuit aux Invalides, 11th-18th April 2012
Showings: approx. 1 hour, 9:15pm, 10:15pm and 11:15pm every night
Tickets: free for under 10s; €8 for under 26s; €11 for adults. Purchased at Carrefour Spectacles across Paris.

Subscribe for
FREE

weekly newsletters.
BonjourParis has been a leading France travel and French lifestyle site since 1995.
Readers' Favorites: Top 100 Books, imports & more at our Amazon store
We update our daily selections, including the newest available with an Amazon.com pre-release discount of 30% or more. Find them by starting here at the back of the Travel section, then work backwards page by page in sections that interest you.
Current favorites, including bestselling Roger&Gallet unisex fragrance Extra Vieielle Jean-Marie Farina….please click on an image for details.
Click on this banner to link to Amazon.com & your purchases support our site….merci!
Leave a reply
Your email address will not be published. Required fields are marked *