Photoquai 2015: The Tantalizing World Photo Biennale Opens in Paris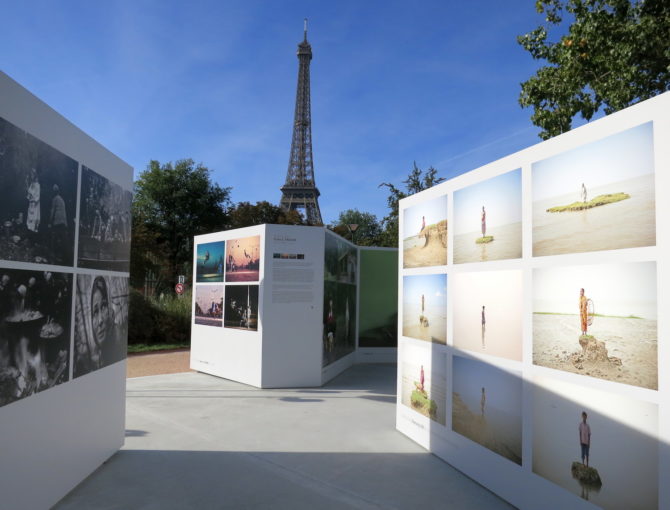 What pops into your head when you think of family? This is the question posed by the world photo biennale. Every two years Photoquai becomes an imperative rendezvous in the autumn calendar in Paris. Its mission? To acquaint the public with emerging or little-known artists and to trigger a dialogue of contemporary photography all around the world.
Presented by the Musée du quay Branly and chaired by president Stéphane Martin, the 400 photographs chosen are on show 24/7 for two months on the banks of the Seine facing the museum, between the Pont de l'Alma and the Pasarelle Debilly, in an effective zigzag of oversized panels designed by Patrick Jouin.
This year's theme We Are Family is not to be taken at face value. Artistic Director Frank Kalero says that there is no question here of a sort of family album, but rather a "desire – shared by a group of people, for religious, cultural or historical reasons – to join together to form a community, to gather to bear witness to shared ideas, or to an aspiration to a similar way of life".
The idea, summed up in the expression faire famille (become family), results in a refreshing and thought-provoking diversity of approaches from each of the 40 participating photographers.
Joana Choumali, from Ivory Coast, in "Hââbré, the Last Generation", shows striking oversized portraits which focus on the dying practice of facial scarification as a way to transmit a complex code of ethnic, social or religious identity.
Karan Vaid, from India, in his "Best in Show", offers in part a heart-warming retrospective of his childhood trips to juried dog shows with his parents, and in part a social study of how dog competitions have become an aspirational status symbol in his country.
The exhibit is a fresh an intriguing look at cultural filters and the ties that bind us, wherever we are from, and whichever family we happen to belong to.
Photoquai
September 22 to November 22
Location: Gardens of the Musée de quai Branly and along the Seine, 7th arrondissement
(between the Pont de l'Alma and the Passerelle Debilly bridges)
Métro:Pont de l'Alma / Iéna
Hours: Open 24h a day, every day
Free admission
Website: www.photoquai.fr
Leave a reply
Your email address will not be published. Required fields are marked *