Paris Fashion Week is Pushing the Fashion Revolution Forward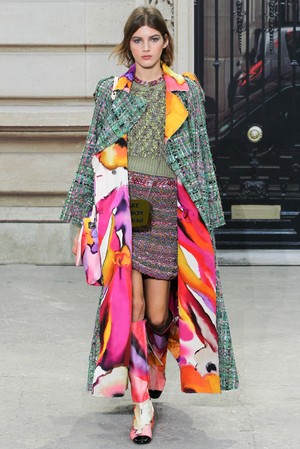 Paris was once again the center of the world when fashion industry elite invaded the city for the presentations of Spring/Summer 2015 collections at Paris Fashion Week. Being the last scheduled fashion capitol, after New York, London and Milan, Paris has a reputation to close fashion month with a bang, which was proven once again. This time even more so as many industry insiders along with press were debating that fashion design is kind of stagnating. Courage and innovation has stepped aside for consumerism, which resulted in plain and commercial collections from runways in London and Milan. Everyone had their bets on Paris and it sure was a winning decision. Maybe it was the Indian summer weather which affected the mood of all the guests, as the streets of Paris were for a period of nine days occupied with color and smile. There was a sense of lightness in the air. It's established that Paris Fashion Week, much more like any other city, favors progress, despite having such deep bonds with tradition. It's the city where you go to discover new talents and rest your eyes on the innovative craftsmanship. It's the one capitol that welcomes all talent, despite its unique style or origin. Therefore diversity, which is the driving force of fashion, is inevitable and so is revolution. And revolution was the main theme of fashion power house Chanel's runway show. Its creative director Karl Lagerfeld turned the gorgeous walls of Grand Palace into Boulevard Chanel, a street where models paraded in a new form of tweed. There was a lot of masculinity which translated into tuxedos and suits, as a contrast to flowy dresses with colorful flower prints. But the thing that stole the show weren't the 60s' inspired dresses and ruffled white shirts, but rather a staging of manifestation at the end of the show. Banners saying slogans like "History is her story", "Ladies first" and "He for she" rose much dust not just among the attendants but the whole fashion industry. Many were guessing what Mr. Lagerfeld's message was, since it was kind of contradictory for Chanel to promote equality when it's a luxury brand, not everyone can afford. Perhaps it was just another promotion stunt from the mastermind that he is. Another masterpiece of a collection came from the Louis Vuitton Foundation of Creation – the newly opened art and cultural center at Bois de Boulogne in 16th arrondissement of Paris. The introduction to the show was more than appropriate as the modified lines from David Lynch film "Dune" announced a new era for Vuitton. For creative director Frank Gehry it was his second collection for Vuitton after his debut past March. If the introduction gave a hint of futurism, than his clothes did the opposite – look back to the past. There were trails of 60s' silhouettes mixed with 70s' flare. From Gehry's point of view the future looks playful and ladylike. It seems people still can't fully accept the fact that Yves Saint Laurent isn't Yves anymore. When Hedi Slimane decided to change the name of the brand it caused a lot of stir, and not in a good way. When presenting his debut collection for the brand where tradition had a huge influence, the fashion world was stunt. There was no sign of classic Yves, but a start of a new younger Saint Laurent. Despite the disapproval of many fashion influentials, Hedi continues with his vision of Saint Laurent. Referencing 60's pop and 70s' glam it seems he isn't so far off the vision once Yves had, but the styling isn't quite there. As many young designers before him, he also succumbed to the influence of commercialism. Perhaps this isn't such a bad move but the customers that once loved Yves Saint Laurent for its classic shapes, exquisite tailoring and luxurious appeal are now left to choose a new favorite. And lastly there was the Jean Paul Gaultier farewell show. We all got used to his spectacular presentations along with endless imagination that brought fantasy to life, which from now on will only be reserved for Haute Couture collections. Le Grand Rex was the perfect setting to say goodbye with a bang. There was no time for sadness, Gaultier staged a big celebration. There was champagne and popcorn, press haunting down fashion icons and guests loudly guessing what has yet to be seen. The curtain dropped and the show began. Cinema was transformed into a big stage where models walked down dramatic staircase. Endless variations of his famous tuxedo, athletic inspired street-wear, Gaultier's bad girl, models taking selfies, topless hotties accompanying his muses and finally the ring fighters. Nothing was as expected at Jean Paul Gaultier and we just hope he continues to surprise with his brilliant ideas for Haute Couture. Photo credits: Saint Laurent – photo Gianni PucciLouis Vuitton – photo Karim Weston ArnoldJean Paul gaultier – photo Yannis VlamosChanel – photo Yannis VlamosChanel – photo Marcus Tondo
SUBSCRIBE
ALREADY SUBSCRIBED?
BECOME A BONJOUR PARIS MEMBER

Gain full access to our collection of over 5,000 articles and bring the City of Light into your life. Just 60 USD per year.

Find out why you should become a member here.

Sign in

Fill in your credentials below.
Paris was once again the center of the world when fashion industry elite invaded the city for the presentations of Spring/Summer 2015 collections at Paris Fashion Week. Being the last scheduled fashion capitol, after New York, London and Milan, Paris has a reputation to close fashion month with a bang, which was proven once again. This time even more so as many industry insiders along with press were debating that fashion design is kind of stagnating. Courage and innovation has stepped aside for consumerism, which resulted in plain and commercial collections from runways in London and Milan. Everyone had their bets on Paris and it sure was a winning decision.
Maybe it was the Indian summer weather which affected the mood of all the guests, as the streets of Paris were for a period of nine days occupied with color and smile. There was a sense of lightness in the air. It's established that Paris Fashion Week, much more like any other city, favors progress, despite having such deep bonds with tradition. It's the city where you go to discover new talents and rest your eyes on the innovative craftsmanship. It's the one capitol that welcomes all talent, despite its unique style or origin. Therefore diversity, which is the driving force of fashion, is inevitable and so is revolution.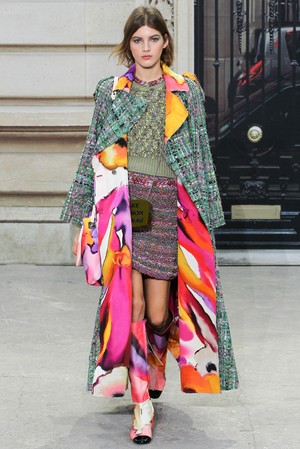 And revolution was the main theme of fashion power house Chanel's runway show. Its creative director Karl Lagerfeld turned the gorgeous walls of Grand Palace into Boulevard Chanel, a street where models paraded in a new form of tweed. There was a lot of masculinity which translated into tuxedos and suits, as a contrast to flowy dresses with colorful flower prints. But the thing that stole the show weren't the 60s' inspired dresses and ruffled white shirts, but rather a staging of manifestation at the end of the show. Banners saying slogans like "History is her story", "Ladies first" and "He for she" rose much dust not just among the attendants but the whole fashion industry. Many were guessing what Mr. Lagerfeld's message was, since it was kind of contradictory for Chanel to promote equality when it's a luxury brand, not everyone can afford. Perhaps it was just another promotion stunt from the mastermind that he is.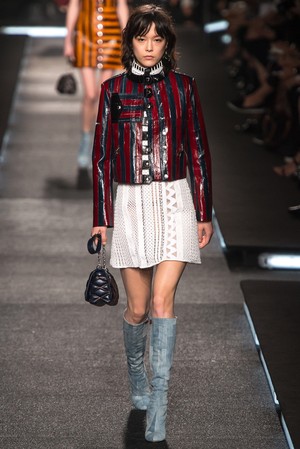 Another masterpiece of a collection came from the Louis Vuitton Foundation of Creation – the newly opened art and cultural center at Bois de Boulogne in 16th arrondissement of Paris. The introduction to the show was more than appropriate as the modified lines from David Lynch film "Dune" announced a new era for Vuitton. For creative director Frank Gehry it was his second collection for Vuitton after his debut past March. If the introduction gave a hint of futurism, than his clothes did the opposite – look back to the past. There were trails of 60s' silhouettes mixed with 70s' flare. From Gehry's point of view the future looks playful and ladylike.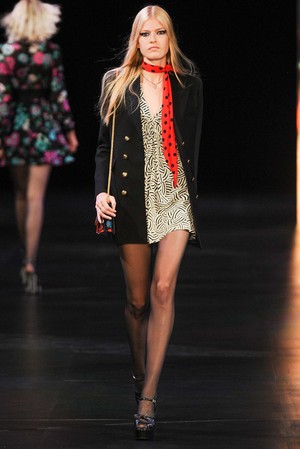 It seems people still can't fully accept the fact that Yves Saint Laurent isn't Yves anymore. When Hedi Slimane decided to change the name of the brand it caused a lot of stir, and not in a good way. When presenting his debut collection for the brand where tradition had a huge influence, the fashion world was stunt. There was no sign of classic Yves, but a start of a new younger Saint Laurent. Despite the disapproval of many fashion influentials, Hedi continues with his vision of Saint Laurent. Referencing 60's pop and 70s' glam it seems he isn't so far off the vision once Yves had, but the styling isn't quite there. As many young designers before him, he also succumbed to the influence of commercialism. Perhaps this isn't such a bad move but the customers that once loved Yves Saint Laurent for its classic shapes, exquisite tailoring and luxurious appeal are now left to choose a new favorite.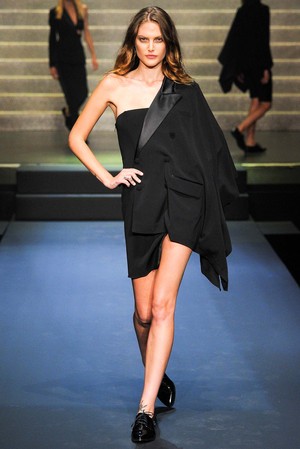 And lastly there was the Jean Paul Gaultier farewell show. We all got used to his spectacular presentations along with endless imagination that brought fantasy to life, which from now on will only be reserved for Haute Couture collections. Le Grand Rex was the perfect setting to say goodbye with a bang. There was no time for sadness, Gaultier staged a big celebration. There was champagne and popcorn, press haunting down fashion icons and guests loudly guessing what has yet to be seen. The curtain dropped and the show began. Cinema was transformed into a big stage where models walked down dramatic staircase. Endless variations of his famous tuxedo, athletic inspired street-wear, Gaultier's bad girl, models taking selfies, topless hotties accompanying his muses and finally the ring fighters. Nothing was as expected at Jean Paul Gaultier and we just hope he continues to surprise with his brilliant ideas for Haute Couture.
Photo credits:
Saint Laurent – photo Gianni Pucci
Louis Vuitton – photo Karim Weston Arnold
Jean Paul gaultier – photo Yannis Vlamos
Chanel – photo Yannis Vlamos
Chanel – photo Marcus Tondo
More in fashion week, Paris events, Paris fashion
---
---