The French Open is now…open!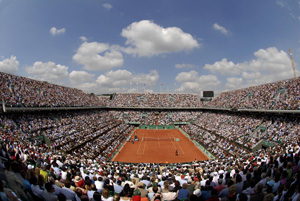 Yes, it's that time again – the French Open 2012 is now upon us! Also known as the Roland Garros after the famous French aviator and staged in the stadium that shares his name, this anticipated tournament is now in its 111th year. So what are the highlights, when are the finals, who's the underdog and who's the favourite? Keep reading to find out everything you need to know about Paris' number one Grand Slam.
What's it all about?
The French Open is the second of four annual Grand Slam tennis tournaments, and marks the end of the clay court season in Spring. The three remaining Grand Slams are the Australian Open, the US Open and Wimbledon. The only Grand Slam tournament played on clay, the French Open represents the most prestigious clay court competition in the world.
What's "clay" you're wondering? Clay is a slow surface, requiring a lot of power and endurance to maintain the kind of play these tennis gladiators are used to. Consequently the French Open is often considered the most physically demanding of the Grand Slam tournaments – but for a total prize of 23 million dollars in 2012, the competitors are battling for a slice of history and a considerable bonus if they succeed.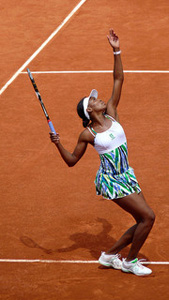 The story so far…
There's already been drama on court as Nicolas Mahut knocked 26th seed Andy Roddick out of the tournament in a four set match. On the women's courts Venus Williams moved swiftly into the second round while the first match saw Elena Baltacha leave disappointed, defeated by 6th seed Samantha Stosur.
The second day started with further surprises when the number 15 seed, Feliciano López, retired from the tournament due to an injury. But it's not all shocking news – Roger Federer has taken an effortless step to the second round with a match of three straight sets. John Isner, Tomáš Berdych and Andreas Seppi will also be competing in Round 2.
Day Three will see the French player Richard Gasquet pitted against Italy's Jürgen Zopp – a result that Paris will surely await with anticipation. Serena Williams will be facing Virginie Razzano while all British eyes will be on Andy Murray's match with Tatsuma Ito of Japan. From there on things will really start getting interesting.
Current Champions
In the world of tennis, the names Roger Federer and Rafael Nadal are synonymous with victory. The 2011 champions stand with Nadal in first place and Federer in second, marking Nadal's sixth French Open title and his 10th Grand Slam, and he's tipped for the trophy once again this year. Having beaten the previous record of six French Open titles previously held by Bjorn Borg, it seems little can stop this tennis titan – especially when you consider that he has only ever lost one match at this particular Grand Slam. That was in 2009, and he's more than made up for it since.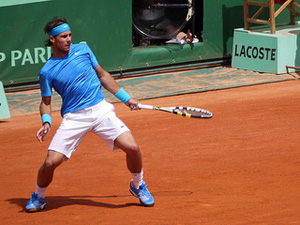 For the sake of brevity we will not be listing Federer's accomplishments – let's just say his trophy cabinet must be more of a large annex.
The current women's singles champion is China's Li Na, who beat Francesca Schiavone to the trophy and netted her first Grand Slam Title.
Ones to Watch
Rafael Nadal – Well, let's be honest, you would've been watching him anyway. Battling for his 7th French Open Title, it seems it'd take a miracle to knock this guy from his Champions' perch.
Roger Federer – A mainstay of the tennis scene, Federer may struggle to take the title this time but with 16 grand slam titles under his belt I wouldn't count him out just yet.
Novak Djokovic – While he hasn't done as well on clay this year, Djokovic still has his sights set on the French Open in 2012. A definite one to watch.
Juan Martin del Potro – The question here is, has he got the confidence?  Soundly beating lower ranked players del Potro seems to struggle when faced with the Big Guys. Ranked in the top ten he clearly the statistics are on his side, but can he take on the challenge and win?
Serena Williams – Another giant in the world of tennis, Serena Williams has nevertheless only made it to one French Open final – might this be a second chance? The critics aren't sure, but nobody can deny she's in terrific form for the tournament.
Li Na – Having made history last year by becoming the first Chinese player to win a Grand Slam, Li Na will be defending her title this year and on a very favourable draw.
Maria Sharapova – Once describing herself as 'a cow on ice' when it comes to clay court tennis, you wouldn't think Maria Sharapova was a hot bet for the French Open. However this is the only Grand Slam missing from her repertoire to make it a career slam and she's really raised her game since then, so watch this space.
And of course we're always on the look out for that hidden threat, so keep an eye out for American John Isner who's tipped as a potential dark horse for 2012.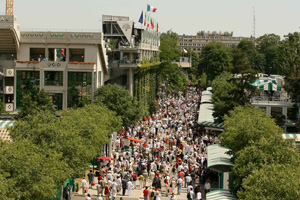 Matches for the diary
Tuesday 5 June from 2pm – Quarter Finals Men's and Women's Singles
Thursday 7 June from 2pm – Semi Finals Women's Singles
Friday 8 June from 2pm – Semi Finals Men's Singles
Saturday 9 June from 3pm –Final Women's Singles
Sunday 10 June from 3pm – Final Men's Singles
Roland Garros photos (1st and 4th) courtesy of FFT
Venus Williams photo by Yann Caradec (Own work) [CC BY-SA 2.0)], via Flickr
Rafael Nadal photo by Yann Caradec (Own work) [CC BY-SA 2.0)], via Flickr

Subscribe for
FREE

weekly newsletters.
BonjourParis has been a leading France travel and French lifestyle site since 1995.
Readers' Favorites: Top 100 Books, imports & more at our Amazon store
We update our daily selections, including the newest available with an Amazon.com pre-release discount of 30% or more. Find them by starting here at the back of the Travel section, then work backwards page by page in sections that interest you.
Current favorites, including bestselling Roger&Gallet unisex fragrance Extra Vieielle Jean-Marie Farina….please click on an image for details.
Click on this banner to link to Amazon.com & your purchases support our site….merci!
Leave a reply
Your email address will not be published. Required fields are marked *