A Snapshot of Contemporary Photography at Fotofever in Paris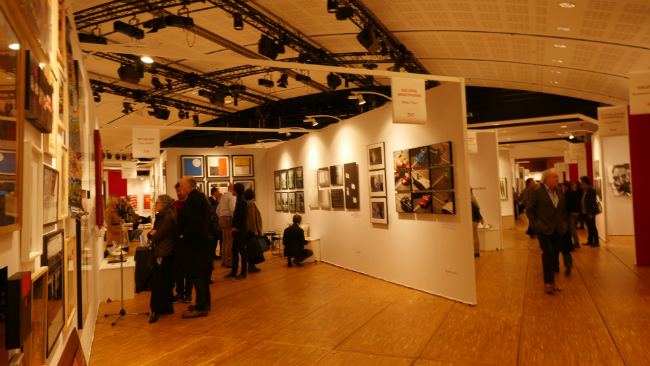 Now in it's fifth year, Fotofever is certainly not slowing down. The event, taking place at the Carrousel du Louvre, is where art galleries from all over the world gather to exhibit, and sell, some of the best photography in their collections. It is geared toward new collectors and in that spirit only features work that is priced at less than 5,000 Euros. To call the results eclectic, a word that pops up in the promotional material, is a massive understatement. What you will find strolling through the various gallery spaces in the open and airy setting is everything from classic documentary photography to graphic abstraction and of course digital collage. Another added difference is that because this event is not curated, there is no thematic unity here, the unpredictability is part of the fun. All of it makes for a wide-ranging snapshot, pardon the expression, of the current state of photography.
One of the things about photography in the digital era is that it has become increasingly elastic. Just look at Instagram, Twitter, or Snapchat to see the way photojournalism, art photography, and meme culture are haphazardly intermingled on a daily basis. What the work in Fotofever displays is the way artists are dealing with this rapidly changing landscape. One work that exemplifies the tension between the old and the new is Javier Hirschfeld's "Ouest Foire" which is featured in the "Section Young" reserved for newer talents. "Ouest Foire" is a classic portrait photograph of a young boy. However, his face has been pixelated by 8 black colored squares that each take a different hue present in the photo. Perhaps this is partially Hirschfeld's protest against the increasing manipulation of our imagery, or just a way to highlight what we ignore in a more general sense. Either way it is a potent image. Whereas Hirschfeld seeks to split the difference, other artists like Torsten Solin with his work "Album" fully embraces Photoshopped art by inserting his face into a series of old family photographs. There is a prankish spirit to the series that, even if it's not to everyone's taste, is highly necessary lest things get too pretentious.
There are also works that defy any particular place on the modern/classical continuum. The artist Dahmane at times works with very obvious juxtaposition where a modern face is seamlessly blended into a classical painting. However, one work in particular, "Circé, Edouard Vuillard" does the same thing but because the painter in question is more modern, the results are ambiguous. Looking at this work, one is not sure if it's fundamentally a painting or a photograph. The eye is tricked to the point where one becomes hyper aware of the distinct nature of seeing the world through either medium. A more traditional, although stylistically modern, example is Aristotle Roufanis' series "Insolation." All low exposure, meticulously printed photographs of beaches dotted with people sunbathing during dusk, they are a welcome reminder that old techniques can still lead to unforeseen results.
Fotofever is also not just content with displaying the work. There is a holistic approach to how people can incorporate art into their lives. For instance, there is an attempt to bridge the gap between collector and exhibit by setting up a collection of works as an example of an apartment of a collector. A large sofa for lounging and spending time with the art creates the feeling of it being at home. In addition they offer children's workshops to encourage art appreciation from a young age. A larger lounge area and bar make it easy to take your time with the dizzying array of works on display.
Fotofever Art Fair, November 11-13 at the Carrousel du Louvre, 99 rue de Rivoli, 1st arrondissement. Held every year in November.
Lead photo credit : Fotofever 2016. Photo: Peter Ambrosio
Leave a reply
Your email address will not be published. Required fields are marked *