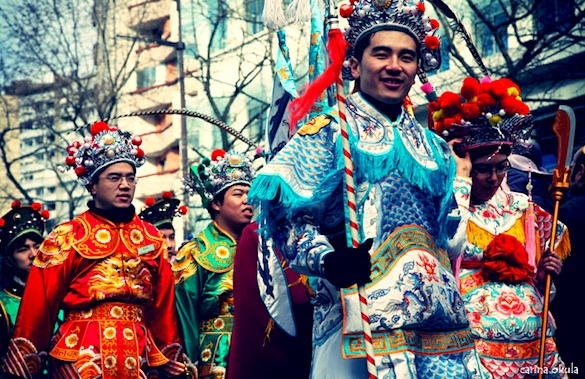 Chinese New Year parade in Paris photos ©Carina Okula
La fête du Nouvel an chinois: L'Année du Dragon
Chinese New Year Celebrations: The Year of the Dragon
Paris celebrates the Chinese New Year in a big way! Last week began the two-week official celebration with various cultural events held throughout the city.
The major festivals with parades take place this weekend based in three different areas of the city on both Saturday and Sunday, with parades and festivals perfect for shutterbugs and celebrants alike.
Parades and street events are free of charge.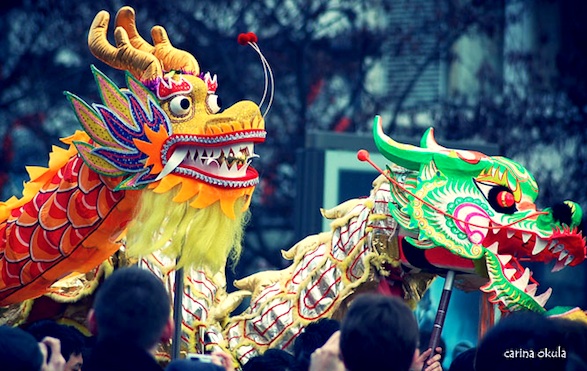 Dragon & Lion Dance at Chinese New Year parade Paris photos ©Carina Okula
Saturday, January 28
2:30pm Paris Mayor Bertrand Delanoë and the Ambassador to the Republic of China in France start the parade at Hôtel de Ville in the Paris 4th. The 2.5 hour parade continues through the 3rd and 4th arrondissements.
Sunday, January 29
11:30am Dragon Parade and Lion Dances start at boulevard de la Villette (Métro: Villette)
3:00pm Dancers and martial arts demonstrations at Métro: Villette
Music, markets, and performances by the Peking Opera, Opera Bian Lian and Huangmei Opera.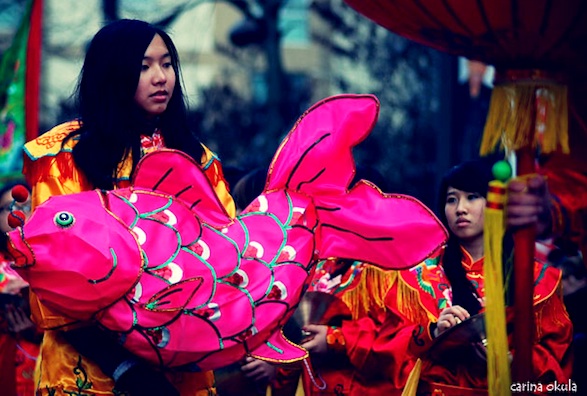 Chinese New Year parade Paris photos ©Carina Okula
Sunday, January 29
1:00pm Dragon Parade starts at 44, avenue d'Ivry, going through avenue de Choisy, Place d'Italie, avenue d'Italie, rue de Tolbiac, avenue de Choisy, boulevard Masséna and returns to avenue d'Ivry.
Saturday & Sunday 11am-7pm Chinese food and craft markets, dancers and more at Mairie du Paris 13th, place d'Italie.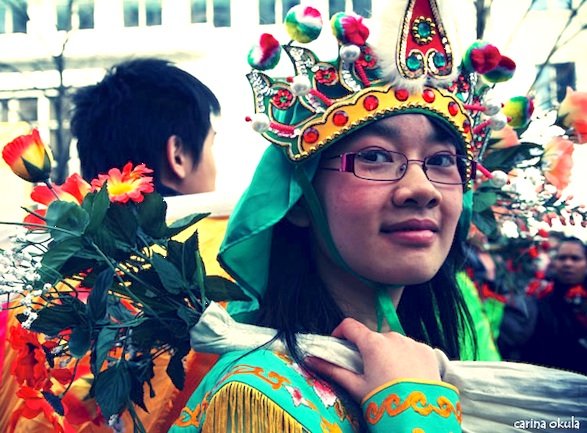 Chinese New Year parade Paris photos ©Carina Okula
Google interactive maps and schedules for Chinese New Year Paris events published by Le Figaro [3].
Video courtesy of the City of Paris:
If you go:
arrive very early if you want to see the dragon awaken to start the parade.
expect dense crowds on the streets and in the Métro.
don't be startled by fireworks.
stay street smart, watch your belongings…as with every large city, pickpockets follow the crowds.
if you're lucky, you may be offered a red envelope containing a small cash gifts with a wish for good fortune.
"Gong Hey Fat Choy" means "Happy New Year" in Cantonese.
Online route maps [4] for Paris Métro, RER, bus, SNCF (Transilien)
Vélib' bike rental station maps [5]
Arrondissement-by-arrondissement [6] guide to Paris
For more Paris events, check our calendar [7] published the first week of every month!
Carina Okula [8] is a photographer who captures the beauty of France in her romantic images. To view her profile or more of her work published by BonjourParis, please click on her name.

Subscribe [9] for
FREE

weekly newsletters with subscriber-only content.
BonjourParis has been a leading France travel and French lifestyle site since 1995.
Readers' Favorites: [9]Top 100 Books, imports & more at our Amazon store
We daily update our selections, including the newest available with an Amazon.com pre-release discounts that can top 30% or more. Find them by starting here at the back of the Travel section [10], then work backwards page by page in sections that interest you.
These Paris travel guides have you covered day-by-day, 'round the clock…please click on an image for details.
Support our site by clicking on this banner for all your Amazon.com browsing. Merci!