Bacchus-Style Merriment at Montmartre's Grape Harvest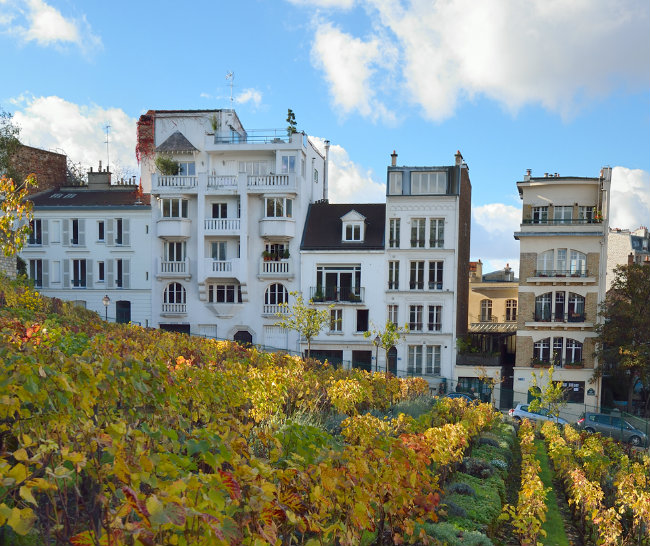 If you're in Paris this week, head up the hill of Montmartre to participate in a local celebration that's taken place since 1934. The city's sole surviving vineyard is located here, and the annual Fête des Vendanges de Montmartre (grape harvest festival) isn't just a merry old time; it's an opportunity to partake in a long-time neighborhood tradition honouring art, culture, music, and gastronomy… along with the new cuvée. (There are only 950 bottles produced.) This year's theme is the "Planet"- in light of the UN Climate Change Conference which will take place in November in Paris. There will be exhibitions, film screenings, conferences, concerts, and a spectacular fireworks display over Sacré-Cœur on Saturday night. Did you know that Sacré-Cœur is the second most visited site in Paris after the Eiffel Tower? Some 10 million visitors trek to Montmartre every year, and half a million people are expected to attend the Fête des Vendanges. Saturday's parade is always a highlight, when members of the Republique Montmartre—wearing their distinctive red and black costumes—join other wine "knighthoods" representing diverse French wine regions. Tip: Bystanders hold out verres which are filled with wine tastings as the different groups stroll past. Another must is the "Parcours du Goût." Brimming with gourmet treats sold by passionate artisans, tasting tents are set up on the butte's summit. The 82nd edition of the Fête des Vendanges de Montmartre will take place from October 7-11, 2015. It's even possible to sign up (on the 
official website
) for a guided tour of the vineyard (Vignes du Clos Montmartre). For the official programme, visit 
www.fetedesvendangesdemontmartre.com
Practical details: Access by car is not advised for this event. Metro access by lines 2, 4, and 12. Photo credits: Montmartre Vineyards by
Jean-Jacques Boujot/ Flickr
; the annual parade courtesy of Fête des Vendanges de Montmartre; Montmartre vineyard by
Kim/Flickr
Originally published on sister site,
FranceToday.com
SUBSCRIBE
ALREADY SUBSCRIBED?
BECOME A BONJOUR PARIS MEMBER

Gain full access to our collection of over 5,000 articles and bring the City of Light into your life. Just 60 USD per year.

Find out why you should become a member here.

Sign in

Fill in your credentials below.
If you're in Paris this week, head up the hill of Montmartre to participate in a local celebration that's taken place since 1934. The city's sole surviving vineyard is located here, and the annual Fête des Vendanges de Montmartre (grape harvest festival) isn't just a merry old time; it's an opportunity to partake in a long-time neighborhood tradition honouring art, culture, music, and gastronomy… along with the new cuvée. (There are only 950 bottles produced.)
This year's theme is the "Planet"- in light of the UN Climate Change Conference which will take place in November in Paris. There will be exhibitions, film screenings, conferences, concerts, and a spectacular fireworks display over Sacré-Cœur on Saturday night. Did you know that Sacré-Cœur is the second most visited site in Paris after the Eiffel Tower? Some 10 million visitors trek to Montmartre every year, and half a million people are expected to attend the Fête des Vendanges.
Saturday's parade is always a highlight, when members of the Republique Montmartre—wearing their distinctive red and black costumes—join other wine "knighthoods" representing diverse French wine regions. Tip: Bystanders hold out verres which are filled with wine tastings as the different groups stroll past.
Another must is the "Parcours du Goût." Brimming with gourmet treats sold by passionate artisans, tasting tents are set up on the butte's summit.
The 82nd edition of the Fête des Vendanges de Montmartre will take place from October 7-11, 2015. It's even possible to sign up (on the official website) for a guided tour of the vineyard (Vignes du Clos Montmartre). For the official programme, visit www.fetedesvendangesdemontmartre.com
Practical details: Access by car is not advised for this event. Metro access by lines 2, 4, and 12.
Photo credits: Montmartre Vineyards by Jean-Jacques Boujot/ Flickr; the annual parade courtesy of Fête des Vendanges de Montmartre; Montmartre vineyard by Kim/Flickr
Originally published on sister site, FranceToday.com
Lead photo credit : Montmartre Vineyards by Jean-Jacques Boujot/ Flickr
---
---
Comments