The Sky as a Studio. Yves Klein at the Centre Pompidou Metz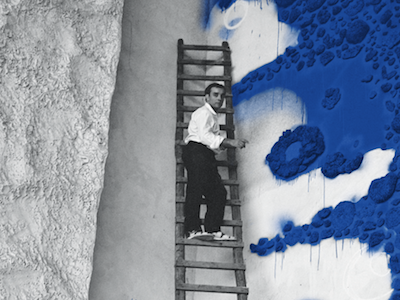 Event Details
Start: 18th Jul 2020 10:00
End: 1st Feb 2021 19:00
Venue
Centre Pompidou, Paris1
Event Description
In this immersive exhibition, the Centre Pompidou-Metz explores the dialogue between Yves Klein and his contemporaries, highlighting their historical ties and creative affinities. Taking the ruins of war as a starting point, the journey gradually leads the visitor into their sensory dreams of in nity.
Practical information
Mon – Thurs : open from 10am – 6pm
Fri – Sun: open from 10am – 7pm
Tickets purchasable here.
Charles Paul Wilp, Yves Klein sur une échelle devant son relief-éponge au Neues Stadttheater de Gelsenkirchen Allemagne, Berlin, BPK © VG Bild-Kunst © ADAGP, Paris 2019. Photo © BPK, Berlin, Dist. RMN-Grand Palais / image BPK
Event Categories: Art
,
Exhibitions
,
History