In the Head of Stéphane Blanquet at Halle Saint-Pierre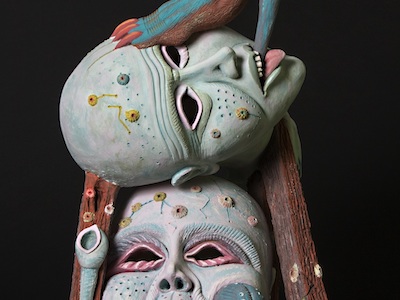 Event Details
Start: 5th Sep 2020 11:00
End: 30th Jul 2021 19:00
Venue
Halle Saint-Pierre, Rue Ronsard, Paris, France1
Event Description
Explore this unprecedented retrospective devoted to the extraordinary works of Stéphane Blanquet, you are invited dive into the heart of his thoughts, full of colors and strange characters and monstrosities.
A range of mediums from drawings, tapestries to sculptures (and more) will shock, provoke and even confuse visitors. A true contemporary artist, entirely worth scoping out!
Practical Information:
Tickets purchasable here.
Mon – Fri: 11.00 am to 18.00 pm
Saturday: 11 am to 19.00 pm
Sunday: 12.00 pm. to 18.00 pm.
Photo / Totems, Terre cuite emaillée. 2020, 58 cm de haut, 30 cm de long et 30 cm de large, Collection de l'artiste. Image © Zoé Forget / Serious Publishing
Event Categories: Art
,
Design
,
Exhibitions
,
Family