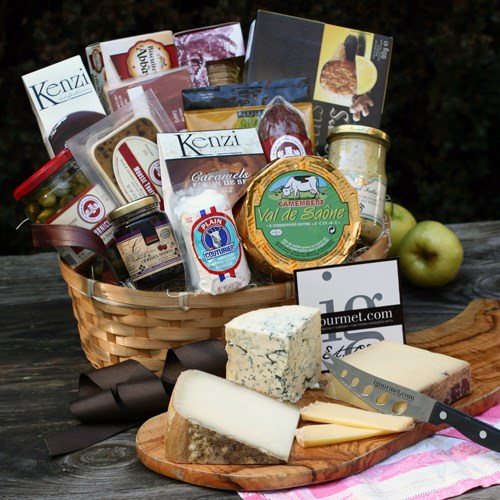 Bonjour Paris and American Concierge are giving you the opportunity to win a gift basket laden with delicious cheeses, charcuterie, desserts and condiments from France. The Basket is worth €200 and will be shipped straight to your door!
Just answer this simple question:
What is the monument featured on the American Concierge homepage?
Competition ends 15th of May!
French Premier Gift Basket
Our amazing French Premier Gift Basket starts with five French cheeses and finishes with great Parisian desserts. Included are:
Camembert: This Brie-type cheese from Normandy is creamy and delicious. (8 oz)
Comte: A fruity, nutty, aromatic cheese from the French Alps. (7.5 oz)
Chevre by Couturier: A favorite French goat cheese, soft and spreadable. (8 oz)
Agour Ossau-Iraty: This Basque cheese from 100% sheep's milk has a delicate bouquet. (7.5 oz)
Fourme d'Ambert: This creamy blue cheese is a lovely French treasure. (8 oz)
Trouvillais by Biscuiterie de l'Abbaye: Trouvillais by Biscuiterie de l'Abbaye shortbread cookies made with butter, fresh cream and local fruit. (4.4 oz)
Mini Toasts: Perfect crackers for cheeses. (2.75 oz)
Michel Cluizel French Chocolate Bar: A premium treat from one of the world's most respected chocolatiers. (2.5 oz)
Provencal Water Wheels: Kissed with the flavor of rosemary and thyme, these light-as-air crisps are perfect with cheese or saucisson. (3.5 oz)
Saucisson Sec: A naturally air-dried pork sausage. (8 oz)
Mousse Truffee: This is Les Trois Petits Cochons' signature mousse. This luxurious mousse features the gem of French cuisine – black truffles. (8 oz)
Edmond Fallot Dijon Mustard: A wonderful Dijon mustard imported from France. (7 oz)
French Cornichons: The perfect accompaniment to pate, these tiny French pickles are marinated in a white wine vinegar. (12.35 oz)
Fleur de Sel Caramels by Kenzi: Slightly salted caramels imported from Normandy. (1.4 oz)
Petit Tresors: Made with the butter, fresh cream of Isigny, local fruit and pure butter, yielding a satisfying crunchiness and an underlying fruitiness. (4.4 oz)
Terms & Conditions: Subject to availability. Only one winner will be selected. Will only ship to USA. Please wait for 2 weeks for delivery