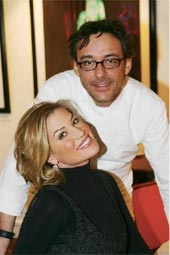 Gilles and Elizabeth Epie are a dream team. He's the talented cuisinier, she's front of house at the chic Citrus Etoile, just off Champs Elysées. "We love working in tandem", says the former top model and ace photographer. The couple met when Gilles was chef at L'Orangerie LA, she happened to be dining with Richard Gere, he came to make sure everything was OK. The rest is history. 
Returning to France, they launched Citrus Etoile serving healthy, delicious dishes, French based with an LA spin. Veronique Andre, food maven, Figaro food writer and author of "Je Me Ferais Bien un" (see BP review) salutes Gilles' Foie de Veau Rosé, in her book. "Thick, as it should be, with tartare of tofu, asparagus and herbs, an exceptional dish", raves Mme Andre, who doesn't mince her words.  
The new Spring menu keeps Citrus signatures, adds some new which are showcased on the three course Menu Citrus Etoile (49€). Say, a starter of Beef Sashimi "New Style" with Eggplant Caviar and parmesan. A thoroughly modern Black Cod main and chocolate or caramel souffle to finish. Breads are baked daily, as are amuse bouches and warm dessert cakes zchoc to dip in coffee. 
The Epies live in the 16th, travel to Citrus on the citrus coloured scooter Lizzie gave Gilles for his birthday, it sits outside the restaurant alongside the Porches and Ferraris. 
At home Elizabeth's in the kitchen, the couple plan a TV show along the lines of "I love Lucy" with the working title of "Cooking by Numbers", soon. "We shop together on rue de l'Anonciation a fabulous pedestrian street of gourmet shops", says Elizabeth. "Cheese we choose from Dubois & Fils in the 17th at 80 rue de Tocqueville, if France has 350 cheeses, you'll find most of them here in tip-top condition. And, as no meal is complete without the perfect loaf it's Desgranges for hot from the oven aromatic bread. www.maison-desgranges.com then it's home to a beautiful table, with armfuls of white flowers from 
www.fleurs-fruits-feuillages.fr/."  
Elizabeth's signature dish is free-range chicken, roasted with sea-salt and olive oil, paired with baby roast potatoes and haricot verts. "Baste it every ten minutes, and, at the last minute, add sprigs of fresh rosemary to give it fragrance", she suggests. 
"So many of our clients want to come on Saturday night we're creating a casual evening, as if they're at home with us. Gilles will cook dishes he doesn't do during the week, dress code is "dress-down" lots of interesting wines by the glass and a special kid's menu". 
Citrus Etoile,
6 rue Arsene Houssaye, 8th 
(Metro: Charles de Gaulle, Etoile)
T: 01 42 89 15 51
www.cuisineonline.tv (online cookbook) 
Cafe de Commerce is a great Sunday address, in fact it's a great address, open 7/7 365 days of the year. It's a bright welcoming art-deco maison on three floors, the beautiful 1920's building, with opening "orangerie" type stained glass roof, was once a haberdashery, supplying tailors and dressmakers with fabrics and trimmings. In 1921 it became a restaurant serving automobile workers in the Javel-Grenelle quartier.  
After several owners, in 2003, Café de Commerce got all spruced up, became a neo-brasserie, with stunning film-set décor, lots of brass, mirrors and palms. Not part of a chain, it's privately owned by passionate foodies, Marie and Etienne Guerraud. The menu is traditional French brasserie fare, with a modern spin. Great Egg-Mayo, perfectly aged Limousin beef and excellent frites. 15 wines at 15€ change each month plus an excellent wine list. And the deal is: all starters 5€50 Mains 14€ Pudds 6€(by Momo ex-Gagnaire and Laduree) bread by Michel Moisan (he of the bio-baguette). There's a lunch formula at 15€ and 10.50€ children's menu. Great place to take kids, they can admire, or take part in the annual student poster competition, judged by clients and a jury of professionals. A delightful address, don't hesitate, but do book.  
Le Cafe de Commerce, 
51 rue du Commerce, 15th
(Metro: Commerce)
T: 01 45 75 03 27